LeadLander and Leadfeeder have both become known as effective website visitor tracking solutions, with many comparable features. But with Leadfeeder's 2022 merger and newly announced rebrand to Dealfront, it's no longer an apples-to-apples comparison. Let's dive into everything you need to know about Leadfeeder vs. LeadLander in 2023.
Wait, What's Happening at Leadfeeder?
Echobot and Leadfeeder, both European sales intelligence companies, have merged and rebranded as Dealfront, an EU-native, AI-driven go-to-market (GTM) platform. Launched after integrating their teams and products in 2022, Dealfront claims to address the challenges of leveraging vast, constantly evolving live data amidst varying European compliance standards, language nuances, and regulations. The all-in-one platform combines sales and marketing intelligence, lead generation, B2B advertising, and web tracking, helping sales and marketing teams secure leads and close deals in Europe. 
In other words, Leadfeeder will no longer exist as a standalone website visitor identification platform—and its prices are going up, too. So what does Dealfront (the new Leadfeeder) vs. LeadLander look like today? Whereas Leadfeeder is becoming an all-in-one business intelligence tool specializing in Europe, LeadLander remains a reliable web visitor identification tool with an extensive dataset specializing in North America. Here's how LeadLander stands out:
Lower cost
Integrations to your favorite tools
Access to over 265 million verified contacts and companies
North American regional specialization
4 Main Differentiators of LeadLander vs. Leadfeeder
With Leadfeeder, now Dealfront, moving upstream and doubling down on its European regional specialization, LeadLander offers an attractive alternative with lower prices, an enormous database, and North American expertise that will benefit companies of any size looking to bring web visitor identification software into their current tech stack.
Price
Leadfeeder (Dealfront): Their lowest-tier plan costs 199 euros per month (about USD $221 at the time of writing) and includes 3 seats, "limited access" to 4M companies and 35M contacts in Europe, and basic firmographics. For full data access and deep company profiles, the price goes up to 999 euros monthly (USD $1100 at the time of writing). They only offer annual subscriptions.
LeadLander: The entry point is much lower, with subscriptions starting at just USD $75 per month. With LeadLander's sole specialization in website visitor identification data, the pricing is calculated in a straightforward manner based on the number of leads identified from your website each month—and only those leads reconciled to a company level are counted. Leads are qualified as visitors to your website that we can reconcile to a company level (all ISP or non-reconcilable visits are not counted as leads).
In contrast to Dealfront, LeadLander offers both monthly and annual subscription options. LeadLander also places no restrictions on users or data for accounts, making it a more flexible and affordable option for scaling companies. All LeadLander customers have access to the following key tools and data points (it's unclear what comparable features Dealfront offers):
Detailed IP reconciliation
Company contact details
Geo-location tracking
Search & referral data
Page view listings
Real time watchlists & alerts
Lead scoring
Contacts from LinkedIn
Custom reporting (geographic, page url, etc)
Territory assignments
Lead forwarding
Data exporting
With LeadLander's dedicated support, training, and an account manager available for all accounts, the level of service offered for the price is tough to beat.
Integrations
Leadfeeder (Dealfront) offers integrations for various CRM systems, and some marketing automation tools: HubSpot, Mailchimp, and Active Campaign. They do not offer integrations with any AI solutions, nor do they appear to offer a web form integration.
LeadLander integrates with the two leading CRM systems—Salesforce and HubSpot—and can be connected to other CRM solutions using Zapier. They offer several email marketing integrations, including: MailChimp, SalesLoft, and VerticalResponse. Similar to Leadfeeder, they offer a Slack integration.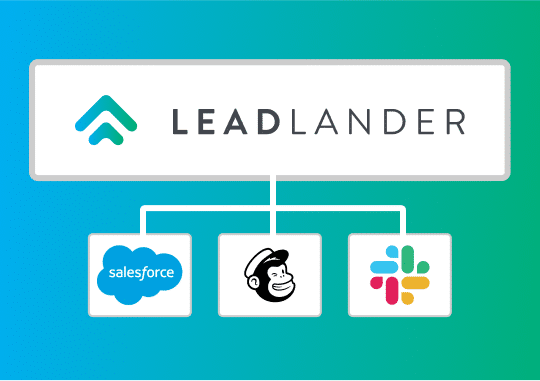 Where LeadLander stands out is their integrations with other business intelligence tools, as well as leading AI solutions:
On top of these tools, LeadLander also supports:
Web form integration
Ad tracking for Google, Bing, etc.
For customers looking for customized integrations to other tools in their stack, LeadLander also offers APIs—an option that Dealfront doesn't appear to have.
Database and Algorithm
Leadfeeder has been in business for 11 years. They claim to have "the most accurate, up-to-date, and truly compliant B2B data for Europe and beyond." Their website makes it clear that the majority of its data is based in Europe, which also means that North American data isn't their focus or priority. Leadfeeder states that it has 105 million contacts in the U.S. and the rest of the world (outside of the EU), and around 70 million contacts in the EU.
LeadLander has been in the market for 16 years. As one of the longest-standing web visitor identification companies in the industry, LeadLander has been refining its algorithm and expanding its database for nearly two decades—making it the largest, most accurate database of company data with access to over 265 million verified contacts and companies worldwide. With its refined algorithm, LeadLander can identify more of your anonymous web visitors, allowing you to surface more leads and potential customers than competitors like Leadfeeder. Based in the U.S. with a focus on North America, LeadLander provides extensive data for companies looking to expand their customer base in the region.
Choosing LeadLander vs. Leadfeeder
LeadLander offers a more cost-effective pricing structure for businesses with high lead volume requirements and those based in or serving North America. The choice between the two platforms will depend on your organization's specific needs, budget, regional focus, and technology integration requirements.
If you're interested in testing out LeadLander, sign up for a free 14-day trial, no credit card needed.