Hitting your sales goals isn't always easy. Sometimes, you need to look for outside inspiration to develop the strategies you need to hit your targets.
Sales blogs can be an excellent way to tap into this inspiration. The best ones teach you about new B2B sales and outbound sales strategies to help you hit your goals. Many will also cover trending topics in sales to keep you abreast of the many changes that occur in the space.
15 sales blogs worth following
With so many options, it can be tough to figure out which blogs will give you the best return on the time you spend reading.
This list highlights 15 of the very best sales blogs on the internet so you can discover the content you're looking for sifting through all of the online junk to get it.
LeadLander
Sure, we might be a little biased, but the LeadLander blog is jam-packed with information that can help you get more out of your B2B sales process to reach your sales goals.
Articles cover a wide variety of new and valuable topics, including things like:
If you come back to visit our blog regularly, you should learn something new every time.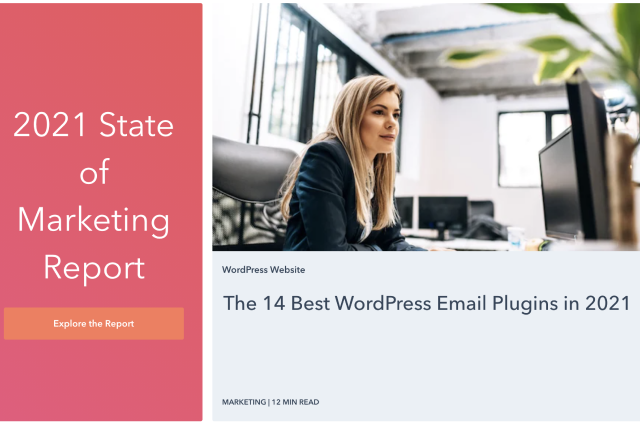 HubSpot
HubSpot's blog is one of the best in the industry. It features a wealth of informative and in-depth articles covering different aspects of marketing, sales, and customer service, among other things.
The blog features articles targeting different groups of people so there's something for everyone to read.
For example, you can learn how to write a blog or figure out how to upgrade your SEO skills.
Sales Hacker
Sales Hacker is a website that bills itself as the largest community for B2B sales. The cool thing about the website is that it allows users to post their content.
This unique approach makes Sales Hacker's content slightly different from what you'll find on other sales blogs. Users with unique experiences and backgrounds will often share what they've learned from their work.
You'll find articles about women in sales, the impact that diversity on a sales team can have on a company's bottom line, and other topical stories.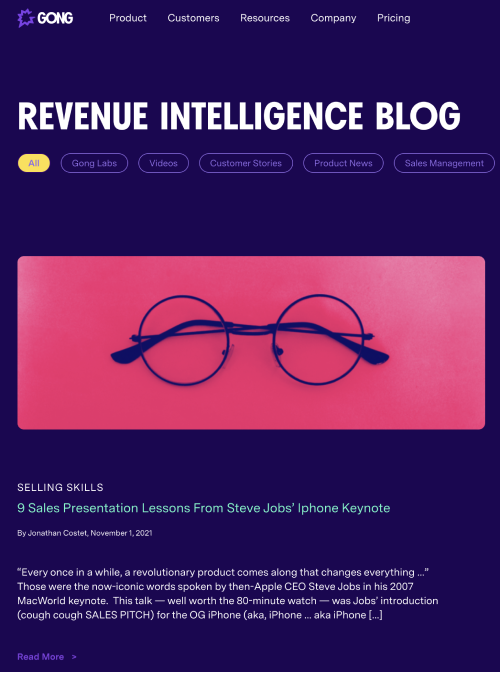 Gong.Io
Gong.Io's blog is a one-stop-shop for data-backed sales information. Check out some of our favorite articles from them to get a better sense of the type of content they offer:
Heinz Marketing
Heinz Marketing is a great blog to read if you're in sales but looking to learn more about how marketing interacts with the sales process.
The blog regularly posts content that focuses on account-based marketing, how sales and marketing can work together more effectively, and other topics worth exploring to learn more about how you should think about marketing as a salesperson.
Check out this post on the new sales enablement standard to better understand the value this blog can provide.
LinkedIn Sales Solutions
LinkedIn Sales Solutions is another excellent blog for sales professionals. It's updated with multiple posts each week and is centered around using the LinkedIn platform as part of your broader sales process.
LinkedIn can be a valuable resource for sales, so becoming a frequent reader should help you take full advantage of everything it offers.
It also publishes thought-provoking content not exclusive to LinkedIn, such as this post detailing why sales is not a meritocracy.
SaaStr
If you work for a SaaS company, then the SaaStr blog needs to be on your radar. It bills itself as the place to go to find resources and training for scaling SaaS companies.
There are many fantastic articles to keep salespeople informed about SaaS trends and learn new skills that will help them hit their sales goals. Here are some of our favorite recent articles from SaaStr:
OpenView Blog
OpenView Labs is a venture capital firm that has years of experience it draws from to create compelling blog posts.
Here's a post highlighting some of the most common sales processes mistakes the firm has seen from its experience.
Ambition Blog
The Ambition Blog focuses on providing value to sales leaders, managers, and representatives. It provides helpful articles centered around real-world problems salespeople deal with daily.
This post from them about free sales incentives is one of our favorites.
Drift Blog
Drift is a company that you may already be familiar with if you work in sales. But you might not have checked out the company's blog yet.
Drift's blog focuses on giving actionable advice to sales professionals. You can read it to get more out of B2B, outbound sales, and other categories of knowledge that can help you work towards your sales goals.
WoodPecker
If you'd like to improve your processes around cold emails, then the WoodPecker blog is one that you need to check out. It provides a ton of information about cold emailing and the methods around that. You'll also find helpful tips on outbound sales, and lead generation.
Our favorite post is their comprehensive guide to cold emails.
Close Blog
If you're looking for something that's a little bit outside of the box, then Close Blog is a good candidate for your attention. It puts out consistent content that ranges from trending to evergreen.
You'll find content on everything from the best practices for cold calls to strategies for improving your sales management. Give them a read next time you're looking for sales content that stands out.
Udemy Blog
Udemy's blog is great for mining content that goes beyond cookie-cutter sales topics. It has different sections you can explore, focusing on different skills related to sales but not sales skills directly.
There is a 'soft skills' part of the blog, which is ideal for those looking to improve non-sales skills that will end up helping them get better at talking to clients and closing deals.
Predictable Revenue
Predictable Revenue is a sales development blog that features dedicated sections for both B2C sales and B2B sales, so you can easily sort by the articles that are more relevant to your work.
This blog also makes a point of sharing content related to cutting-edge sales development trends; reading it regularly will help you stay on top of new ideas and practices that will help you improve your sales results.
Seismic Blog
If you're looking for sales content that's directly related to your niche, then Seismic Blog is the place for you. It offers vertical-specific content that gets to the heart of what's happening in tech, banking, manufacturing, and other industries.
Get more out of your B2B sales process with LeadLander
Reading sales blogs regularly is a great way to keep your skills sharp and remain knowledgeable about the latest trends in your industry. But if you want to maximize your results and hit your sales goals, you're going to need to leverage the right tools.
That's why you should give LeadLander a shot. Our website visitor tracking software provides you with usable information about those visiting your site. You can use it to improve your pitches, target the right prospects at the optimal times, and more.

We're so confident you'll love LeadLander that we'll let you try it for free. You can use this link to sign up for a free 14-day trial of LeadLander today.
Related Reading
---