For businesses today, Customer Relationship Management (CRM) systems have become nothing short of essential. They serve as the backbone of modern sales, marketing, and customer service teams, helping businesses manage contacts, identify sales opportunities, nurture customer relationships, and execute targeted campaigns. But what about adding a LeadLander CRM integration to bring in the power of real-time visitor tracking to your CRM platform?
A powerful website visitor tracking tool, LeadLander provides insights into who is visiting your website, what they're looking at, and how long they're spending on each page.
Today, we're exploring the top CRM platforms that offer seamless integration with LeadLander—namely, Salesforce and HubSpot—in addition to other CRMs that you can connect to the platform using Zapier. Let's get into everything you need to know about LeadLander CRM integration.
The Benefits of Integrating CRM with LeadLander
Integrating a CRM system with LeadLander offers numerous benefits that not only enhance customer engagement but also empower your sales and marketing teams. Here's a breakdown of some of these advantages:
Real-time Visitor Tracking. Tracking visitors in real time offers immediate insights into who's visiting your website, which pages they're engaging with, and how long they're sticking around. When integrated with your CRM, your real-time visitor insights from LeadLander become dynamically linked with customer profiles, allowing your teams to tailor interactions based on immediate behavior.
Data-Driven Insights. Data is only as useful as the actions it informs. Integrating LeadLander with your CRM centralizes visitor tracking data and customer interactions, making it easier to analyze both historical and current customer behavior patterns. With such consolidated data, you can derive actionable insights to inform personalized marketing campaigns or adjust sales approaches.
Enhanced Sales Processes. Time is a limited resource in sales. The integration of LeadLander with a CRM allows your sales team to act instantly based on real-time data, streamlining workflows and eliminating the need to manually input visitor tracking information into the CRM. This results in more timely follow-ups, targeted sales pitches, and ultimately, a quicker sales cycle. Reacting in a timely manner is extremely important when 35-50% of sales go to the vendor that responds first.
But what specific CRM should you choose? Let's look at your options.
Salesforce: A CRM Solution for Larger Companies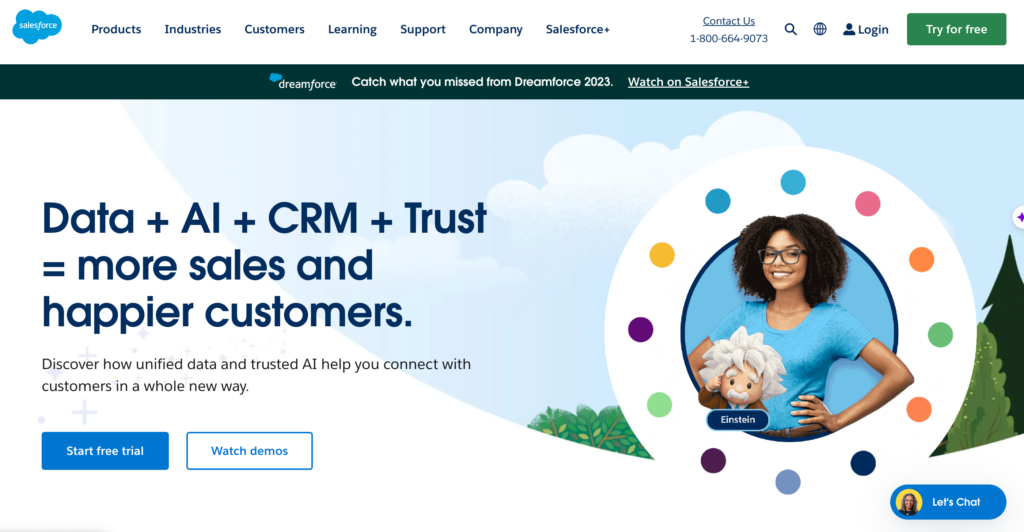 When it comes to CRM systems for enterprises, Salesforce is a big name. Known for its robust feature set, scalability, and versatility, Salesforce is one of the most popular platforms for large organizations seeking to centralize customer data, streamline sales processes, and accelerate revenue growth. 
Key Salesforce Features
Data Centralization and Segmentation. Salesforce excels in data centralization and segmentation. When integrated with LeadLander, your visitor tracking data feeds directly into the CRM, which makes it easier to segment your leads and customers based on real-time behavior and other attributes.
Advanced Analytics. Salesforce offers Einstein Analytics, a set of advanced AI-driven features that provide deep insights into customer behavior. Coupled with LeadLander's visitor tracking data, this opens up endless possibilities for analyzing your audience's needs and preferences.
Customization and Flexibility. The customizable nature of Salesforce makes it remarkably adaptable to various business needs. You can customize its setup and tailor your CRM to work seamlessly with LeadLander, allowing for a more personalized user experience for both your team and your customers.
Workflow Automation. Salesforce provides robust workflow automation features, which become even more powerful when paired with real-time data from LeadLander. Automated actions based on visitor behavior—like sending targeted emails or alerting sales reps—can be easily configured.
In a nutshell, Salesforce provides a comprehensive CRM solution ideal for large enterprises that aligns exceptionally well with LeadLander's capabilities. The Salesforce-LeadLander CRM integration offers an enhanced level of customer engagement, insightful data analytics, and streamlined sales processes.
HubSpot: A Powerful Marketing CRM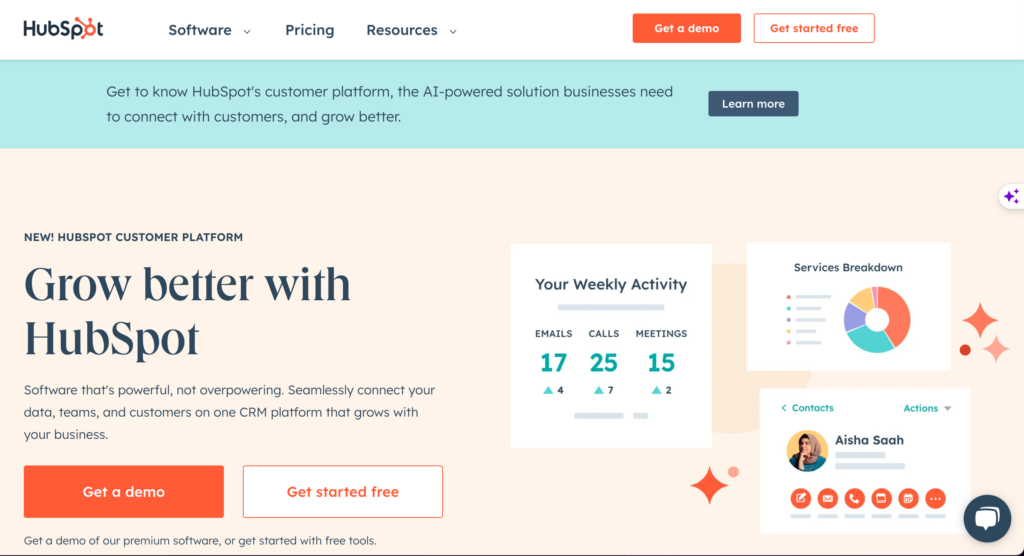 HubSpot has earned its reputation as a comprehensive CRM solution that excels in inbound marketing. Designed for businesses ranging from mid-market to enterprise, HubSpot serves as an all-in-one platform that merges sales, customer service, and marketing tools. 
Key HubSpot Features
Inbound Marketing Focus. HubSpot's core strength lies in its focus on inbound marketing, making it a perfect fit for LeadLander's visitor tracking capabilities. This allows for easy nurturing of inbound leads through targeted content and customized interactions based on real-time visitor data.
Seamless API Integration. HubSpot's robust API capabilities enable smooth integration with LeadLander, so you can sync visitor tracking data with customer profiles within the CRM. This seamless integration ensures that your sales and marketing teams have the most up-to-date data at their fingertips.
Built-in Analytics Tools. HubSpot comes with its own set of powerful analytics tools that can further enrich the data you gather via LeadLander. Imagine being able to pair website visitor behavior with individual customer journeys, thereby offering your company leaders insights that are both broad and granular.
Marketing Automation. Like Salesforce, HubSpot also provides robust marketing automation features. But what sets it apart is its ease of use. You can quickly set up automation workflows based on real-time data from LeadLander, making it possible to instantly trigger actions like sending personalized emails or assigning leads to sales reps.
In all, HubSpot offers a unique blend of inbound marketing capabilities and robust analytics, making it an excellent choice for integration with LeadLander. If you're a marketing leader in a mid-market to enterprise-level company, the HubSpot-LeadLander CRM integration offers sufficient depth of functionality to elevate your marketing game to the next level.
Salesforce vs. HubSpot: A Quick Comparison
Let's do a quick rundown of the differences between these two CRM systems:
Differences in User Interface
Salesforce provides a highly customizable interface, but the complexity can be overwhelming for newcomers and tailoring it to your needs usually requires developer resources.
HubSpot offers a more user-friendly interface, designed to be intuitive, especially for marketing and sales teams.
Variations in Customization Options
Salesforce shines in customization with advanced options, including custom code capabilities.
HubSpot offers less customization but aims for ease of use with simple-to-configure dashboards and layouts.
Cost Comparison
Salesforce offers different pricing tiers that may require additional costs for premium features, potentially making it more expensive in the long run.
HubSpot has a freemium model that allows you to start with basic features and then upgrade, although upgraded features may come at a cost.
While Salesforce offers more advanced customization, it may have a steeper learning curve and potentially higher costs. HubSpot, on the other hand, focuses on user-friendliness and advanced marketing tools, but may offer fewer customization options.
Other CRM Options Through Zapier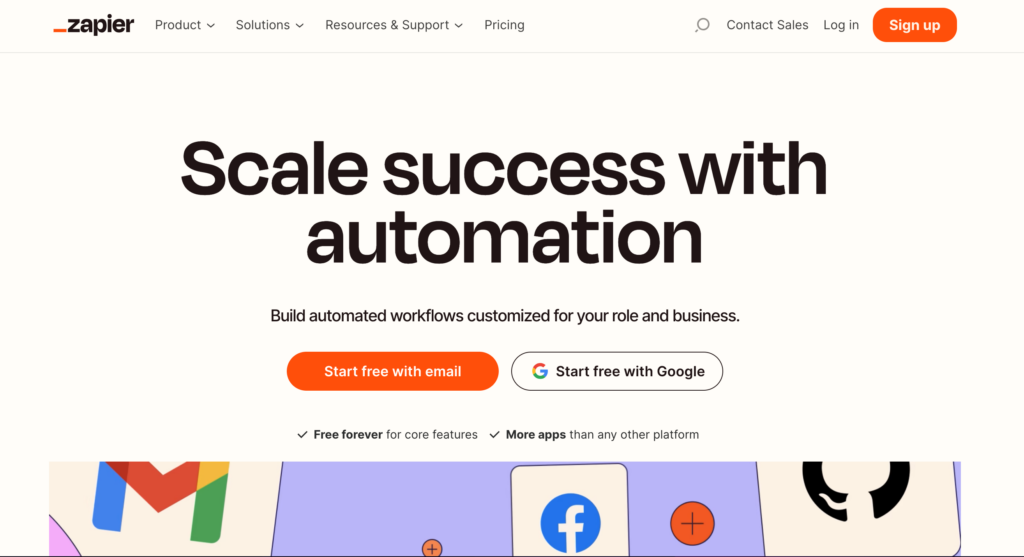 Zapier is an automation tool that connects popular apps to each other, like Gmail, Slack, and now more than 3,000 others. It's designed to serve as the bridge that empowers you to automate repetitive tasks between different web apps. For example, it can take a new contact in LeadLander and automatically add that information to your CRM, streamlining your lead management process.
Beyond Salesforce and HubSpot, Zapier also integrates LeadLander with a variety of other CRM platforms like Zoho CRM, Microsoft Dynamics, Monday.com, Copper CRM, and Pipedrive. This gives businesses the flexibility to choose a LeadLander CRM integration that best fits their unique requirements.
Get Started with LeadLander CRM Integration Today
When you sync LeadLander's powerful website visitor data with CRM, your CRM platform becomes even more powerful. After you decide which system is the best fit for your organization, let the integration begin.
For both HubSpot and Salesforce, the integration works as a built-in system that's automatically built into your LeadLander account. All you need is to authorize the syncing and be logged into your Salesforce or HubSpot, and LeadLander accounts, for this to work. For more details on how to set up the integration, reach out to our technical support team.