When it comes to web analytics, Google Analytics 4 (GA4) has been a game-changer in many ways, offering a more user-friendly interface, event-based tracking, and machine learning capabilities to predict future user actions. But let's face it, no tool is a one-size-fits-all solution — which is where GA4 alternatives come into play.
While GA4 excels in multiple aspects, there are instances where you might find it lacking for your specific needs. Whether it's the demand for more granular real-time data, stringent privacy compliance, or you simply prefer different visual presentations of data, there are alternatives to Google Analytics 4 that might be a better fit for your unique business requirements. Let's explore the top 5 GA4 alternatives.
Google Analytics 4 (GA4): A Quick Overview
First, let's explore the key features of GA4:
Event-Based Tracking. Unlike its predecessor Universal Analytics, GA4 focuses on event-based tracking, which provides a more holistic view of how users interact with a website.
Real-Time Data. GA4 offers real-time data tracking, useful for understanding immediate impacts of marketing campaigns.
Predictive Metrics. The platform uses machine learning to predict future user actions, helping to identify potential customer segments.
Privacy-Centric. With features designed to help businesses comply with privacy laws, GA4 is built for the age of heightened data privacy concerns.
This new version of Google Analytics has its pros and cons. On the positive side, users enjoy its:
Greater Customization Abilities. With event-based tracking, GA4 allows for a higher level of customization, which can be especially useful for complex websites.
Strong Emphasis on Privacy. Built with compliance in mind, GA4 helps businesses meet many privacy requirements — though strictly speaking, it isn't fully GDPR compliant.
But there are some notable drawbacks to GA4, including:
Steep Learning Curve. Because of its completely new interface and brand-new features, GA4 will require some additional training to get up to speed.
Data Gaps. Conversion tracking can sometimes differ from older analytics versions, which can  be difficult to replicate since it isn't a 1-1 migration.
Now, let's look at some alternatives to Google Analytics 4 so you can find the most suitable option for your business.
5 GA4 Alternatives for Web Analytics
Let's face it; it's hard to live up to the high standards that Google Analytics has set for website analytics over the last decade. But a few platforms come close, offering comparable functionality and similar capabilities. Let's take a look.
1. Matomo Analytics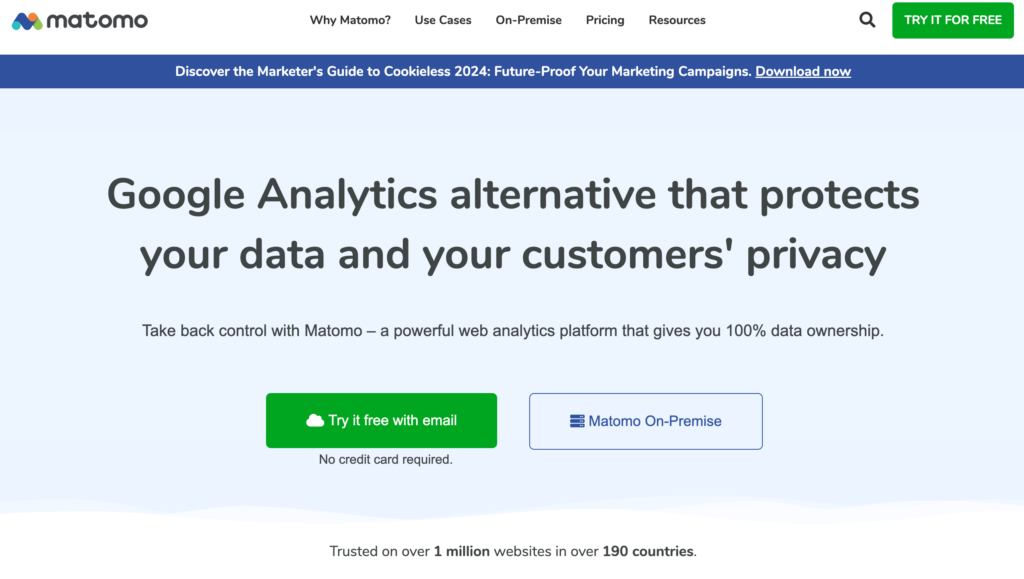 Matomo Analytics, formerly Piwik, is a free, open-source web analytics application that promotes itself as a Google Analytics alternative. Let's look at the key features:
Open-source. One of the major attractions of Matomo Analytics is its open-source nature, which allows for greater customization and adaptability to adjust the platform to your specific business needs.
GDPR compliance. If you're operating within the European market, Matomo Analytics is a good option since it's fully GDPR compliant, giving you peace of mind when it comes to data protection and privacy laws.
Differences between Matomo vs. GA4
Matomo Analytics' two main differences from GA4 include:
Focus on privacy. Unlike GA4, which primarily aims at providing detailed analytics, Matomo takes a more privacy-centered approach—hence its full GDPR compliance. This focus makes it particularly appealing for businesses concerned about data privacy.
On-premise hosting. Another notable difference is the option for on-premise hosting. While GA4 relies on cloud-based solutions, Matomo offers the option of keeping data storage and analytics right on your own servers.
So, is Matomo the right GA4 alternative for your company? Let's weigh the pros and cons.
Pro – Enhanced Privacy: Businesses that prioritize data privacy will find Matomo's approach beneficial.
Con – Requires More Technical Know-how: The open-source and on-premise features mean your team will need more of a technical background to make the most out of Matomo.
2. Adobe Analytics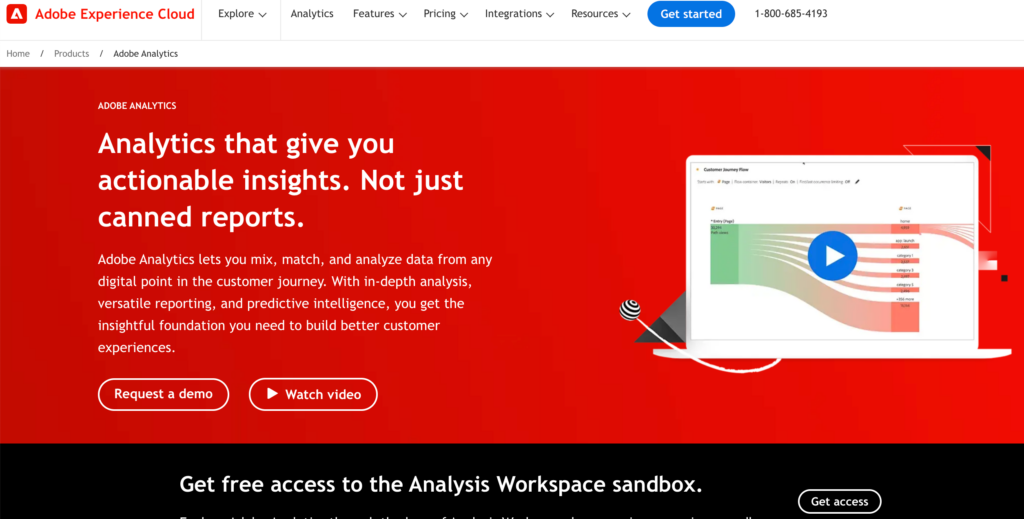 Adobe Analytics offers a comprehensive analytics solution designed for businesses seeking in-depth insights. Built as part of the Adobe Experience Cloud, Adobe Analytics is known as more of an enterprise offering and goes beyond web analytics to provide businesses a 360-degree view of your customers. Some key features include:
Integration with Adobe Suite. Its seamless integration with the Adobe Suite allows businesses to effortlessly sync data across Adobe tools, thereby creating a cohesive analytics and marketing ecosystem.
Advanced Segmentation. This feature allows you to isolate specific user groups and study their behavior, enabling data-driven business decisions.
Differences between Adobe Analytics vs. GA4
The main difference of Adobe Analytics is its enterprise offerings. With scalability and a rich feature set, Adobe's platform is a compelling choice for larger organizations that already use the Adobe Suite and are seeking advanced customization and data granularity.
Still not sure if Adobe Analytics is a good fit? Let's look at the benefits and drawbacks of this tool:
Pro – Comprehensive Tools. Adobe Analytics offers everything from real-time analytics to predictive modeling. These robust features make it a one-stop-shop for business leaders seeking extensive insights.
Con –  High Cost. The biggest drawback to consider is its pricing. Adobe Analytics is an investment, and while it offers numerous advanced features, it can be cost-prohibitive for smaller businesses or those on a tight budget.
3. Plausible Analytics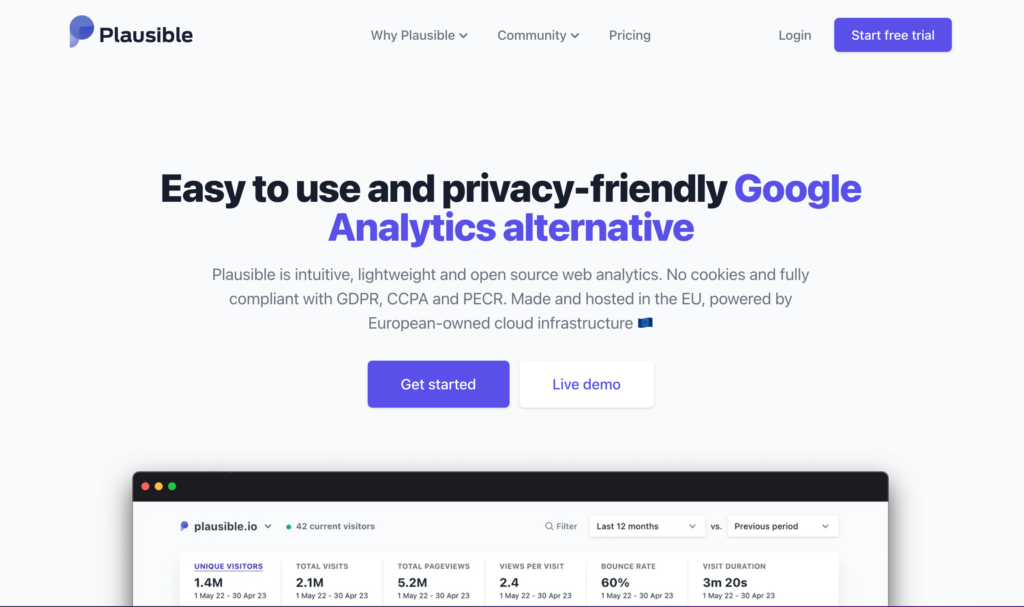 Plausible Analytics is an open-source web analytics platform that positions itself as a Google Analytics alternative and is known for its privacy-focused approach. The platform offers a simple and user-friendly interface, making it easier for business owners to navigate and understand their data without a steep learning curve. Some key features include:
Privacy-Centric. Plausible has a strong commitment to privacy and is built and hosted in the UK. Unlike many other analytics platforms, Plausible doesn't use cookies, meaning it's GDPR, CCPA, and PECR compliant right out of the box.
Lightweight. It's designed to be lightweight, ensuring minimal impact on website load times. This is a big advantage for businesses concerned about optimizing user experience.
Differences between Plausible and GA4
No User Tracking. While GA4 uses data tracking to deliver its insights, Plausible's focus is on privacy and non-intrusive analytics. This makes it an excellent choice for businesses looking to balance data collection and user privacy.
Simplified Reporting. Some users are easily overwhelmed by GA4's plethora of metrics and reporting options. Plausible, on the other hand, offers a more streamlined, less complex approach to reporting. This makes it easier for smaller teams to understand their data quickly.
So, what are the cons of using Plausible Analytics? Let's look at both sides of the coin:
Pros – Privacy and Simplicity. Its privacy-centric nature combined with Plausible's simplicity makes it a unique option in the analytics marketplace. The platform's straightforward reporting and lightweight design also add to its appeal.
Con – Limited Advanced Features. The biggest downside of Plausible is that it lacks some of the advanced features and in-depth analytics provided by more robust platforms like GA4 or Adobe Analytics.
4. Heap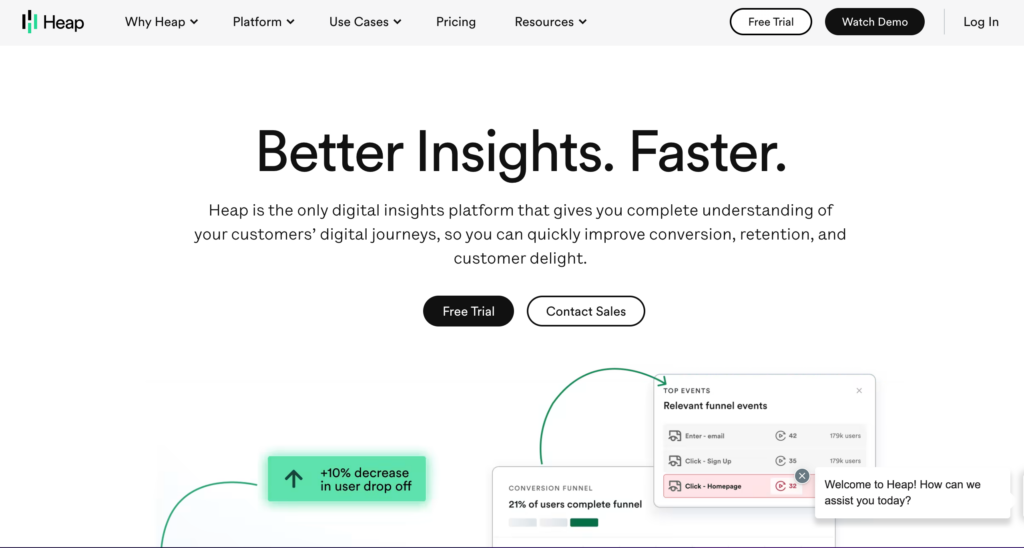 Heap is a customer engagement analytics tool that automatically captures all user interactions on your website or app, helping you understand when and why customers engage and even recognize any hiccups in the customer journey. It's ideal for product analytics tracking to better understand user behavior and engagement. Some notable features are:
Auto-Tracking of All User Interactions. A distinctive feature of Heap is its automatic tracking capability. Where other platforms have the user define each event to track manually, Heap does the work for you by capturing every click, form submission, and pageview.
No Need for Manual Tagging. Another user-friendly perk is its automated tagging. Heap automatically tags events, so you don't need to spend hours manually configuring your tracking — a real time-saver.
Comparing Heap vs. Google Analytics 4
The biggest differentiator between Heap and GA4 is that Heap shines as a product analytics platform, whereas GA4 focuses on marketing analytics. For SaaS teams looking to track user behavior and interactions across web and digital apps, Heap may be a better option.
The other differentiator is the easier setup that Heap's platform offers. Sure, GA4 offers robust tracking features, but it generally requires a more elaborate setup process involving manual tagging and event configuration. Heap offers a more "plug-and-play" setup, making it an attractive option for those who want to dive straight into the data.
But what about pros and cons? Let's look at the highlights:
Pro – Saves Time. The streamlined setup process and auto-tracking functionality save considerable time, allowing businesses to focus more on interpreting data and less on collecting it.
Con – Higher Price Tag. Heap's extensive customization options can add up quickly, especially for businesses with a lot of user data.
5. Clicky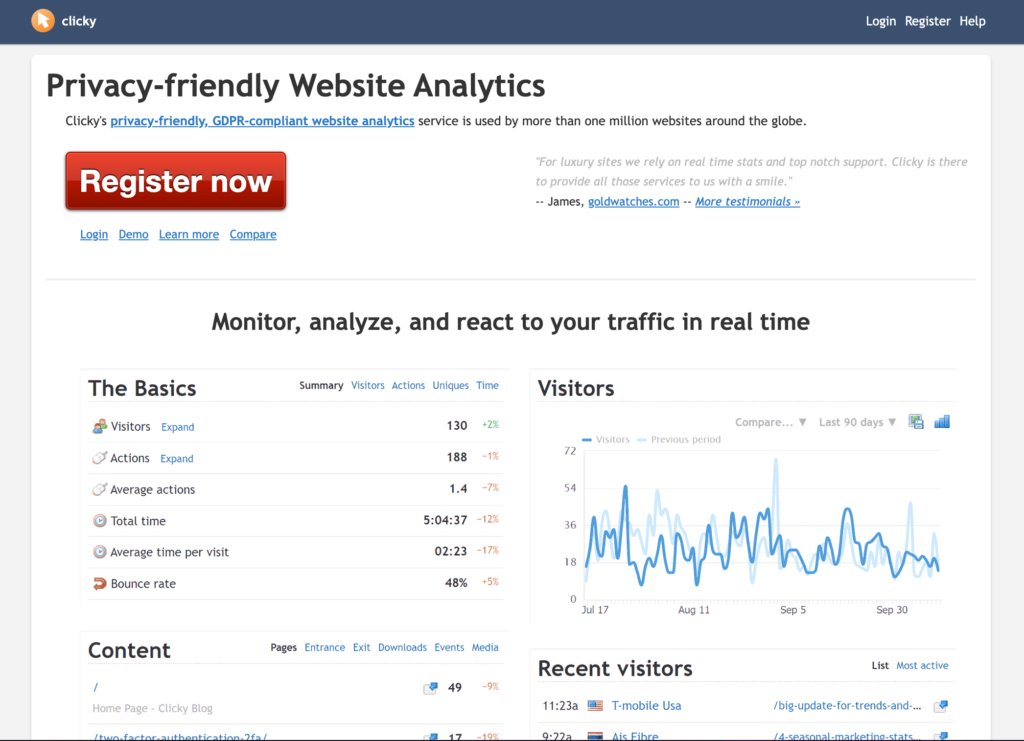 Clicky is an intuitive web analytics platform that specializes in providing real-time data while adhering to GDPR standards. Unlike other analytics tools that emphasize historical trends, Clicky is focused on offering instant insights into visitor behavior. If your business values real-time data, Clicky may be a good fit. Two features of note include:
Live Visitor Tracking. Clicky's live visitor tracking allows you to see who's on your site in real time, and even what they're doing at that very moment. This is a pretty nice feature, helping you understand user behavior as it happens. This gives your team the opportunity to make immediate adjustments to your site or marketing strategy.
Heatmaps. Another highly-regarded feature is its built-in heatmaps, which visually represent where users are clicking on your site. This can be incredibly informative when optimizing your site layout for better user experience and conversions.
The Differences between Clicky vs. GA4
So how does Clicky stand out from GA4? The main difference is Clicky's focus on real-time data. While GA4 offers a range of analytic features, its focus is primarily on historical data and tracking trends over time. Clicky's focus on immediate insights can be particularly useful for time-sensitive businesses like e-commerce sites during flash sales, the holiday rush, or special promotions.
Let's take a quick look at pros and cons:
Pro – Immediate Insights. Again, real-time data offers the invaluable advantage of immediate insights — enabling you to rapidly adapt your strategies based on live user behavior.
Con – Limited Scalability. Clicky lacks some of the more advanced features and customizability that larger enterprises may require. Its limited scalability may not be suitable for businesses looking to conduct in-depth, long-term analytics.
Choosing the Right GA4 Alternative for Your Business
The options for business web analytics have expanded notably in recent years, which makes it easier to find a Google Analytics 4 alternative that meets your needs. If you're ready to switch from GA4, chances are one of these 5 platforms could be a great fit. It all comes down to which platform will provide you with the right data to track performance and help you achieve your goals. And if you want to turn your web analytics into actual conversions, LeadLander can help with that — try it free today, no credit card needed.