Artificial Intelligence (AI) is no longer just a buzzword; it's quickly becoming a game-changer for businesses around the world. From streamlining processes to automating tasks and predicting customer behavior, AI offers innovative solutions that help business leaders and professionals be more efficient and productive. Spurred in part by the extreme popularity of OpenAI's ChatGPT, numerous companies have introduced AI add-ons, and countless startups are emerging with solutions built around a similar natural language processing model—from marketing AI, to sales AI, and a myriad of other types of software. We're sharing 15 of the latest AI add-ons and tools that can significantly enhance your business operations.
AI Add-ons to Tools You Already Use
If you're looking to drive even more efficiency with tools you already use, you're in luck: most major software solutions have either already introduced AI add-ons, or are working to roll them out quickly. Here are 10 we have our eye on:
Canva AI
The design platform Canva, known for its user-friendly interface, has introduced AI to further enhance design creation. With Canva's AI tools, you can turn your words into images, edit your photos with magic, and generate compelling text for your designs.
Whether you need an image for a blog post, a social media post, a presentation, or any other project, you can use Canva's AI tools to create it in seconds. Three incredibly useful features are:
Text to Image: This tool allows you to transform your text prompts into captivating visuals instantly. The AI-driven tool generates a variety of images based on your text input, ensuring that you have the perfect graphics to complement your content.
Magic Edit: This tool allows you to add or replace anything in an image by identifying the desired location and describing what you want to add. You can use this tool to enhance your photos, add elements, or anonymize people.
Magic Write: This tool allows you to generate compelling text for various purposes, including social media posts, ad copy, landing pages, blog content, website copy, or even personalized invitations and correspondence. All you need to do is provide a prompt, and Magic Write will generate the text for you in seconds.
You can access these tools with a free Canva account.
Slack GPT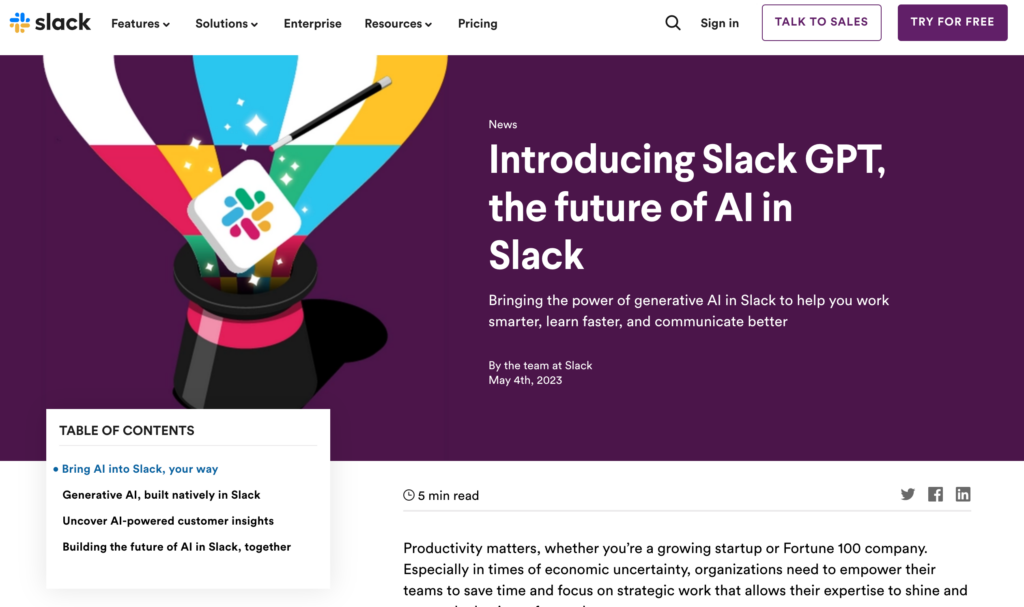 Slack, the team communication platform, has integrated advanced AI capabilities to enhance team productivity and efficiency. Slack GPT lets users choose and integrate a language model, like ChatGPT or Claude, or use Slack's built-in AI features. Some of Slack's AI tools include:
Conversation summaries: Slack GPT can automatically generate a summary of a channel or thread conversation, highlighting the main points and action items.
Writing assistance: Slack GPT can help users write better messages, notes, and documents by suggesting edits, corrections, and improvements.
Research tools: Slack GPT can act as a virtual assistant that can answer questions, find information, and provide insights from various sources, including Slack's own data and Salesforce's Customer 360 data.
Salesforce Einstein GPT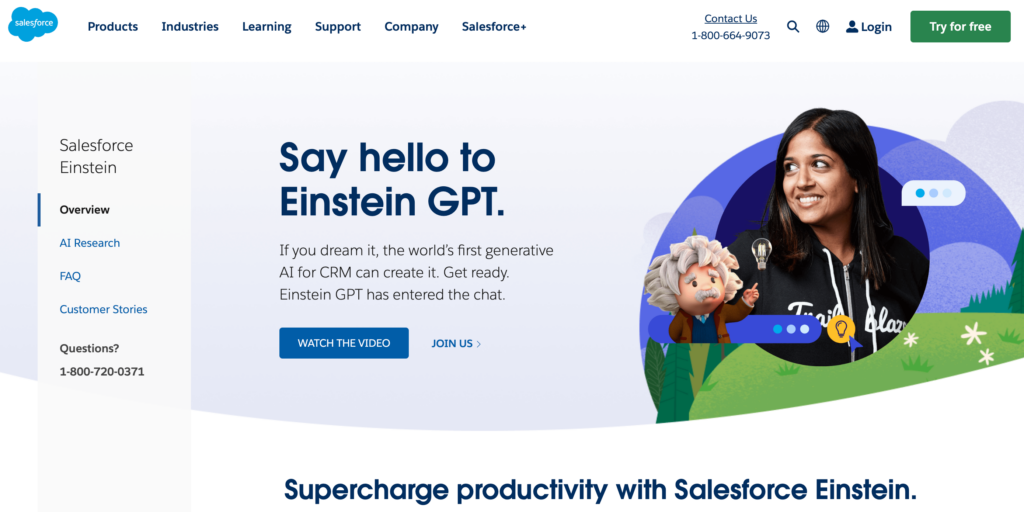 Salesforce's Einstein GPT offers a suite of tools to help enhance users' experience on their platform, including: 
Einstein Analytics: offers interactive dashboards and reports to visualize and explore data
Einstein Discovery: generates predictions and recommendations using machine learning
Einstein Vision: allows users to analyze images and videos using computer vision
Einstein Voice: enables users to interact with Salesforce using natural language
As an extension of their robust CRM and sales software, Einstein helps businesses more easily and effortlessly make data-driven decisions and improve customer relationships.
Microsoft Bing AI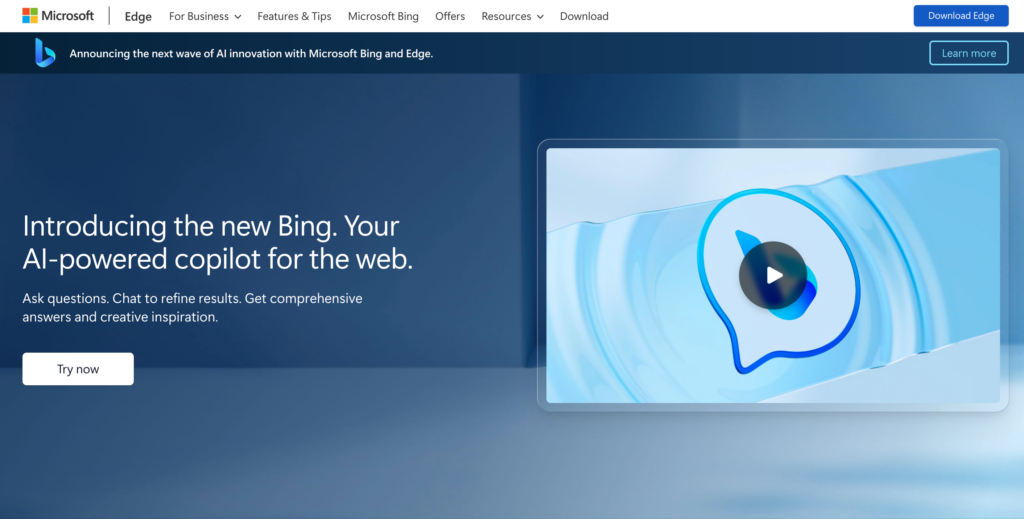 With Bing's AI capabilities, Microsoft is working to transform search engine functionality. Called an "AI-powered copilot for the web," the platform combines a powerful set of tools, including:
Bing Search: It can perform web searches and present information in a visually appealing and informative way, more like a digest instead of just a list of website links.
Bing Chat: It offers a powerful chat mode that can help users with a range of tasks and queries, built right into the Bing search engine. Bing AI can understand and communicate fluently in multiple languages, including English, Spanish, French, Dutch, and Mandarin, among others.
Bing Compose: Bing can generate creative content including code, social posts, scripts, and more. You can also instruct it to help with rewriting, improving, or optimizing their content. With the ability to designate a tone, format, and length, the compose feature is quite useful.
Bing Insights: It suggests additional search queries based on your search history, shows trending searches, and showcases popular videos.
Microsoft Bing AI is available on the Microsoft Edge browser for anyone with a Microsoft account.
Google Bard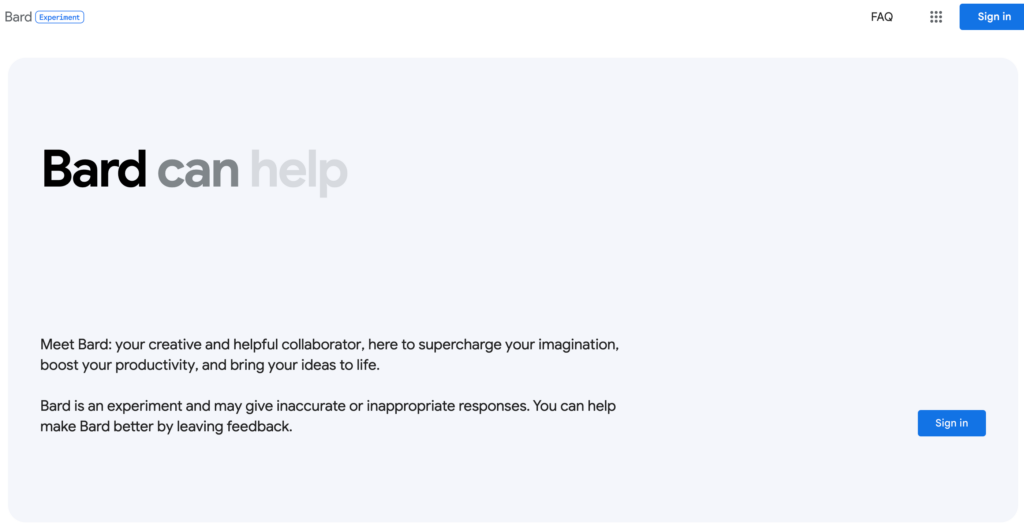 A new addition to the Google family, Google Bard is an AI experiment that lets you collaborate with generative AI to create text, code, images and more. Bard is powered by a version of the LaMDA large language model, and will be constantly updated with newer models over time. Bard can help business professionals with tasks like writing captions, summaries, video scripts, code, and more. You can also ask Bard questions and get informative and creative answers. The tool is currently available in English, Japanese, and Korean, but will soon support 40 languages.
Google Workspace Duet AI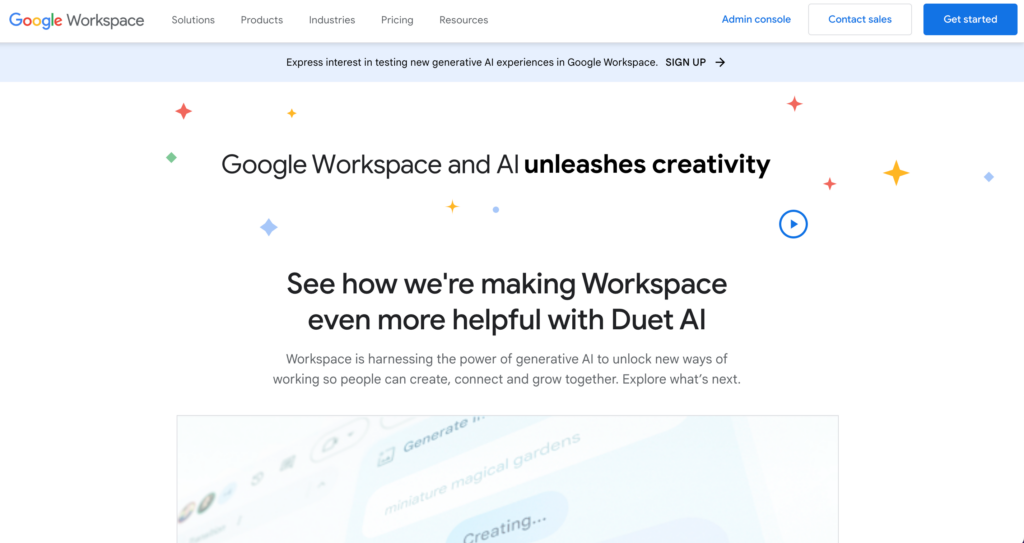 These features aren't available just yet, but many people are eagerly anticipating them—for good reason. Adding AI capabilities to Google's suite of uber-popular productivity tools like Docs, Sheets, and Slides has the potential to be a real game-changer. Some features that will be released soon under Duet AI are:
Smart Compose: Helps users write emails and documents faster and more accurately by suggesting relevant phrases and words as they type. The tool adapts to the user's writing style and tone and the context of the message.
Smart Reply: People can quickly respond to emails and chats with one-tap suggestions that are relevant and appropriate for the situation. The tool analyzes the sentiment and urgency of the message to offer appropriate responses for the situation.
Smart Fill: Helps users fill in spreadsheets with data from different Google app sources, including Google Calendar, Google Contacts, and Google Maps. The tool is able to detect patterns and relationships in the data and suggest formulas and functions to automate tasks.
Smart Canvas: Helps people create dynamic and interactive documents that can embed content from other Google Workspace apps like Google Meet, Google Chat, or Google Drive.
Asana AI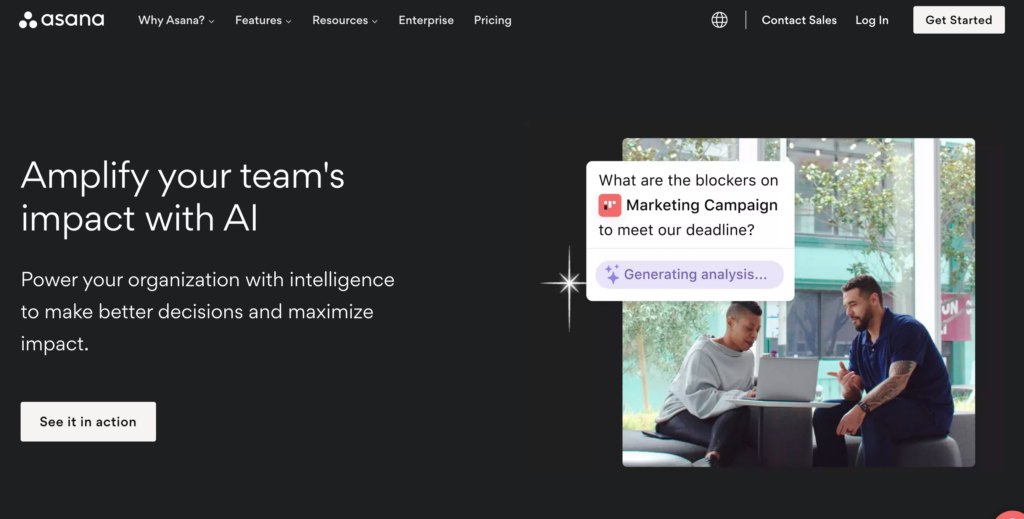 Project management platform Asana is expanding its use of AI to provide improved smart suggestions, automate workflows, and surface insights. For example, Asana can: 
Suggest tasks, assignees, and due dates based on the project context and past behavior.
Create rules and triggers to streamline repetitive processes and save time.
Analyze data and generate reports and dashboards to help teams track their progress and identify areas for improvement.
Zendesk AI (Answer Bot)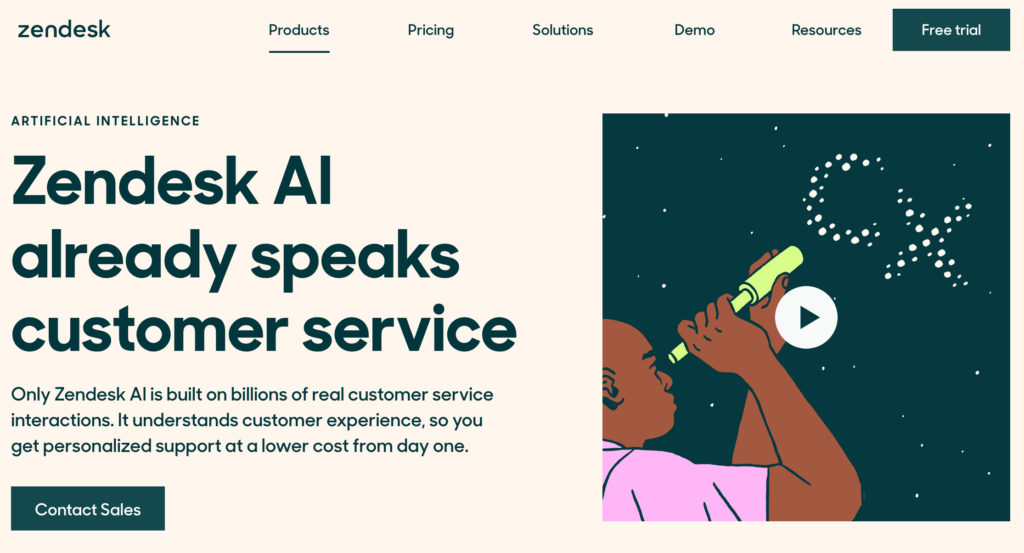 Zendesk's AI-powered bot can handle customer inquiries by helping them find answers to their questions faster and more efficiently—thus reducing your support team's workload. The tool uses natural language processing and machine learning to analyze customer queries and match them with relevant articles from the knowledge base. Since Answer Bot learns from feedback, its accuracy improves incrementally over time. The tool can also provide users suggestions for follow-up questions, and escalate tickets to human agents when needed.
HubSpot AI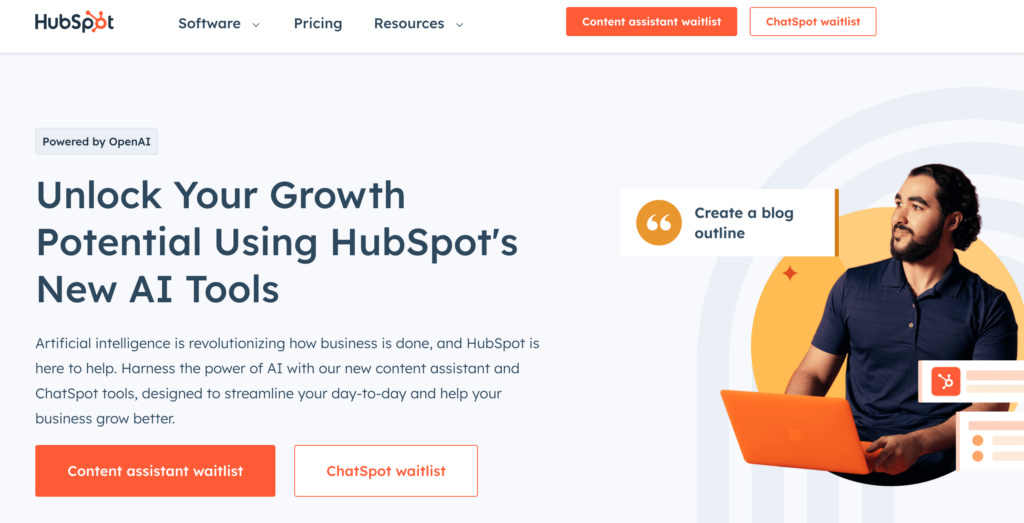 HubSpot's AI features help further enhance the sales and marketing automation experience by doing things like predicting lead scores, optimizing email send times, and delivering personalized content recommendations. Some of the latest AI features that HubSpot is releasing include:
Lead scoring: The tool analyzes various data points, from website visits and email opens, to form submissions to help determine the likelihood of a lead converting into a customer. This helps sales teams prioritize their efforts and focus on high-quality leads.
Content assistant: With Hubspot's OpenAI GPT integration, it can help users ideate, create, and share content quickly. Users can generate various types of content templates, including marketing emails, sales copy, and social captions with the help of HubSpot's content assistant tool.
Chat-based commands: Their ChatSpot tool allows users to accomplish everything they already do in HubSpot using natural language chat-based commands. For example, users can ask ChatSpot to create contacts, send emails, pull reports, find prospects, and complete other tasks that they used to perform manually.
Zoho Zia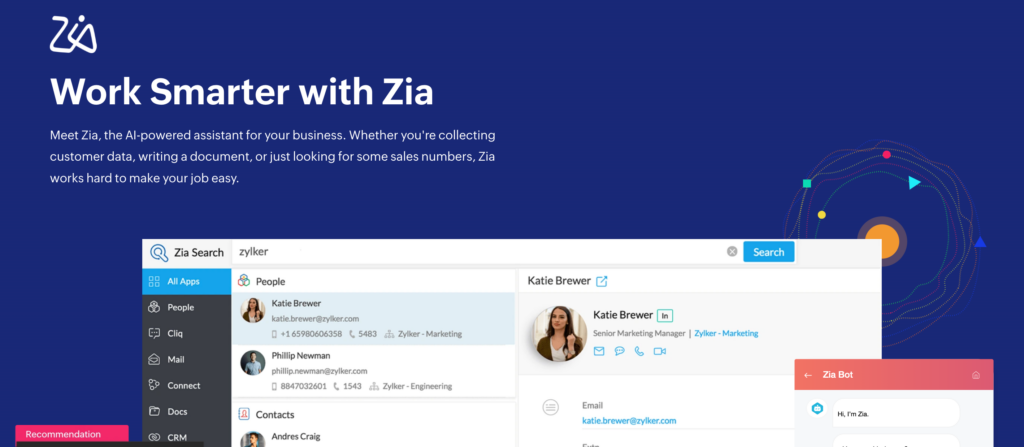 Zia, Zoho's AI bot, can assist users with various tasks to help automate their work. It can even interpret questions asked in natural language and provide relevant answers, insights, and suggestions. Zia can also automate workflows, generate reports, and predict outcomes based on your customer data. 
New AI Tools Worth Checking Out
It's a fascinating time to be in the tech world, with so much innovation swirling around AI technology. There are new AI tools being released daily, but here are 5 that could help change the way you work:
Merlin ChatGPT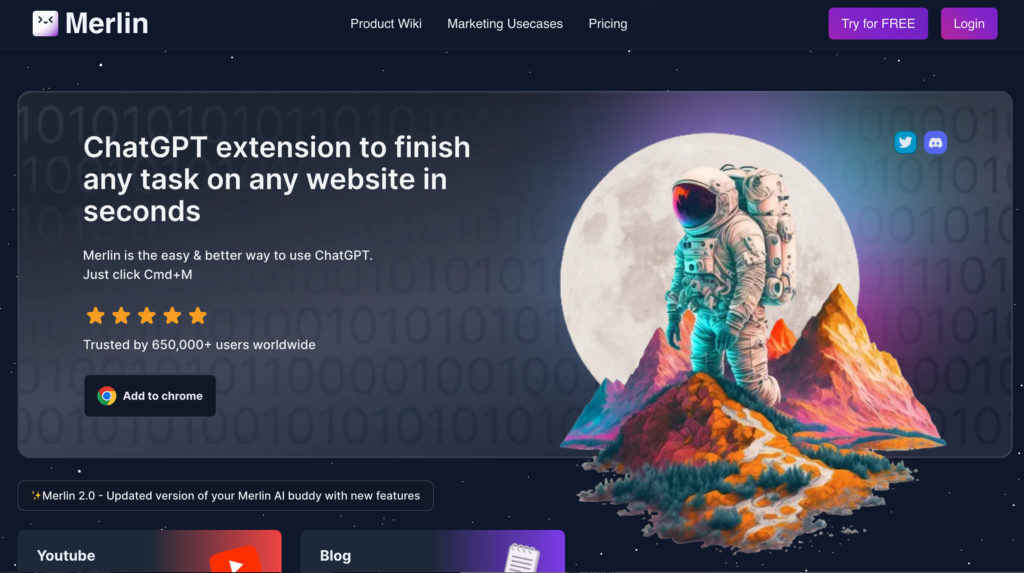 This Chrome extension gives users free Chat GPT-4 access on any website. Get the best out of AI on Google Search, Youtube, LinkedIn, Gmail, Substack, and 10+ million other websites. Among other things, you can summarize Youtube videos with a click, and get a ChatGPT response on all your Google results without logging into your OpenAI account.
Clip Fm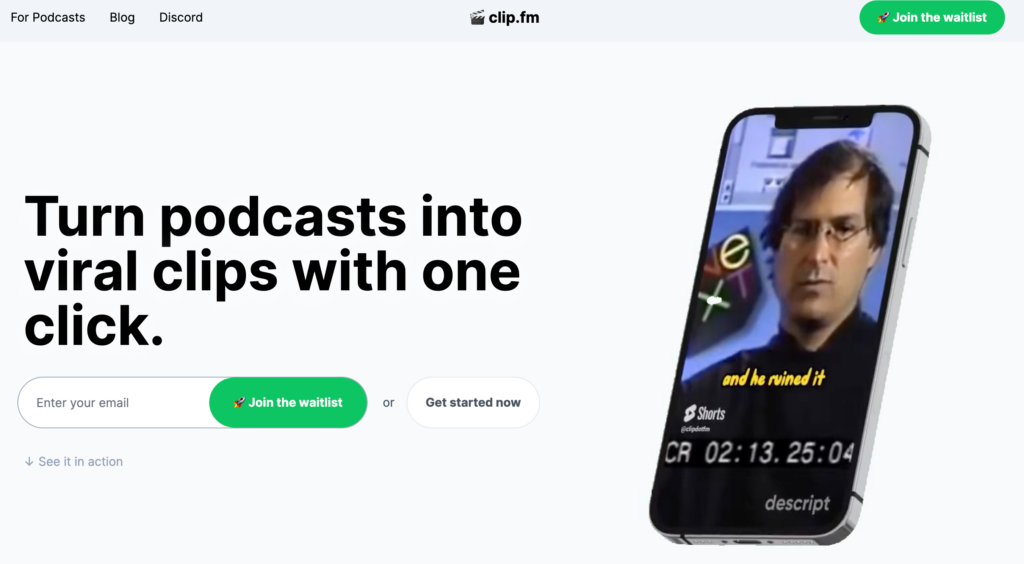 For any business that runs a podcast, or for business leaders who are frequently featured on podcasts, Clip.fm is a powerful platform for creating and sharing short audio clips. The best part? AI automatically transcribes your streamed podcasts and then detects the best parts of your podcast, creating short audio clips from them. Users have the ability to customize the look and feel of the clips, and then the tool spits them out in the right format to share on any short-form platform.
Vizologi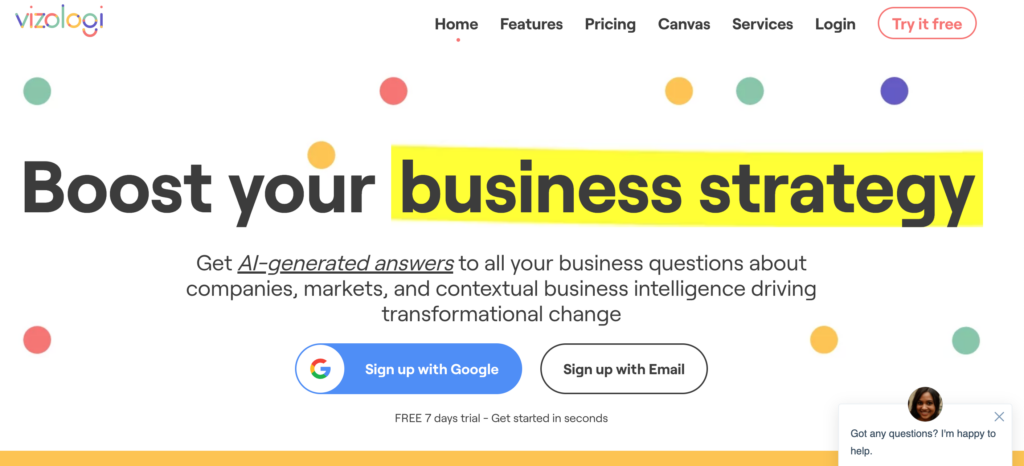 Business intelligence and market research can be tricky, but Vizologi helps simplify it using artificial intelligence. By analyzing millions of data points from various sources, the tool generates insights and recommendations for improving the performance and sustainability of any business. It can also answer questions about competitors and business strategy and help users explore and compare different business models from various industries and sectors. By exploring this intelligence, business leaders can learn from the best practices of successful companies. 
MobileGPT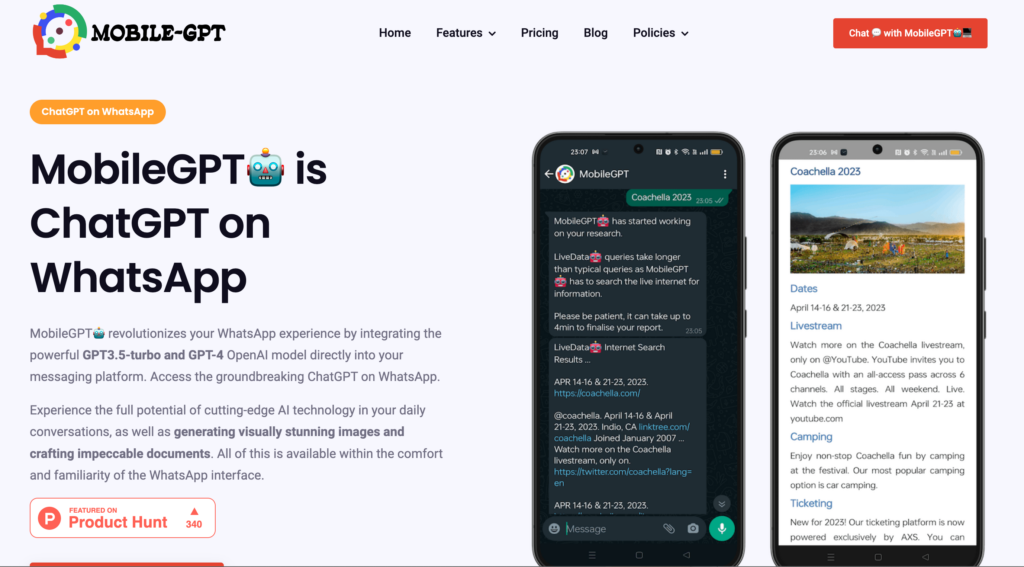 If work often has you on the go, MobileGPT lets you take the power of ChatGPT with you on your smartphone. Working within the WhatsApp platform, MobileGPT is a personal AI chatbot that can generate text based on keywords, prompts, or examples. It can essentially do everything that ChatGPT does on your desktop, including rewriting, summarizing, or optimizing existing text and answering a wide range of queries. Add to that the ability to generate AI images and create Word docs from a simple text prompt, and it's a pretty powerful tool to have in your pocket.
Mini-Course Generator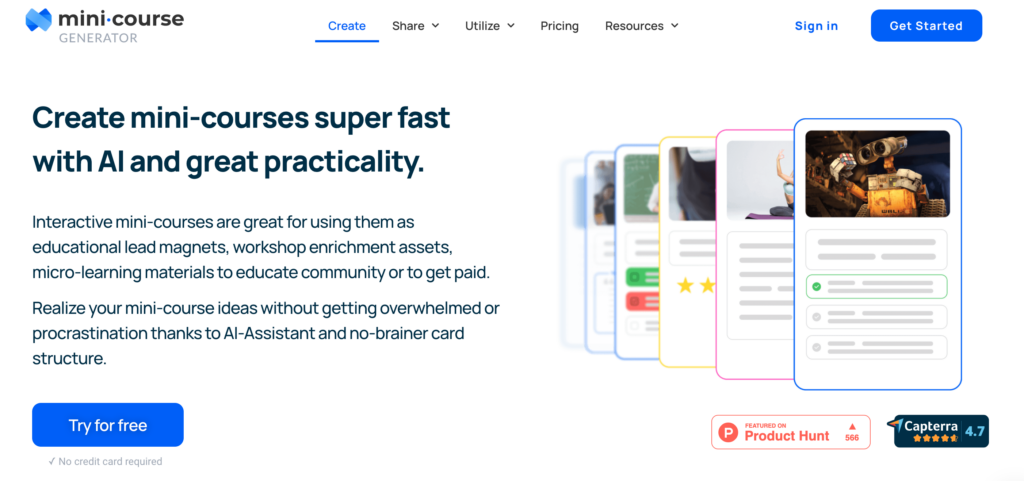 Offering online courses can be an easy revenue-booster for many types of businesses, but the challenge has always been how time-consuming it is to create them. The Mini-Course Generator has set out to change this, with an easy-to-use, AI-powered platform that takes much of the manual work out of course creation. You can use it to generate a course outline, a summary, a quiz, and more. It will take you through the entire process of building your course outline, creating your content, and editing it, until you have a polished final product ready to offer to your audience. 
Enhancing Your Business Processes with AI Solutions
The business world, and society as a whole, are just starting to get a feel for all the possibilities and potential of artificial intelligence. As AI technology continues to evolve and more solutions come to market, we'll be keeping an eye on new tools that can help enhance your business processes and operations to help drive success.
If you're in need of a tool to help track your website visitors and turn them into warm leads, LeadLander can help. Try our platform free for 14 days, no credit card needed.