LinkedIn helps professionals form connections with like-minded people and companies. It's also become a hub for high-quality information across different industries. But LinkedIn can also be an impactful place to market your products or services to generate new leads. If you're interested in running LinkedIn ads or meeting decision-makers on the platform, consider adding LinkedIn lead generation to your broader marketing plan. However, you've got to use the right practices if you want to get as much out of generating leads on the platform as possible. Keep reading to learn why you should be marketing on LinkedIn and how to leverage it as effectively as possible.
Why Marketing On LinkedIn Is Worth It
If you're serious about reaching your sales goals, then LinkedIn marketing is imperative. There are several reasons why that's the case.
First, the platform has a huge user base of 690 million people and businesses. That's a huge pool of potential leads your company can pull from.
Additionally, LinkedIn ads have an average conversion rate of 6.1%. That's more than twice the effectiveness of comparable ads on Google. Sure, it'll cost you a bit more per click to advertise on LinkedIn, but the value is there.
Another benefit of marketing on LinkedIn is its ability to traffic in thought leaders and key decision-makers. One study found that upwards of 20% of LinkedIn users have purchasing power at their organization. This makes the platform an ideal social option if you want to get in touch with decision-makers.
5 Strategies For Using LinkedIn To Reach Your Sales Goals
Take advantage of the platform's ultra-specific targeting features
LinkedIn offers unparalleled targeting opportunities to companies advertising on social media platforms. It enables a business to zero in on super niche industries, company types, and job roles.
This means that you can use your LinkedIn ads to reach the sort of people most likely to purchase your product or service. It's why our first tip is to make sure that you're using these targeting features to their full potential.
If you feel like your ads are still being shown to people or companies that are only on the periphery of your target audience, you can do better. Get back to the drawing board and redefine the scope of your ads until you're only targeting people who align exactly with your ideal customer profile.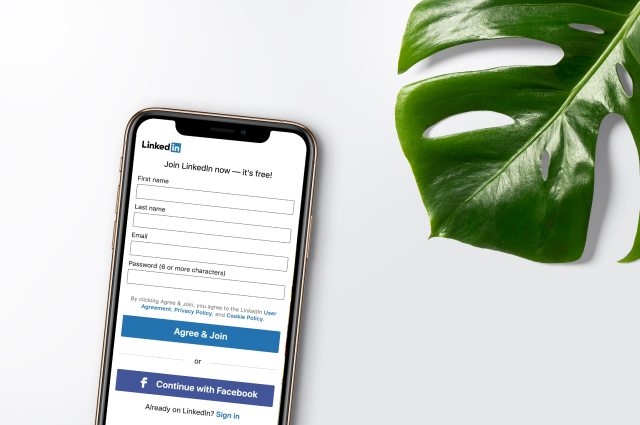 Use Several Types Of LinkedIn Ads
Advertising on LinkedIn can be effective. But it's important for your company not to fall into the trap of becoming overly reliant on a single type of ad. Instead, combine several types of LinkedIn ads to target your audience in as many ways as possible.
Here are several types of LinkedIn ads that are worth using.
Sponsored content
This is a way to get your most valuable content in front of more people. It's a great way to boost engagement levels on posts that offer relevant data to your target audience.
Sponsored messaging
Sponsored messaging involves sending personalized messages to a LinkedIn user's inbox. These are a great supplemental form of advertising on LinkedIn. They enable companies to reach decision-makers who can't spend a ton of time scrolling through posts but still check their messages.
Dynamic ads
Dynamic ads are another cool feature LinkedIn offers to help companies target their audience on the platform more effectively. These ads automatically pull data from a person or a company's LinkedIn profile and then use it in the ads you show them.
For example, a dynamic ad will let you show LinkedIn users personalized ads that feature things like their names, job titles, and locations. This is a great way to make your LinkedIn ads stand out from all others that your target sees on the platform.
Target Decision-Makers Directly
We touched on this earlier, but it bears repeating: About 20% of LinkedIn users have purchasing power in their organizations. So a big part of your marketing strategy on the platform should involve trying to reach out to these decision-makers as directly as possible.
The best part is, LinkedIn makes it easy to find these people. One of the simplest ways to do so is by simply typing in the common job titles of a decision-maker. Or, visit the LinkedIn page of a company you're trying to target for more intel and to assess if you have connections in common.
Put More Effort Into Your Content
Many people come to LinkedIn because they want to form new connections with people in their industry. But people keep coming back to the site because it can be a great source of information about the business trends that truly matter.
That's why part of your marketing strategy on LinkedIn should involve regularly publishing high-quality content. This could help boost your organic following, which you can then leverage into earning more leads to reach your sales goals.
How to create great LinkedIn content
Michael Riley, the co-founder of Boxter, says that good content should accomplish two goals:

"First, it should teach others how to solve a problem or how to do their job better… [Second; it should] establish you as a thought leader in the space."
This is exactly what your company should be thinking about while putting together content for its LinkedIn page. Here are some additional things to think about while creating content for LinkedIn:
Make your content tight, relevant, and helpful. Use as few words as possible to deliver as much meaningful insight as you can on the topic at hand.
Focus on providing unique information about current events in your industry.
Post regularly so that people know to keep coming back to see what you have to say.
Engage with people who comment on your post as often as possible.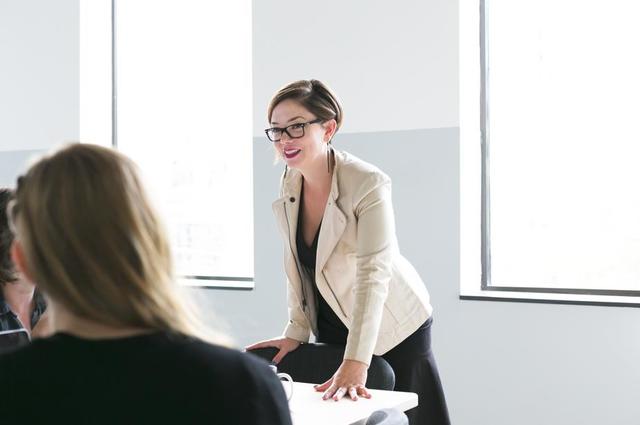 Focus On Connections, Not Hard Sales
LinkedIn is an excellent platform for meeting new people in your industry and discovering new leads. But it's not the place you should be making hard sells to the leads you discover.
People are on LinkedIn to form connections and learn. If you pester them with excessive ads and pushy sales messages, you're going to turn them away from your company before they have a chance to understand how much you can help them.
A better strategy is to focus on forming new connections. Then, once you have those connections, you can begin working on getting the lead into your sales pipeline.
Imagine meeting a decision-maker at an organization in your target audience on LinkedIn. Let's say that the person comments on one of your posts and asks a question about the content. You respond to the content, and then you share a few messages back and forth with them. Perhaps you segue into subtly suggesting additional content they might find valuable. Maybe you direct them to the blog on your website.
Once you've got the lead to your website, you can begin targetting them through that channel instead of LinkedIn. This will allow you to maintain the relationship with the lead while also leveraging that relationship to reach your sales goals.
LeadLander Can Help You Get More Out of Your Marketing Plan
The goal of LinkedIn lead generation is to get the leads you discover off of the platform and into your broader sales pipeline. One of the most effective ways to do this is by directing a lead to your website.
But once that lead gets to your website, you need an easy way to figure out the types of content that they're looking at and other information that you can use to continue marketing towards them in an efficient manner. LeadLander is perfect for this.
Use LeadLander in your organization to:
Receive real-time alerts for prospects
Validate interest from leads met on LinkedIn
Access dynamic visitor history and click path activities from specific users
We're currently offering a free 14-day trial to new users, which you can sign up for by visiting our website.