Website visitor tracking is an easy way to discover new leads and learn more about existing ones. It's a tool that can help your business refill its sales pipeline more consistently and achieve a higher rate of conversions.
But there are multiple tools for web tracking out there (trust us, we know). So how do you know whether something like ZoomInfo or LeadLander is the better option for your goals?
We're covering everything you need to know about the two platforms to make the decision that's right for you.
LeadLander vs. ZoomInfo: Overview
We'll get into the details in later sections. But for now, here are the main points you need to know when comparing LeadLander and ZoomInfo:
LeadLander is a standalone web tracking software
ZoomInfo offers visitor tracking as part of a broader B2B marketing solution
LeadLander charges a single price for its entire product – no matter how many people in your company use it or how often you use it
ZoomInfo's charges vary based on the tools you want to use, how many people in your company use them, and how often they use them
Both companies can help you learn more about your website visitors
Company information
LeadLander
LeadLander is a pioneer in website visitor tracking software. Our first tool was launched in 2004, and we've been growing ever since.
Today, we're based out of California's Bay Area and offer services that more than 1,000 companies use, including Ixia, WorkDay, and Baird, just to name a few.
ZoomInfo
ZoomInfo is a SaaS company based in Vancouver, Washington. It sells subscriptions that give companies access to its comprehensive database of information about businesses and people.
The company was originally launched in 2000 and became publicly tradeable on the New York Stock Exchange in April 2019.
Features
When it comes to features, it's essential to keep in mind that LeadLander and ZoomInfo offer two different products.
LeadLander is a standalone website visitor tracking tool, whereas ZoomInfo has several packages containing various marketing tools. So the following list of features you're isn't exactly a like-to-like comparison.
LeadLander
Heat meters instantly see your most valuable leads with a single click
One-click report filtering to give you the information you want, faster
ISP filter for more accurate results
Salesforce CRM integration included with your subscription
A newly launched app that's compatible with iOS, Android, and desktop devices
High-value company tagging
Real-time alerts
Automatic visitor identification
Visit timestamp
Responsive customer support (expect a reply within one hour)
LinkedIn integration
ZoomInfo
Website visitor tracking tool tells you who's visiting your website, what type of content they're looking at, and whether they have any company associations
Scoops give you a head's up when a company has a newsworthy event
Intent lets you hand-select search inquiries and receive real-time updates
FormComplete lets you decrease the number of required form fields to convert website visitors
ZoomInfo Chat is an automated chatbot that uses data from ZoomInfo's comprehensive B2B database to stand out
Engage helps you time your outreach for optimal results
Enrich will add missing information to existing lead profiles to help your marketing and sales efforts
Pricing
Before we dive into this section, it's worth noting that you can try a free 14-day trial of both LeadLander and ZoomInfo. So it's possible to assess each of the platforms yourself without making any commitments.
That being said, the companies use different pricing models for the full versions of their tools.
LeadLander
LeadLander's pricing is pretty straightforward. There's just one plan with a customized price based on the needs of your business.
Once you sign up for the plan, everyone in your organization will have access to LeadLander and will be free to use as often they want without incurring any additional charges.
You can reach out to LeadLander directly if you'd like to get specific pricing information for your business.
ZoomInfo
ZoomInfo's pricing is a bit more opaque. Your charges can vary based on factors like:
How many of the site's tools do you want access to
How many of your team members are going to use those tools
How often they use these tools
With ZoomInfo, you pay a base rate to access the tools you want. Then you have to pay for credits each time you want to access information on a new lead in the ZoomInfo database.
The cost of credits depends on the depth of information that you want. This means it's relatively difficult to get an accurate sense of how much ZoomInfo would cost until you start using it.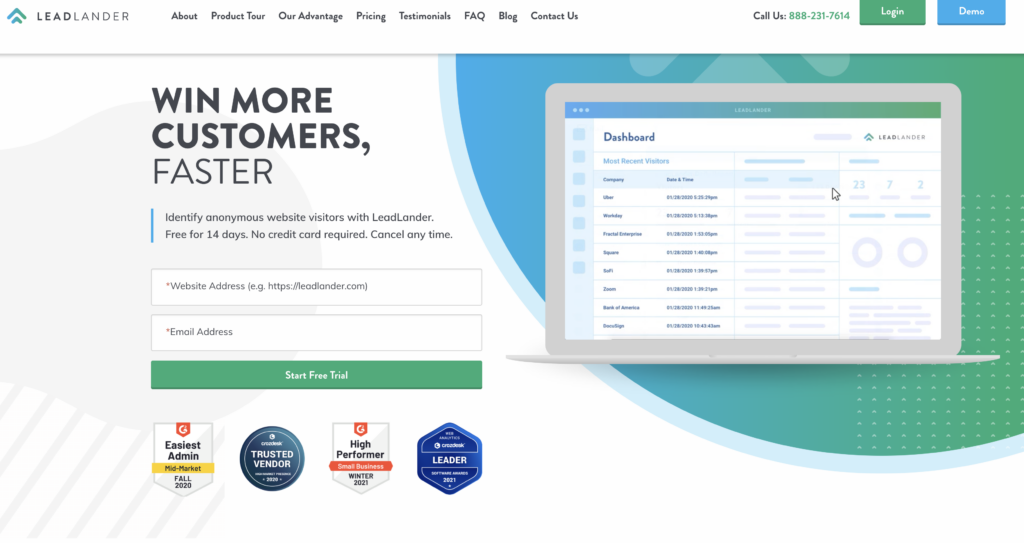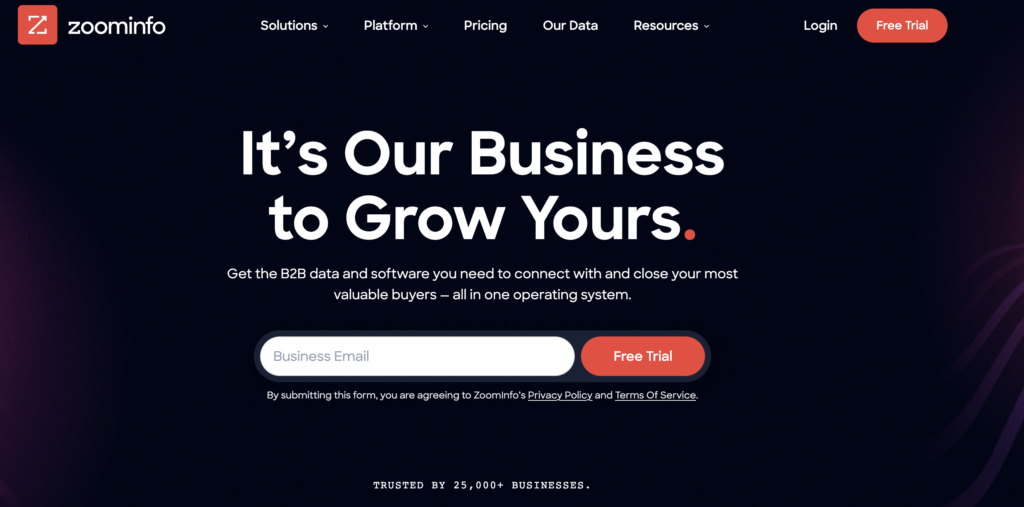 Ease of use
LeadLander
LeadLander is easy to use because you don't have to worry about restricting your team's access or saving credits. Once you have a LeadLander plan, everyone can use the platform in whatever way they prefer without extra costs.
LeadLander also recently launched a new app. It features loads of cutting-edge features, such as a Heat Meter. This automatically reveals your highest value leads with the single click of a button. It lets you get maximum value from LeadLander with minimal effort.
Finally, our platform is intuitive. It's something that everyone in your organization will understand without needing a ton of instruction from you to get up and running.
You can check out a demo of LeadLander today if you'd like to see this for yourself.
ZoomInfo
ZoomInfo has some great reviews on sites like G2. Most people on sites like these talk about how easy it is to use the platform – with some saying they were able to get up and running in just an hour without any external assistance.
So if you're just going by how easy it is to navigate the platform and get the information you want, ZoomInfo is straightforward to use.
But the site's pricing plan complicates things a bit. With ZoomInfo, you may need to restrict access to certain team members and be careful about credit usage because your costs can rise – potentially significantly – if you don't.
Customer Service
LeadLander
LeadLander gives you a dedicated account manager when you sign up for a plan. This is a single point of contact that you can reach out to whenever you need to speak to a real person.
We also offer phone, email, and chat support for customers without plans or those who cannot reach their account manager.
ZoomInfo
ZoomInfo offers phone and email support. It guarantees that you will receive a response from a customer support agent within a single business day.
The company also has an online knowledge center, which users can access to try and answer their questions.
That being said, ZoomInfo doesn't have any information on its website about dedicated account managers. So it seems that customers need to go through the standard customer service system to get their questions answered.
The Bottom Line: Is LeadLander or ZoomInfo better for you?
The answer to this question comes down to what you're looking for. More specifically, do you want website visitor tracking software? Or do you want a broader digital marketing intelligence solution?
If you just want website visitor tracking software, LeadLander is the obvious pick. It's a standalone tool for visitor tracking that everyone in your team can use at a single price point as often as they want.
ZoomInfo's web-tracking tool appears to be effective as well. But you can't just get access to it alone. You would need to pay for other tools, some of which you may not need.
ZoomInfo's MarketingOS product comes with a chatbot, form optimization features, and visitor tracking software, among other tools. If you want all of these things, then that's great. ZoomInfo would likely be your best option.
But if you don't think you're going to use even one of these tools, you could end up paying more than you need to – especially since ZoomInfo charges by the number of people who use your account and how many times they use it.
Try a free trial of LeadLander today
We could spend all day telling you about what makes LeadLander special. But, ultimately, the best way for you to learn about it is to give it a chance yourself.
That's why we're offering a free 14-day trial of LeadLander. You can sign up for it today to start enjoying the LeadLander difference.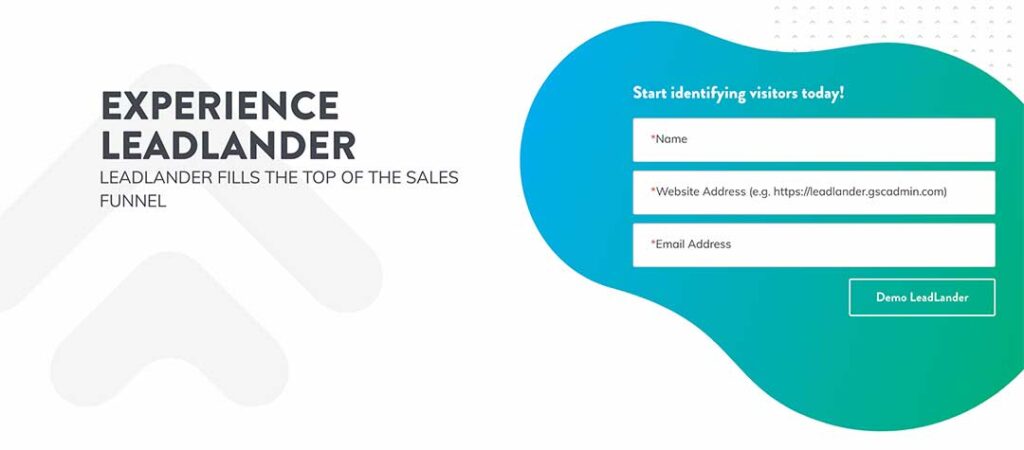 Related Reading
---