Updated July 13, 2022
With Google Analytics owning over 33% of the website analytics market, according to Datanyze, it can be easy to assume the visitor tracking software offered within the analytics platform is superior to that of its competitors. However, because Google Analytics is a much broader platform, its visitor tracking software and the data it provides are, well, much broader. When it comes to comparing Google Analytics vs. LeadLander, weigh your options and determine what tools – and which approach – are right for you.
Why you need analytics in 2022
Your business revolves around data. Analytics involves using quantitative methods to find meaning in all of the data so you can make better sales and marketing decisions.
The processes behind analytics could easily consume 100% of your time. As a business owner, you need to focus on the actions that come after data interpretation. Fortunately, today's analytics tools can collect and interpret all of your customer data, including:
Which content is driving traffic
Which channels are performing best
Which keywords are attracting customers
Equipped with this information, you can develop better content, target the right customers, and implement more high-performance keywords.
It's clear you need a great analytics tool to grow your business in 2022, but how do you choose the right tool for you? Consider:
Your business goals: Identify your business objectives and break them down into goals that can be measured with analytics tools. This will help you select a platform that will provide the features to help you achieve your goals.
Your budget: Money always plays a part in business decisions, so try to accurately predict how much time and money analytics tools can save you (and make for you) so that you can make the right investment. Don't forget to check for subscription requirements, price changes with business growth, and other hidden fees.
Your current tools: If your business is already using various applications and tools, you might consider an analytics tool that offers integrated solutions.
Some of the best analytics tools on the markets include Adobe Analytics, Mixpanel, and many more, with one of the most popular being Google Analytics. Although Google Analytics is free, it is certainly not the most profitable option for everyone.
Getting to Know Google Analytics
Google Analytics is part of the Google Marketing Platform and is available for free to any Google user. The software uses page tags to track basic website performance metrics and collect visitor insights. It can help you determine:
Top traffic sources
Marketing campaign engagement levels
Patterns in user engagement
Visitor information like demographics
Bounce rates
Average session duration
Page views
Goal completions
Google Analytics builds customized reports to allow you to visualize your data. This software filters and interprets the data, helping you to segment your visitors appropriately. It integrates with other products like Google Ads, Salesforce, and Google Search Console.
Google Analytics can function for small or medium-sized business websites, particularly retail sites. The service is easy to use and beginner-friendly. That being said, its data accuracy can be compromised by users who block Google Analytics cookies, and some data segments may contain large margins of error.
Getting to Know LeadLander
LeadLander is a best-in-class, paid software that promises high-quality data. It boasts an intuitive and powerful dashboard.
LeadLander offers all of the same data that Google Analytics does, including bounce rate, page views, visitor trends, etc., but it also offers:
Specific details about your website visitors, including their journey through your website pages
Unique data collection that will allow you to reconcile a higher percentage of anonymous visitors
Company details including website, address, and phone number
Information about your most successful web pages and marketing automation efforts
Instant daily and weekly email notifications
Easy reporting and integration with Salesforce, Zapier, and other platforms
Unlike Google Analytics, LeadLander also features unparalleled customer support. Its responsive service team will meet your every need. LeadLander is ideal for B2B sales and has been awarded titles like Easiest Admin, Trusted Vendor, High Performer, and Web Analytics Leader.
Now that you know what Google Analytics and LeadLander have to offer, let's talk about the major differences between the two.
The Basics: Google Analytics vs. LeadLander
Google Analytics is well suited for marketing efforts and overall site traffic measurement, not granular details such as identifying each individual customer on your site. The information they collect is best used in a broad marketing scope, such as determining which areas of your site are most popular, how much overall traffic are you generating on your site as a result of marketing campaigns, etc.
LeadLander is designed to deliver much more actionable data with a lot more depth of detail. Instead of just showing a domain listing, LeadLander gives you more finite details about the actual companies visiting your website and backs that up with supporting data.
Below, we've illustrated a Google Analytics vs. LeadLander comparison, noting the differences between visitor tracking software: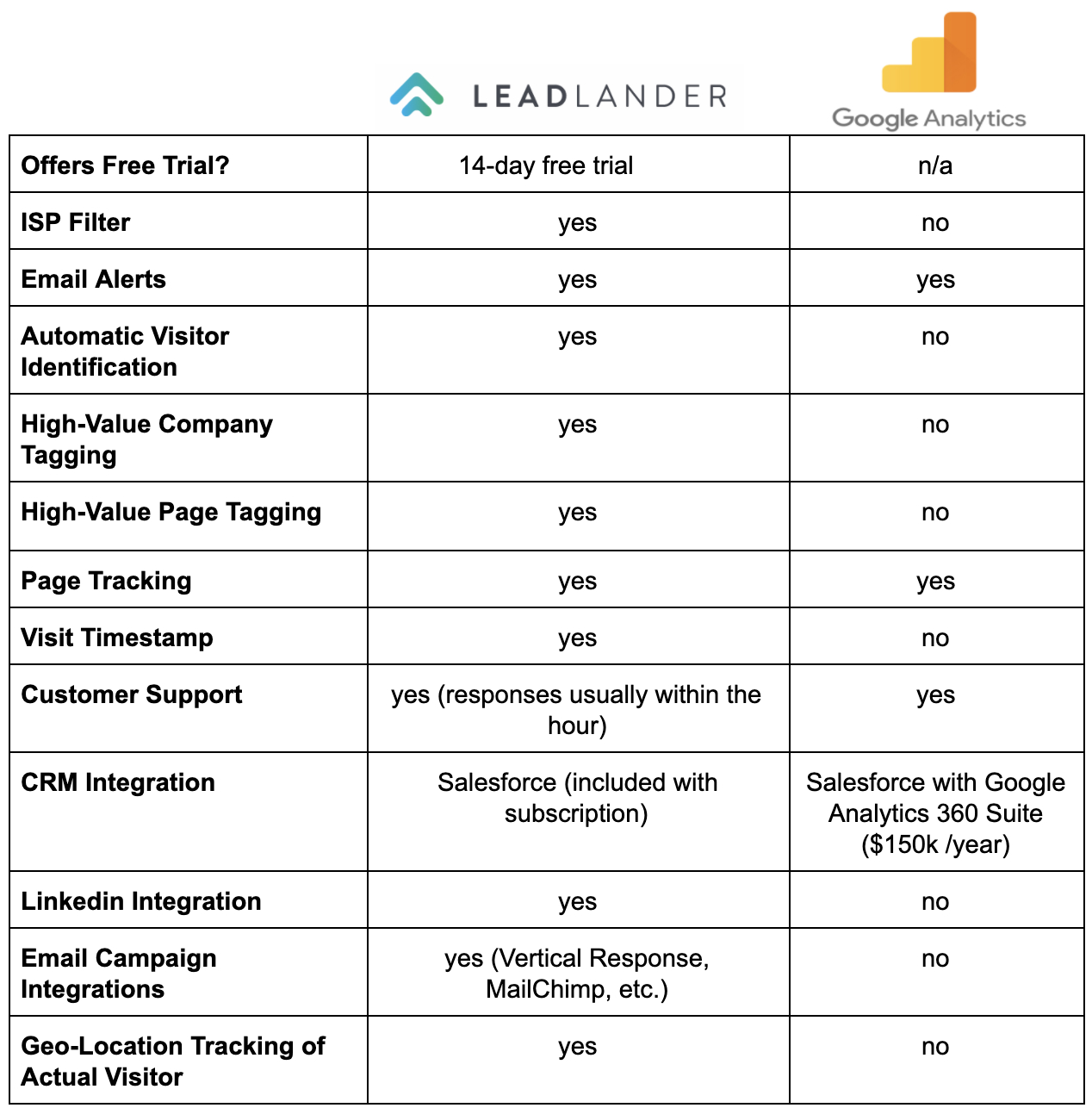 Breaking It Down: Google Analytics vs. LeadLander
ISP Filter
LeadLander's proprietary software automatically removes ISP data for concise reporting and a focus on actionable data.

For Example: An anonymous visitor from Avigilon Corporation visits your site, but, with Google Analytics, shows up instead as a visitor from Xfinity, CenturyLink, AT&T, etc., his/her internet service provider.
LeadLander's proprietary software is able to reconcile more ISP traffic as identified company visitors, allowing sales and marketing teams to pursue accurate leads.

ISP Reconciliation is especially important during COVID-19's stay at home order, where most website visitors are using a diverse range of at-home ISP's.
Even as life returns back to normal, we have developed a new "work-from-home"economy that is likely here to stay. 42% of Americans were working from home during the pandemic, according to Stanford News. Based on information from Upwork, although only 26.7% of Americans will keep working from home through 2021, many of us will never return to our places of business, at least full-time. By 2025, we will have seen an 87% increase from the number of remote workers pre-pandemic. With so many users viewing our businesses online from various IP addresses, ISP Reconciliation will continue to be an essential tool for website owners.
Automatic Visitor Identification
LeadLander automatically identifies anonymous website visitors, providing accurate company details including website, address, and phone number.
Google Analytics only provides visitor's ISP company names.
High-Value Company & High-Value Page Tagging
LeadLander allows users to create a watchlist for specific high-value companies, with the option to send real-time email alerts when that company visits their website, including specific data on the exact pages visited and timestamp on each page.
LeadLander also allows users to color-tag high-value pages, allowing sales teams to quickly identify companies visiting their most important pages and pursue their hottest leads.
Google Analytics offers a page value metric, but it's a measurement that can be difficult to use constructively without a little help. In addition, Analytics tracks visitor information like gender, age and conversion, but does not flag high-value companies or viewers, and will not alert you when they visit. If you use Analytics alone, it is imperative to stay on top of your data at all times.
Customer Support
LeadLander offers unrivaled support with:

A dedicated account manager with phone, email, & web support
Quarterly check-ins & on-going support
Included user on-boarding, training, and use case consulting
With as many as 30-50 million websites utilizing Google Analytics, according to Martech, you'll have difficulty getting any personalized assistance. Analytics offers searchable FAQ pages and other educational tools, but no further support.
Length of Each Visit
LeadLander displays each page viewed along with a timestamp, allowing sales teams to identify the quality of leads and customize their sales approach.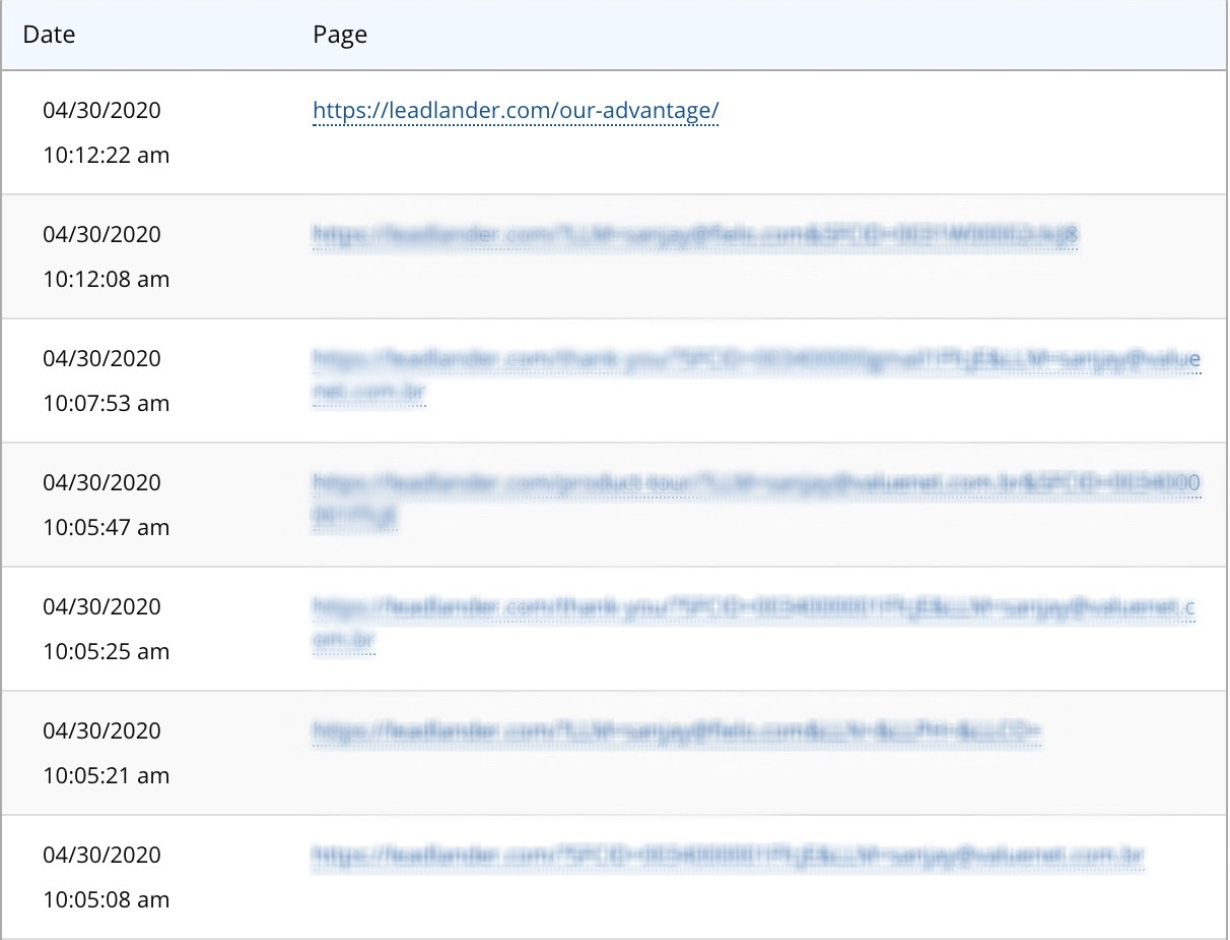 Google Analytics provides broader data by taking all lifetime visitor data and providing the average time that all visitors spend on each page and the average time on site
CRM, LinkedIn, & Email Campaign Integration
LeadLander provides built-in email campaign software integration (Vertical Response, MailChimp, etc.) allowing sales and marketing teams to immediately pursue hot leads visiting their site.
LeadLander also provides SalesForce and Linkedin integration, allowing users to quickly access SalesForce data on their visitor, and/or use LinkedIn to pursue other relevant visitor co-workers/employees.
You will be able to integrate your mail campaigns of choice with Google Analytics, and then check them regularly under Acquisitions > Campaigns > All Campaigns.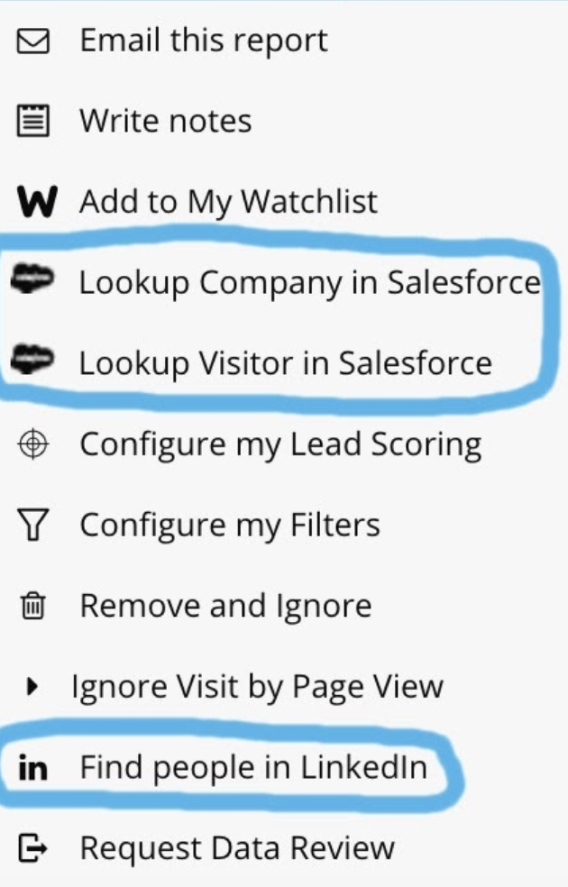 LeadLander's Offering A Free Trial
LeadLander also offers a 14-day free trial, allowing you to test and explore features not available on Google Analytics
So when it comes to Google Analytics vs. LeadLander, which platform should I use?
Depending on your company's needs and preferences, both Google Analytics and LeadLander can offer valuable insight. While LeadLander is much different from a tool like Google Analytics, both serve as a complement to one another. In fact, most of our clients also run Google Analytics on their websites (we do too). Google Analytics provides much broader insights, whereas LeadLander delivers much more actionable data with a lot more depth of detail.
Full-time business owners have a lot of responsibility, and it can be impossible to stay on top of the mountains of analytics data that accumulates every day. LeadLander utilizes premiere features like watchlist creation, real-time alerts, and unrivaled support to relieve the pressure of data influx. Even more importantly, LeadLander makes your analytics data usable with ISP Reconciliation, visitor identification, high-value company recognition, and much more. With more businesses functioning online in 2021 than ever before, it is critical to stay one step ahead of the masses.