Hitting your lead goals is essential to the success of your company. But the more you spend on lead generation companies, the less you make on each new customer.
It's why most companies choose to generate their leads and why many turn to services like LeadLander and Lead Forensics to get more out of their website visitors.
But how do you know which of these companies is right for you? Read on to learn about LeadLander and Lead Forensics to make your decision.
Similar Value Propositions
LeadLander and Lead Forensics software were designed to help you learn more about your website visitors to target them with more precise marketing.
The basic idea behind both services is this:
A new person or company visits your website
LeadLander or Lead Forensics takes its IP address and compares it to proprietary and public databases
A match for the IP address is found in a database and returns the information
You use the identity of a website visitor to research and create a more effective marketing plan to dive deeper into your sales funnel and, ultimately, convert these prospects
Company Overviews
Lead Forensics
Lead Forensics was founded in 2009 and is based out of London. They have about 600 employees and generate nearly $30 million in annual revenue.
LeadLander
LeadLander was launched in 2004 and is based out of California's Bay Area. Its services are used by more than 1,000 companies, including Baird, Ixia, and WorkDay, among others.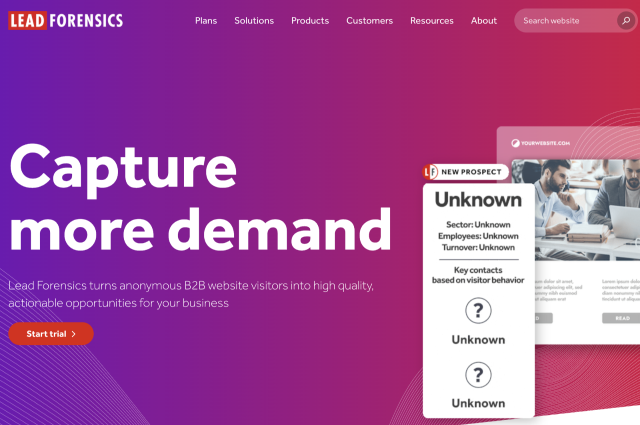 Leadlander vs. Lead Forensics: Features
Both companies offer the baseline services you would expect from a reverse IP lookup tool, but the products have some differences.
Here are the main features worth thinking about as you compare:
LeadLander
Heat meters instantly see your most valuable leads with a single click
One-click report filtering to give you the information you want, faster
ISP filter for more accurate results
Salesforce CRM integration included with your subscription
A newly launched app that's compatible with iOS, Android, and desktop devices
High-value company tagging
Real-time alerts
Automatic visitor identification
Visit timestamp
Responsive customer support (expect a reply within one hour)
LinkedIn integration
Email software integration
Geo-location tracking of actual visitor
Lead Forensics
Custom tracking scripts
Traffic source attribution
Automated lead assignments
Page view tracking
Near real-time tracking and alerting
Integrations with third-party tools
Unlimited users
WordPress plugin
Optional API access
Leadlander vs. Lead Forensics: Pricing
If both LeadLander and Lead Forensics offer the features you need, then pricing will likely be your next point of comparison.
Note: Both companies offer a free trial to new users. LeadLander's lasts for 14 days, while Lead Forensics' lasts for a week.
Lead Forensics
Lead Forensics has two plans: Essential and Automate. The Automate plan costs more, but it includes some features that the Essential plan doesn't, such as:
Advanced CRM integration
Data-cleaning algorithm
Fully customizable workflows
The price you pay for Lead Forensics is based on how much traffic your website generates. The more traffic you get, the more it costs you to use.
Your traffic volume is calculated while you're using Lead Forensics' 7-day trial to estimate your costs before signing up for a paid plan.
LeadLander
LeadLander is a bit simpler. There's just one plan, and you get access to everything the tool has to offer through it.
The plan's cost is customized around the unique needs of your business. You can reach out to LeadLander directly when you're ready to see how much the service would cost your company.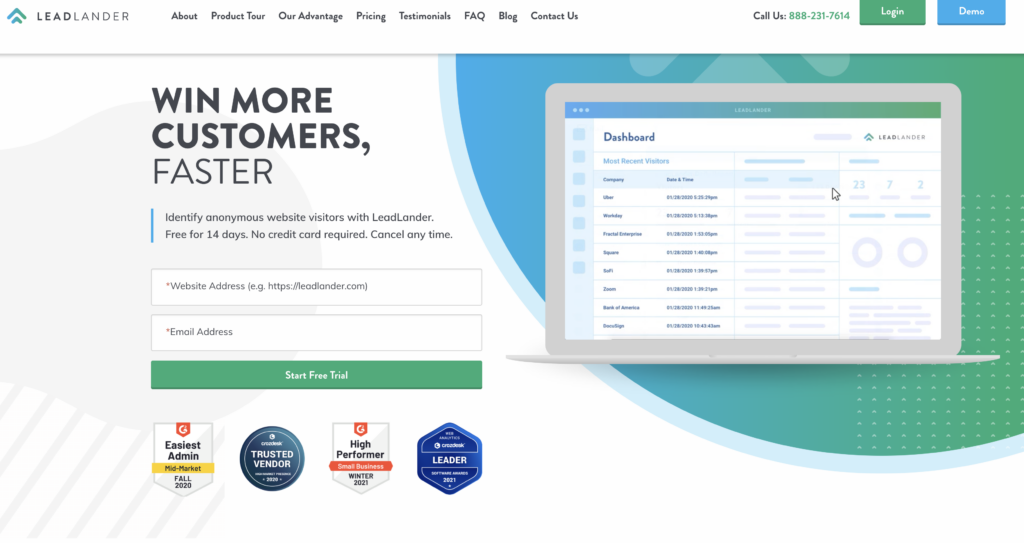 Leadlander vs. Lead Forensics: IP Sourcing
IP sourcing is another important thing to consider while comparing lead generation companies. This refers to the databases that a tool uses to check website visitors.
As a general rule of thumb, you want a tool that compares your website visitors to as many known IP addresses as possible. That's because there's a higher likelihood of finding a match when more addresses are queried for one.
Lead Forensics
Lead Forensics uses a proprietary database to discover the identity of your website visitors. But the company hasn't released any information on the number of addresses in that database.
LeadLander
LeadLander uses a proprietary database to provide information about your website visitors. But we also use public databases to double-check our findings.
Additionally, LeadLander can identify users based on their email addresses, which could help your lead goals.
With LeadLander, when a new user signs up for your email list, you'll automatically discover who they are and whether they have any known associations with companies.
This information could help target users with more precise email marketing campaigns.
Leadlander vs. Lead Forensics: Ease of Use
Lead Forensics
Lead Forensics offers built-in CRM integration. It allows you to manage the entire lead process without transferring anything between different tools.
Lead Forensics also has a mobile app available for Android and Apple.
Some customers have used review sites like G2 to complain about some aspects of Lead Forensics. For example, a few customers have mentioned that they've had problems with the search function that make it challenging to promptly find the leads they want. Some have also described the company's dashboard navigation process as a bit clunky.
LeadLander
LeadLander offers an integrated CRM feature and has recently launched a brand new app. It also stands out with a platform that everyone in your organization can use without paying a separate fee for each person.
One of the best features of the new app is the Heat Meter. It instantly reveals your highest value leads with the click of a single button. You get maximum value out of LeadLander while putting in minimal effort – which is tough to beat.
Leadlander vs. Lead Forensics: Customer Service
You get a dedicated account manager with both LeadLander and Lead Forensics. That gives you a single real person you can contact whenever you need.
Both companies also offer simple chat, email, and phone support. So if you're not a customer yet, or you want to talk to someone besides your account manager, you can do so in whatever way you prefer.
The Bottom Line: Is LeadLander or Lead Forensics Better?
Both LeadLander and Lead Forensics have a lot to like. Each platform offers:
Reverse IP lookups with large databases
Dedicated account managers
Mobile apps to track leads on the go
Integrations with third-party tools like CRMs
But when it comes down to it, LeadLander offers a few additional features that help it come out on top.
With LeadLander, you can also discover what you want to know about people with their email addresses. That's a feature that could significantly improve the precision of your email marketing campaigns. Additionally, LeadLander's new Heat Meter feature is the easiest way in the industry to use your website traffic to get more conversions. All you need to do is click a button, and you'll immediately see the visitors you should focus on first.
Both LeadLander and Lead Forensics can help you learn more about your website visitors. But standout features like these show why LeadLander is the easier and more effective tool for reaching your lead goals.
Get started with your free trial of LeadLander today
Reading our comparison of LeadLander and Lead Forensics is one thing. But if you want to discover why we've given the edge to LeadLander, consider signing up.
You can sign up for a free 14-day trial today to start winning more customers in less time.