The modern business landscape continues to be increasingly competitive. And as the competition for a finite group of customers heats up, it becomes more important than ever for companies to nail their B2B sales cycle if they truly want to reach their sales goals.
There are many strategies companies can embrace to improve their efficiency and effectiveness in sales. But sales enablement is one that you might not have tried.
This article will cover everything that you need to know about sales enablement and the best tools for implementing it.
Let's get started.
Understanding Sales Enablement
Sales enablement is the practice of giving sales agents the resources they need to engage with buyers more effectively. For example, someone who's in charge of sales enablement within an organization might focus on providing sales representatives with each of the following things:
Content for buyers, such as blog posts, webinars, informational brochures, and statistical data that supports the sales process
Training resources to ensure the sales agent is well-equipped to handle various situations
Data for measuring the effectiveness of various tactics and B2B sales campaigns
Tools to automate various aspects of the sales process and allow for a smoother pursuit of the company's sales goals
The key idea is that someone in sales enablement is trying to enable their company's sales reps to focus exclusively on selling instead of worrying about ancillary things that don't push the customer closer toward conversion.
How Sales Enablement Tools Help Companies Reach Sales Goals
Sales enablement tools are key to the broader sales enablement process. Technically, anything that helps eliminate the amount of time sales reps spend on things other than the actual B2B sales process can be a sales enablement tool.
In other words, any tool that helps automate some of the following tasks can fit into this category of software:
Writing emails
Performing data entry
Researching new leads
Scheduling meetings and keeping track of upcoming events
Of course, when it comes to tracking down the right stakeholders, there are other tactics a sales rep can use to procure the correct email address or other necessary information. Consider taking a strategic approach to your sales goals and using the right sales enablement tool, combined, as your recipe for success.
Best Sales Enablement Tools For 2021
LeadLander
LeadLander is a tool that automates much of the lead generation process for web traffic. When someone visits your website, our platform will tell you who they are, how they got there, and what they do. We also organize all of this data for you in a convenient dashboard that anyone in your organization can access.
LeadLander enables a smoother sales process and helps companies reach their sales goals with each of the following functions:
Improved pipeline accuracy
Real-time alerts for new and returning leads
Syncs inbound lead flow with marketing campaigns
Validates interest from cold calls and sales outreach
Provides dynamic visitor history logs
You can sign up for a free 14-day trial of LeadLander here.
Voila Norbert
You can do so much with a lead's email address alone. But you don't want your company's sales agents to have to be constantly tracking down a prospect's email address across the maze of the internet. Voila Norbert fixes this.
Voila Norbert is a web application that will find anyone's email address for you. Your sales agents will quickly put in the information they have on hand about the target to find their email address.
This sales enablement tool helps reduce a significant amount of the busy work a sales agent would typically have to do before starting the real sales process.
Right Inbox
Right Inbox is helpful if your salespeople are spending a lot of their time managing their outflow of emails. With it, your sales agents can set up automatic emails with the prospects that they're in communications with. That way, they can set up an optimized delivery schedule without having to complete each step manually.
Right Inbox also has a bunch of features, like allowing sales reps to create customized email signatures across various customer categories. Additionally, it's easy to break an email sequence or adjust it when a lead responds.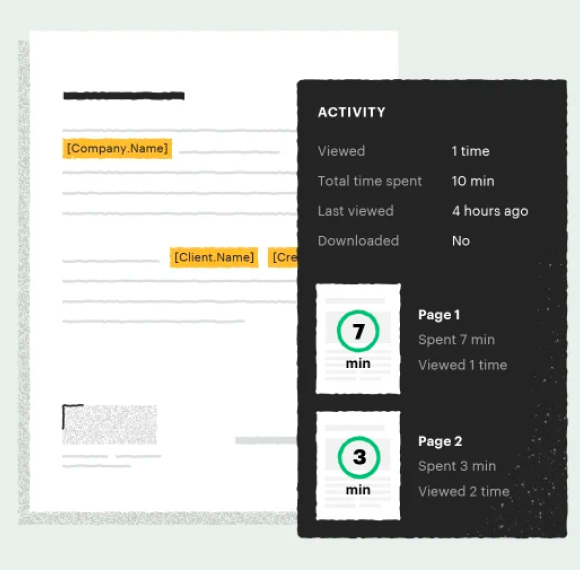 PandaDoc
Salespeople often need to exchange documents with the prospects they're in communication with. This sounds simple enough, but it can be time-consuming if the documents aren't located in a centralized, easy-to-access place with helpful functionality.
That's why PandaDoc exists. It lets sales agents create new documents, upload existing ones, and send them back and forth to prospects in seconds. The tool also features a digital signage feature and has built-in analytics so sales reps can see which of their documents are getting the most traction.
Guru
Sales agents need to have access to a ton of information while doing their jobs. But information about your company's offerings, industry news, and lead information is typically scattered across multiple resources.
That's what makes Guru a great sales enablement tool. It's a browser extension and a Slack Bot that follows agents while they work.
Guru contains all of the information that a sales representative needs to hit their B2B sales goals. It keeps everything in a single place so your team doesn't have to waste time hopping from platform to platform to get what they need to do their jobs effectively.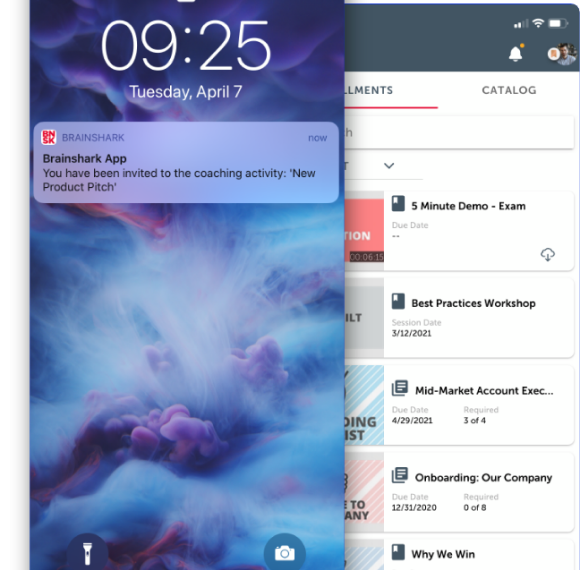 Brainshark
Brainshark is a sales enablement and readiness tool that helps companies train their sales reps to operate at the highest levels. It's designed to quickly diagnose performance gaps and close them, and it's used by many big-name companies, including Zoom and Frontier.
Brainshark gives your sales staff the training it needs to perform optimally by:
Diagnosing performance issues
Creating dynamic content
Training & upskill teams at scale
Coaching & practice to mastery
Oktopost
So much of the B2B sales process occurs on social media nowadays. That's why it's important to invest in tools that help your sales agents make the most out of the sales work they do on social media platforms.
Oktopost is perfect for this. It's a social media sales enablement tool that simplifies generating leads and making sales through social media platforms.
You can use Oktopost to track social media activities for leads, discover new opportunities, and provide your marketing and sales teams with more insight into the impact social media has on their pipelines.
Mediafly
To make your company's B2B sales process as efficient as possible, you need to have synergy between your marketing and sales departments. However, this can be hard to achieve if you don't have the right system in place.
Mediafly helps companies optimize the relationship between marketing and sales. It helps teams identify and eliminate underperforming sales content and replace it with more impactful alternatives by using data from both marketing and sales.
Seismic
Seismic is a sales enablement tool that automatically provides sales agents with personalized content for each prospect they interact with. It does this with built-in machine learning and analytics capabilities designed to always be on the hunt for opportunities to improve the sales process.
With Seismic, your sales agents won't have to worry about hunting down the perfect personalized content they need to win a prospect over. Instead, it'll be delivered directly to them whenever they need it so they can pass it over to the lead right away.
Reach Your B2B Sales Goals With LeadLander
Each of the sales enablement tools discussed in this blog post can help you reduce inefficiencies and move closer to reaching your sales goals. That said, LeadLander can improve both your marketing and sales processes. It offers valuable data about who's visiting your website and automates much of the process.
Your sales reps will be able to use the information LeadLander provides to quickly contact new leads and validate interest from existing ones. And your marketing team can use LeadLander to determine which campaigns are most effective at driving traffic to your company's website and which web pages are most effective at pushing customers down the sales funnel.
So if you're serious about enabling your sales team to be as effective as possible, consider LeadLander.
Related Reading
---