Updated February 28, 2021
Our original article laid out why using sales pipeline software is a smart decision for most companies and highlighted some of your best options. That's why we've added several additional sales pipeline software options that could be precisely what you've been after.
Managing your sales pipeline is essential to maximizing the effectiveness of your sales consultants. But to do it effectively, you need to track mounds of data and spend time organizing it in ways that allow you to gain insights. This can take up a lot of your time.
Or, instead of trying to manage your sales pipeline on your own, you can use software to do the job for you. But how do you know which software to use? And how do you even know what to look for in a sales lead management tool?
Read on to discover the best sales pipeline software of 2022 and how you can use it to improve the performance of your sales consultants.
Sales Pipeline Management
Sales pipeline management is the process of tracking and managing every sales opportunity that crosses your business. It's a broad term that encompasses everything you do to turn a sales prospect into a paying customer.
Why Manage your Sales Pipeline?
Managing your sales pipeline is crucial. Here's why:
Growth: According to Harvard Business Review, companies with strong sales pipeline management had an average growth rate of 5.3, a 15% increase compared to companies lacking in this area. It makes sense – gathering data about your sales pipeline will tell you more about which types of prospects, situations, and sales strategies are working, and which result in wasted time and energy.
Forecasting: Tracking your pipeline will tell you more about each sales rep's activity and how close they are to making quota. With this information, you can more accurately provide 30, 60, and 90-day revenue forecasting, because you'll have a better idea of which sales will close and when.
Team Management: As you watch your sales pipeline metrics, you will be able to identify challenges that are hindering sales and adjust sales strategies accordingly.
Resource Allocation: With a clear picture of where each prospect is in the pipeline, sales managers can determine where to allocate their team's time and resources to maximize every sales opportunity.
Efficiency: If it's taking too long to move prospects down the sales funnel, you'll be able to determine why by examining the data you've gathered.
Stages of the Sales Pipeline
You will see some variation of the following stages in your own sales pipeline.
Prospecting
Qualification
Proposal
Post-Proposal
Commitment
Closing
Here are just two ways you can manage and refine your sales pipeline:
During the prospecting stage, don't rely on cold emailing and content creation alone – first, target the right prospects by finding the real decision-makers by using sales pipeline metrics like deal size, dollar amount-per-deal, and deal velocity.
During the sales stages, including the proposal and commitment stages, stay in touch with your reps and ask them what will help them be more effective and happier in their role. On average, a sales rep spends only 35% of their time actively selling. Track your data to see what tasks or hurdles are holding your sales reps back.
There are countless ways you can use and manipulate the data from your sales pipeline to increase your bottom line. Although managing your sales pipeline is vital, it's a task that can also be time-consuming and complex. That's why sales pipeline software is only gaining popularity. It automates many of the pipeline management tasks that your sales consultants would otherwise have to do by hand. This frees them up to focus on more important things like connecting with prospects.
What Should The Best Sales Lead Management Software Include?
If you're ready to optimize your sales pipeline management process, then choosing the right software is a must. But how do you do that? And what should you be looking for?
Here are five of the most important sales lead management software features you should be looking for in any program you consider using.
New lead generation
One of the biggest benefits of any lead management software is automatic lead generation. The right software will capture data about people or businesses who might be interested in your services, then forward the information to your marketing or sales teams.
New lead tracking
Acquiring new leads is essential to the long-term health of your business. But you also need to manage these leads effectively to convert as many of them as possible. The best sales pipeline software will help you do this.
More specifically, any software you use needs to track who your leads are, how they discovered your company, and which stage of the sales pipeline they're currently in.
If you give your sales consultants quick access to this information, it'll be much easier for them to push the prospect closer to becoming a paying customer.
Sales forecasting
Sales forecasting is the act of predicting future sales numbers to make important decisions about your allocation of resources. But accurately predicting your future sales can be complex.
The best sales pipeline software will help you do this. It will automate much of the data that goes into your sales forecasting models so that you can predict the future with more accuracy. It will enable you to make better decisions about how to manage your company in the present.
Activity reports
Most of the time, your sales consultants won't be able to convert a lead the first time they speak with them. Instead, multiple contacts are required to gradually push the lead towards becoming a paying customer with your firm.
Activity reports essentially track all of the contacts that your sales team has with a specific prospect. This information is really important to keep track of because it will help your sales staff figure out who they need to be reaching out to and on what timeline.
Activity reports are also great for your management to have access to. They can use these reports to analyze the performance of their team members and offer coaching where it's needed.
Automated communication
Your software can save you hours by automatically sending lead SMS messages, emails and voice messages. Consistent communication will help you ensure warm leads don't slip through your fingers.
Seamless integration
A good lead management software should be compatible with your other sales tools. The best 2021 and 2022 software works hand-in-hand with tools like Mailchimp, Google Analytics, HubSpot, Hootsuite, etc.
Conversion rate
Conversion rate is a metric that you're likely already tracking. But a good sales pipeline program will automate this process for you. Many programs will automatically tally up the overall conversion rate for your company and the conversion rates for individual team members. You'll be able to accurately assess how your team is performing without having to manually track the data yourself.
Average sale price
Your average sales price tells you how much your company makes each time it closes a deal. This will help you determine your profit margin for each prospect you convert into a client.
You can compare your average sales price to your cost per conversion to figure out how much you can spend on the sales pipeline process and still turn a profit. The best sales pipeline software will handle much of this for you automatically.
The Best Sales Pipeline Software Of 2022
Pipedrive
Pipedrive is a tool that gives users access to a variety of sales lead management features. You can use the program to track your leads, automate your pipeline, and review detailed reporting pages that give you insight into how you're performing over time.
One of the highlights of Pipedrive is its "deal rotting" tool. This notifies you whenever a potential lead remains dormant for too long. It's a useful prompt that will get you back in touch with a prospect before taking their business elsewhere. This can be useful for your sales consultants and could save you from missing out on your next big deal.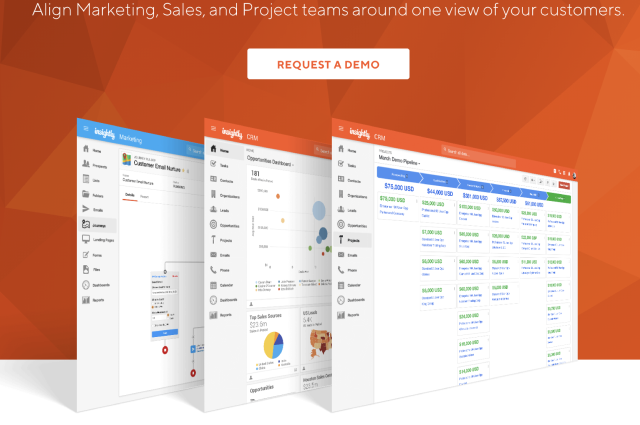 Insightly
Insightly is another sales pipeline tool that's worth your consideration. What makes it great is its custom dashboard feature. This gives you all of the information you need in a single, convenient location. It also gives you the ability to customize your dashboards, so they contain the exact information you're looking for.
On top of this, Insightly has a business intelligence feature that will let you create and manipulate data visualizations in the software program itself. This can help you make the most out of the data you have.
Nutshell
Nutshell is a new sales pipeline software that's quickly making a name for itself. The program makes it easy to view your leads and where they sit in your pipeline in a single place. It also features several useful sales reporting features, such as:
Forecast reports
Loss reports
Sales funnel visualizations
Activity reports
Downloadable charts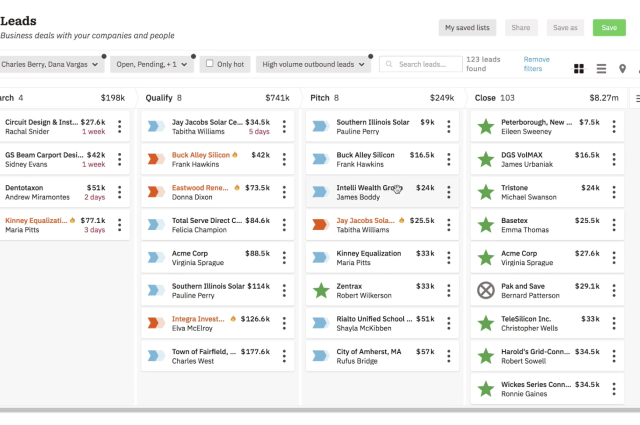 Zoho CRM
Zoho CRM is a sales pipeline management software used by more than 150,000 businesses. The company stands out with a rich feature set that goes beyond what most standard sales pipeline management software offers.
With Zoho, you can automate your workflows and check out detailed sales trend analytics with ease. The program is also gamified, which can help your sales staff stay motivated while following up with their leads.
HubSpot CRM
HubSpot is a big name in the digital marketing space for a good reason. Their CRM software is one of the best that the industry has to offer. It includes a powerful dashboard that will show you sales statistics as they update in real-time.
Additionally, the software makes it easy to track your deal flow based on performance. That makes it easy for management to see exactly how individual sales team members are performing. With HubSpot, you'll be able to quickly make updates to your sales strategies thanks to its real-time population of new data.
Agile CRM
Agile CRM offers a few key features that sales teams will love. For example, it has a contact management feature that organizes all of your contacts in one easy-to-find place. This makes it easy for your sales staff to find the contact information they need without keeping track of it themselves.
The tool gives you the ability to customize your dashboards to display the information you care most about. With this feature, Agile CRM makes it easy for you to create a powerful sales pipeline management solution that conforms to your exact preferences.
Copper
Another CRM tool that's already pretty popular. Copper was specifically designed for G Suite users, so it comes with loads of integrations for contacts, emails, and files.
Copper gives you the ability to manage new leads as they work through each phase of the sales funnel. It also includes a ton of automation features that will help your sales staff make the best use of their time. With sales forecasting tools and a powerful analytics dashboard to boot, Copper is another sales pipeline software that's worth paying attention to.
Bitrix24
Bitrix24 is good at helping companies optimize their marketing spend. It gives you both a high-level and close-up look at various campaign metrics that indicate how they're doing for you. With Bitrix24, it's easy to distinguish your winners from your losers and to adjust how you allocate your resources accordingly.
But Bitrix isn't just for marketing. It's also got a ton of useful sales tracking tools geared around helping users improve their conversion rates. That means both your marketing and your sales team members will be able to benefit from using this sales pipeline software option.
Close CRM
Close CRM is a tool that's excellent at helping companies stay on top of various KPIs. It features an intuitive dashboard that provides easy-to-read real-time reports on whatever sales and marketing metrics matter most to you.
You can also customize the metrics it displays, and everyone on your team can access the same dashboard, making it much easier to keep everyone on the same page.
SugarCRM
You might also consider using SugarCRM. It's a powerful CRM software that makes it easier to visually identify where a particular prospect is in your sales pipeline. This can save both your marketing and sales team members a ton of time that they would otherwise devote to tracking that information themselves.
Another cool thing about this platform is that it summarizes your performance across all prospects or specific groupings of prospects. This feature is helpful because it provides a quick snapshot of what your teams are doing well and what they could improve upon.
Vtiger Sales CRM
Vtiger's main purpose is to facilitate the easy tabulation of various types of data. For example, are your employees spending more time than needed on creating sales reports? If so, Vtiger could be a solution.
The software has easy forms that your team can fill out to quickly create reports. In addition, the CRM solution has built-in automation features that make it even quicker to tabulate data. You can feed Vtiger a data stream and tell it to create reports at automated intervals. It's another reason why this software earns a spot on our list.
How To Get The Most Out Of Your Sales Software
Each sales pipeline software option covered in this article can help you get where you want to go with your sales figures. But even the best software needs a smart operator to have a significant impact. With that in mind, here are some tips for getting as much as possible out of whatever sales pipeline software you choose.
Create standardized processes and stick to them
It's impossible to know which of your sales pipeline management strategies work and which ones fail if you don't follow the strategies consistently.
When you have standardized practices you always repeat, your data is reliable enough to generate insights. You can use those insights to refine each pipeline management strategy until they're all working well enough for you to hit your sales goals.
Focus on the hottest leads first
Sales pipeline software makes it easy to organize your leads. Make sure you're using that capability to identify the most promising prospects and work toward converting them first. Your sales team members only have a limited amount of time to reach out to leads so they should be using as much of that time as possible on the likeliest leads to convert before spending any energy developing cold or lukewarm prospects.
Consider specializing your sales team
Another idea worth considering is using the data from your sales pipeline management software to specialize your sales team. Research suggests that specialized sales teams are more efficient and effective at what they do. This type of software can help you identify the best opportunities for specialization within your team.
For example, you might decide to have a portion of your sales team focus exclusively on new leads and another part focus on dealing with your hottest leads.
You could also specialize your team based on different types of buyers. For instance, if your software shows you have two groups of buyers who care about other benefits, splitting your sales staff along that line could help improve your numbers.
Have marketing and sales collaborate on content creation
Stats show that only 27% of salespeople collaborate with marketing on content creation. That's a meager number, which could be the reason why you don't see the conversion rate you'd like on your content.
You can leverage your sales pipeline software to see if this is something you should do. Use your software to identify the percentage of website visitors viewing your content and making it into your sales funnel.
If that number isn't as high as you'd like, then the answer could be to have sales collaborate with marketing during the content creation process.
How To Improve Your Sales Pipeline Performance
Using software is just one strategy to improve your sales pipeline performance. Here are other ideas you can implement in synch with your tools to get even more out of the leads in your sales pipeline.
Don't forget to follow up
An impressive 80% of sales don't occur until the 5th-12th contact with a prospect. So it's essential not to give up on a lead too soon. There are multiple ways to follow-up with leads that don't involve simply pressing them to make a purchasing decision.
You can:
Send them valuable content
Offer to answer any questions they might have
Follow up with other people in the company
Contact leads through different channels and at different times of day
Know when to give up
Although following up with leads is essential, it's equally vital to understand when it's time to walk away from a prospect who just isn't showing any interest.
Generally, if a lead hasn't demonstrated any signs of continued interest in three weeks, it's time to move on. Doing so will be necessary to spend your time where it's likely to have the most significant impact.
But that doesn't mean you should just stop talking to the lead cold-turkey. Instead, it's better to communicate your follow-up plan with your prospect.
For example, you can send out an email letting them know that since you haven't heard from them, you're going to stop reaching out until you hear back. Then provide your contact information. That way, they'll know why they stopped hearing from you and will be able to quickly get in touch if their interest in your company reignites.
Look for opportunities to shorten your sales pipeline
The longer your sales pipeline lasts, the more chances a prospect has to change their mind or choose the competition instead of you. That's why it's also a smart strategy to shorten your sales pipeline when you see opportunities to do so.
Maybe a lead is showing a lot of interest. Instead of putting them through every step of your pipeline, you could skip a step or two depending on their readiness.
Focus on identifying and resolving bottlenecks
Most sales pipelines have bottlenecks someplace. If you want your pipeline to be as effective as possible, it's important to keep an out for where in your pipeline where warm leads aren't quite making it through.
Your sales pipeline software can help you out here. Software generally includes a lot of helpful analytics tools. You can use those to identify which stages of your sales pipeline are catching and holding the most leads and then use that information to make changes accordingly.
Up-and-Coming Sales Pipeline Software
CRM systems introduce new features.
Membrain
Membrain is a sales enablement CRM for B2B sales – and it's perfect for content management and sales automation. It's unique because it automatically analyzes the performance of team members, and provides information about who needs coaching in which areas for greater success.
LeadSquared
LeadSquared Sales Execution CRM is one of the world's fastest-growing tools for high-velocity sales. It offers mobile CRM, marketing automation, sales communication and much more. It manages various processes in real-time and integrates with all of the hottest 2022 sales tools and platforms.
Seismic
Seismic software helps businesses stand out from the competition by emphasizing storytelling. Seismic supports predictive content recommendations to help your sales reps create an engaging buying journey. It also keeps all sales-related data and resources at your fingertips.
Get even more out of your sales process with LeadLander
Investing in the right sales pipeline software can do wonders for your company's sales process. But if you're serious about making improvements in this area, you should consider using LeadLander as well.
LeadLander can improve your pipeline accuracy and help you discover which parts of your website are working and which parts need improvement. This powerful tool is consistently updated to ensure compatibility with the hottest new features and tools. For the best data, unrivaled support, and most intuitive technology, choose LeadLander.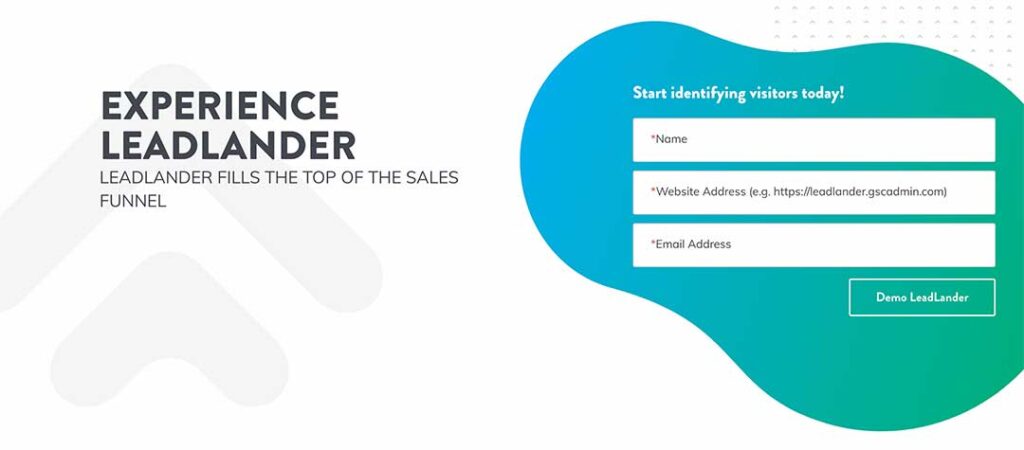 You can try LeadLande risk-free today by signing up for our free 14-day trial. No credit card is required, and you can cancel anytime you want.