Managing your sales pipeline is essential to maximizing the effectiveness of your sales consultants. But to do it effectively, you need to track mounds of data and spend time organizing it in ways that allow you to gain insights. This can take up a lot of your time.
Or, instead of trying to manage your sales pipeline on your own, you can use software to do the job for you. But how do you know which software to use? And how do you even know what to look for in a sales lead management tool?
Read on to discover the best sales pipeline software of 2021 and how you can use it to improve the performance of your sales consultants.
Sales Pipeline Management
Sales pipeline management is the process of tracking and managing every sales opportunity that crosses your business. It's a broad term that encompasses everything you do to turn a sales prospect into a paying customer.
Managing your sales pipeline is crucial. Just ask the Harvard Business Review. According to Harvard Business Review, companies with strong sales pipeline management had an average growth rate of 5.3, a 15% increase compared to companies lacking in this area.
Although managing your sales pipeline is vital, it's a task that can also be time-consuming and complex. That's why sales pipeline software is only gaining popularity. It automates many of the pipeline management tasks that your sales consultants would otherwise have to do by hand. This frees them up to focus on more important things like connecting with prospects.
What Should The Best Sales Lead Management Software Include?
If you're ready to optimize your sales pipeline management process, then choosing the right software is a must. But how do you do that? And what should you be looking for?
Here are five of the most important sales lead management software features you should be looking for in any program you consider using.
New lead tracking
Acquiring new leads is essential to the long-term health of your business. But you also need to manage these leads effectively to convert as many of them as possible. The best sales pipeline software will help you do this.
More specifically, any software you use needs to track who your leads are, how they discovered your company, and which stage of the sales pipeline they're currently in.
If you give your sales consultants quick access to this information, it'll be much easier for them to push the prospect closer to becoming a paying customer.
Sales forecasting
Sales forecasting is the act of predicting future sales numbers to make important decisions about your allocation of resources. But accurately predicting your future sales can be complex.
The best sales pipeline software will help you do this. It will automate much of the data that goes into your sales forecasting models so that you can predict the future with more accuracy. It will enable you to make better decisions about how to manage your company in the present.
Activity reports
Most of the time, your sales consultants won't be able to convert a lead the first time they speak with them. Instead, multiple contacts are required to gradually push the lead towards becoming a paying customer with your firm.
Activity reports essentially track all of the contacts that your sales team has with a specific prospect. This information is really important to keep track of because it will help your sales staff figure out who they need to be reaching out to and on what timeline.
Activity reports are also great for your management to have access to. They can use these reports to analyze the performance of their team members and offer coaching where it's needed.
Conversion rate
Conversion rate is a metric that you're likely already tracking. But a good sales pipeline program will automate this process for you. Many programs will automatically tally up the overall conversion rate for your company and the conversion rates for individual team members. You'll be able to accurately assess how your team is performing without having to manually track the data yourself.
Average sale price
Your average sales price tells you how much your company makes each time it closes a deal. This will help you determine your profit margin for each prospect you convert into a client.
You can compare your average sales price to your cost per conversion to figure out how much you can spend on the sales pipeline process and still turn a profit. The best sales pipeline software will handle much of this for you automatically.
The Best Sales Pipeline Software Of 2021
Pipedrive
Pipedrive is a tool that gives users access to a variety of sales lead management features. You can use the program to track your leads, automate your pipeline, and review detailed reporting pages that give you insight into how you're performing over time.
One of the highlights of Pipedrive is its "deal rotting" tool. This notifies you whenever a potential lead remains dormant for too long. It's a useful prompt that will get you back in touch with a prospect before taking their business elsewhere. This can be useful for your sales consultants and could save you from missing out on your next big deal.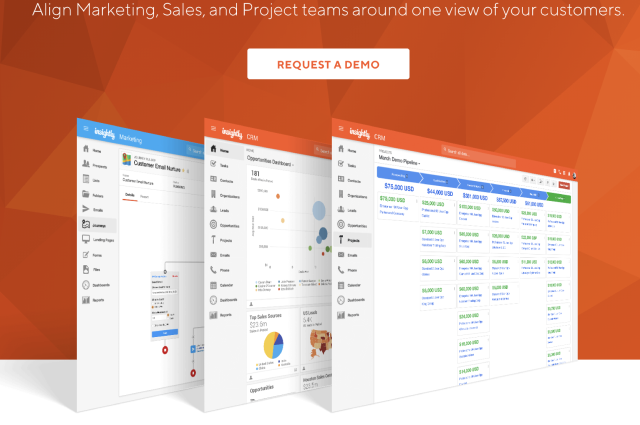 Insightly
Insightly is another sales pipeline tool that's worth your consideration. What makes it great is its custom dashboard feature. This gives you all of the information you need in a single, convenient location. It also gives you the ability to customize your dashboards, so they contain the exact information you're looking for.
On top of this, Insightly has a business intelligence feature that will let you create and manipulate data visualizations in the software program itself. This can help you make the most out of the data you have.
Nutshell
Nutshell is a new sales pipeline software that's quickly making a name for itself. The program makes it easy to view your leads and where they sit in your pipeline in a single place. It also features several useful sales reporting features, such as:
Forecast reports
Loss reports
Sales funnel visualizations
Activity reports
Downloadable charts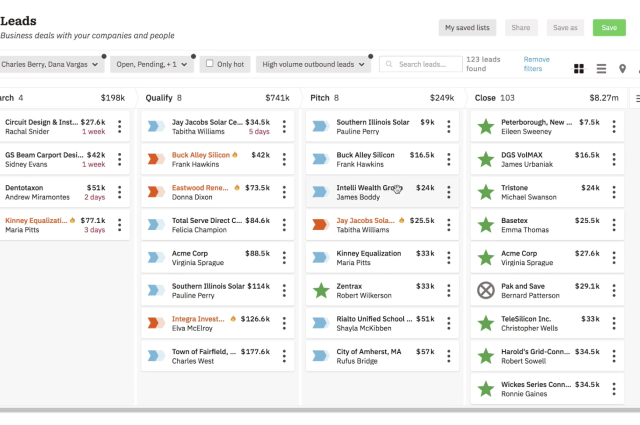 Zoho CRM
Zoho CRM is a sales pipeline management software used by more than 150,000 businesses. The company stands out with a rich feature set that goes beyond what most standard sales pipeline management software offers.
With Zoho, you can automate your workflows and check out detailed sales trend analytics with ease. The program is also gamified, which can help your sales staff stay motivated while following up with their leads.
HubSpot CRM
HubSpot is a big name in the digital marketing space for a good reason. Their CRM software is one of the best that the industry has to offer. It includes a powerful dashboard that will show you sales statistics as they update in real-time.
Additionally, the software makes it easy to track your deal flow based on performance. That makes it easy for management to see exactly how individual sales team members are performing. With HubSpot, you'll be able to quickly make updates to your sales strategies thanks to its real-time population of new data.
Agile CRM
Agile CRM offers a few key features that sales teams will love. For example, it has a contact management feature that organizes all of your contacts in one easy-to-find place. This makes it easy for your sales staff to find the contact information they need without keeping track of it themselves.
The tool gives you the ability to customize your dashboards to display the information you care most about. With this feature, Agile CRM makes it easy for you to create a powerful sales pipeline management solution that conforms to your exact preferences.
Copper
Another CRM tool that's already pretty popular. Copper was specifically designed for G Suite users, so it comes with loads of integrations for contacts, emails, and files.
Copper gives you the ability to manage new leads as they work through each phase of the sales funnel. It also includes a ton of automation features that will help your sales staff make the best use of their time. With sales forecasting tools and a powerful analytics dashboard to boot, Copper is another sales pipeline software that's worth paying attention to.
Get even more out of your sales process with LeadLander
Investing in the right sales pipeline software can do wonders for your company's sales process. But if you're serious about making improvements in this area, you should consider using LeadLander as well.
LeadLander can improve your pipeline accuracy and help you discover which parts of your website are working and which parts need improvement.

You can try LeadLande risk-free today by signing up for our free 14-day trial. No credit card is required, and you can cancel anytime you want.