Updated March 30, 2022
Establishing a strong online presence and fully understanding your website traffic is a no-brainer for any modern business. Your website is often the first touchpoint that customers have about your company. Your site — if it does its job well — tells your brand story and answers any questions that people may have about your products and services.
Your website, in short, should help online visitors get to know your business better.
But wouldn't it be great if knowing your website traffic enabled you to learn more about your web visitors?
With website visitor tracking software like LeadLander, accomplishing that is doable. And in this post, we'll walk you through the process of how to use LeadLander to know your website traffic and get these anonymous visitors on the path to becoming paying customers.
It's that simple to kickstart your lead generation process. Let's get started.
What is LeadLander?
LeadLander is website visitor IP address tracking software that, by using best practices, helps companies turn anonymous website visitors into qualified leads. LeadLander uses a visitor's IP address to surface information such as:
Company name
Address
Phone number
Website
Location
Linkedin Profile
Email
Companies can then use that info to identify prospects, prioritize their sales and marketing efforts, and get to know their visitors better.
10 reasons why you need a website analytics tool to track your website traffic
1. Learn more about your visitors
One of the biggest reasons to start using a website analytics tool is to learn more about who's visiting your website. Having that information can make a big impact on several different parts of your business.
For example, LeadLander tells you which companies are visiting your site. Our tool will also tell you what content they're accessing, how long they're spending on various pages, and a ton of other useful information.
Your sales and marketing departments can use all of this information to do their jobs more effectively and deliver better results for your company in the process.
2. Discover your best content and build around it
Since LeadLander tells you which of your pages are getting the most views, it becomes really easy to determine which parts of your website are performing best with your target audience.
You can use this information to make those popular parts of your website more prominent so that you get your best stuff in front of your target audience's eyes at a higher rate.
Having this information can also inform your future content plans. For example, if you discover that a particular type of page always performs well for you, use your future content pipeline around that idea to get as much out of it as possible.
3. Learn your visitors' origins
LeadLander's web analytics will tell you where your visitors are coming from. Is your website traffic primarily referral, social, organic, or direct?
Referral traffic: These visitors find your website through another site, meaning they clicked a link to your website while browsing on someone else's.
Social traffic: These guests find their way to your website through social media – both your platforms and shared posts.
Organic traffic: These browsers type something into Google or another search engine and find your website on the results page.
Direct traffic: These individuals type your website into their search bar – they know exactly where they're trying to go!
By understanding where your traffic comes from, you can see which marketing efforts are working (SEO, social media, guest posts, etc.), what appeals to your leads, and how to best allocate your resources going forward.
4. Determine your bounce rate
In addition to discovering your best content, you'll also see which parts of your site are performing poorly. A high bounce rate means that users felt your content did not satisfy their search need. Alternatively, it might mean that while the page did have content the user was looking for, it was not well-executed and resulted in a poor user experience.
LeadLander can show you the average duration that a user spends reading a piece of content, and the bounce rate for each web page. These numbers can help you shift the keywords and SEO strategies you use on pages with high bounce rates in order to match up with the right search queries. More importantly, it gives you the opportunity to improve upon the content that isn't appealing to your site visitors.
5. Boost your website's SEO rankings
Search engine results on Google are among the most effective ways to drive new leads to your website. And with a website analytics tool like LeadLander, you can get more out of your site's SEO.
That's because you can use LeadLander to determine which search terms are directing the most traffic to your page. With that information, you'll be able to easily figure out where you need to make changes to your website's SEO to get the performance that you want out of it.
You can also discover your visitors' demographics and what topics pique their interests, and then cater your content accordingly. Some software even makes it possible to learn more about what your ideal customer base is looking for, even if it doesn't currently exist on your website. Find out what search terms your leads are typing into Google and determine how you can exceed their expectations in the future.
6. Track top advertising channels and prioritize them
LeadLander also makes it incredibly easy to determine which of your marketing strategies are performing the best for you and which need improvement. That's because our platform relays your website traffic from various points of contact across the internet.
This information can help you get more out of your limited marketing budget. If you determine that PPC ads are your top-performer, you can spend more on those and decrease the amount you spend on a channel that doesn't perform.
7. Build your own private database
Analytics software can help you gather email addresses, phone numbers, job titles, and even IP addresses for your sales team to work with. You can access millions of new contacts just by installing website analytics software like LeadLander.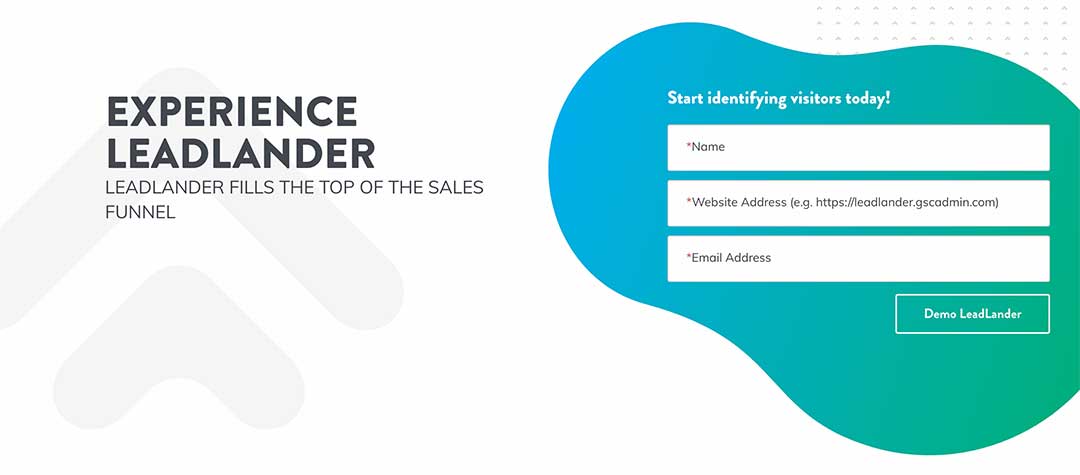 8. Segment your customers
If you're underwhelmed with the success of your current marketing campaigns, it's time to segment your audience. LeadLander can help you target unique customer groups by giving you information about their preferences, location, and values. Intelligent software can help you discover clear customer groups and fine-tune your future marketing efforts accordingly. Once you start interacting with the right people with optimized marketing communications, you will see better engagement.
9. Convert more leads into sales
At the end of the day, the main purpose of LeadLander is to help you discover more leads and become more efficient and effective at converting them into sales. Every feature on our platform is designed to help with this process.
Information is power, and with LeadLander, you get all of the information you need about your website visitors delivered in a straightforward format.
Add to that the powerful third-party integrations that are possible with LeadLander, and you've got a tool that can significantly optimize the performance of your company.
10. Easily compile all your sales data
Not only can LeadLander determine where your sales are coming from, but it can track all of your sales metrics in one accessible location. Our clients save time and energy when they see their revenue, top-selling products, referral springs, and advertising conversions, all at the same time. LeadLander takes all of your numbers and converts them into usable and valuable data, instead of just a scattered and overwhelming mess.
Know Your Website Traffic: ID Your Anonymous Website Traffic With LeadLander
Now that we've covered the basics of LeadLander, let's discuss how to use the software on your website and properly identify your website traffic with lead potential.
Activate your trial. To get started, complete a trial form by entering your website and email address.
Add LeadLander's tracking code to your website. As soon as you've registered, we'll send you your activation instructions along with LeadLander's tracking code. You can add the code to your website with a simple copy and paste process that takes less than a minute.
Start gathering visitor data. Once you're all set up, LeadLander will start tracking your visitors. You'll immediately begin collecting more information about your prospects, as our proprietary technology identifies anonymous visitors, and alerts you with new information. You'll be able to view reports in real-time, and you'll receive daily digest emails containing info about your website visitors.
"I appreciate the daily digest email that is sent to me. This is the first email I read in the morning and I organize my prospecting efforts around the details in the report and the LeadLander dashboard. Here, I can see which pages a prospect has viewed and I can personalize my outreach accordingly. This tool has helped me connect with some opportunities I would not have known about otherwise. Essentially, LeadLander helps me be at the right place at the right time for casual browsers who do not fill out an online request form."
— Jason Hall, Business Development Manager, Guidance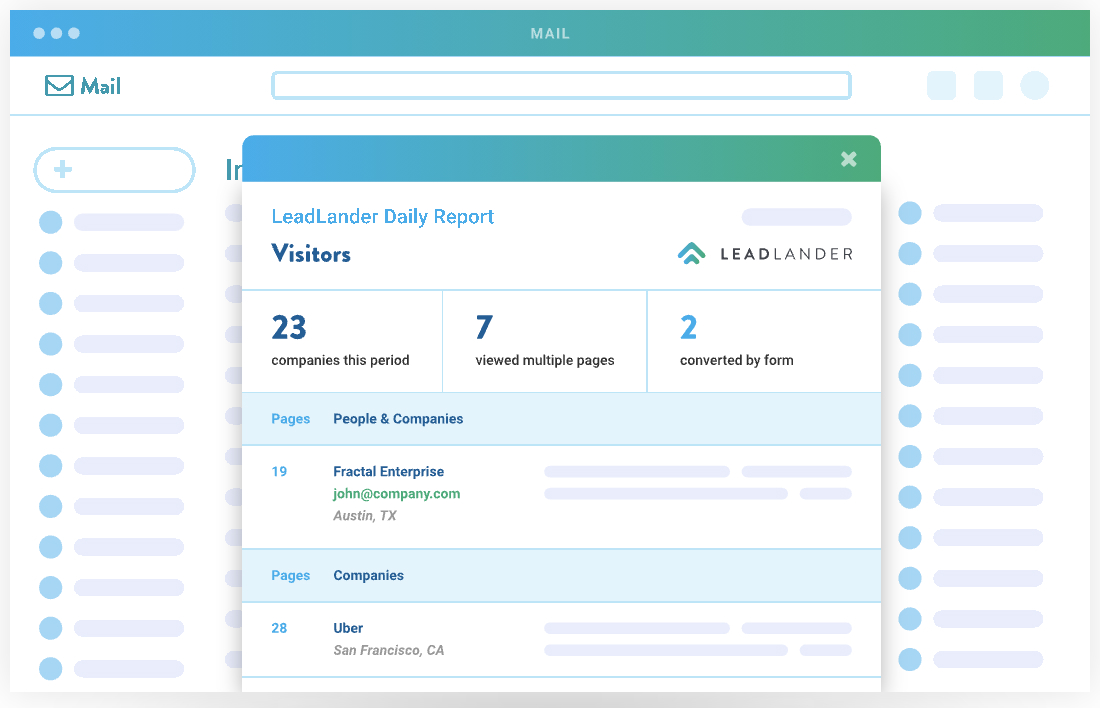 Integrate with your existing software. Take things a step further by integrating LeadLander with your current sales and marketing tools. We have an integration partnership with Zapier, which enables you to connect LeadLander with tools like Salesforce, HubSpot, Marketo, Slack, and more.
With Zapier, LeadLander users can push data to other applications based on certain triggers. Workflows called Zaps pass information between applications. In LeadLander, Zaps can be triggered by specific website actions like:
New company visits
Repeat company visits
New individual visits
Repeat individual visits
Form fills and submissions
Specific number of page views
Specific page views
The integration allows you to streamline your efforts by removing manual work from the sales and marketing process.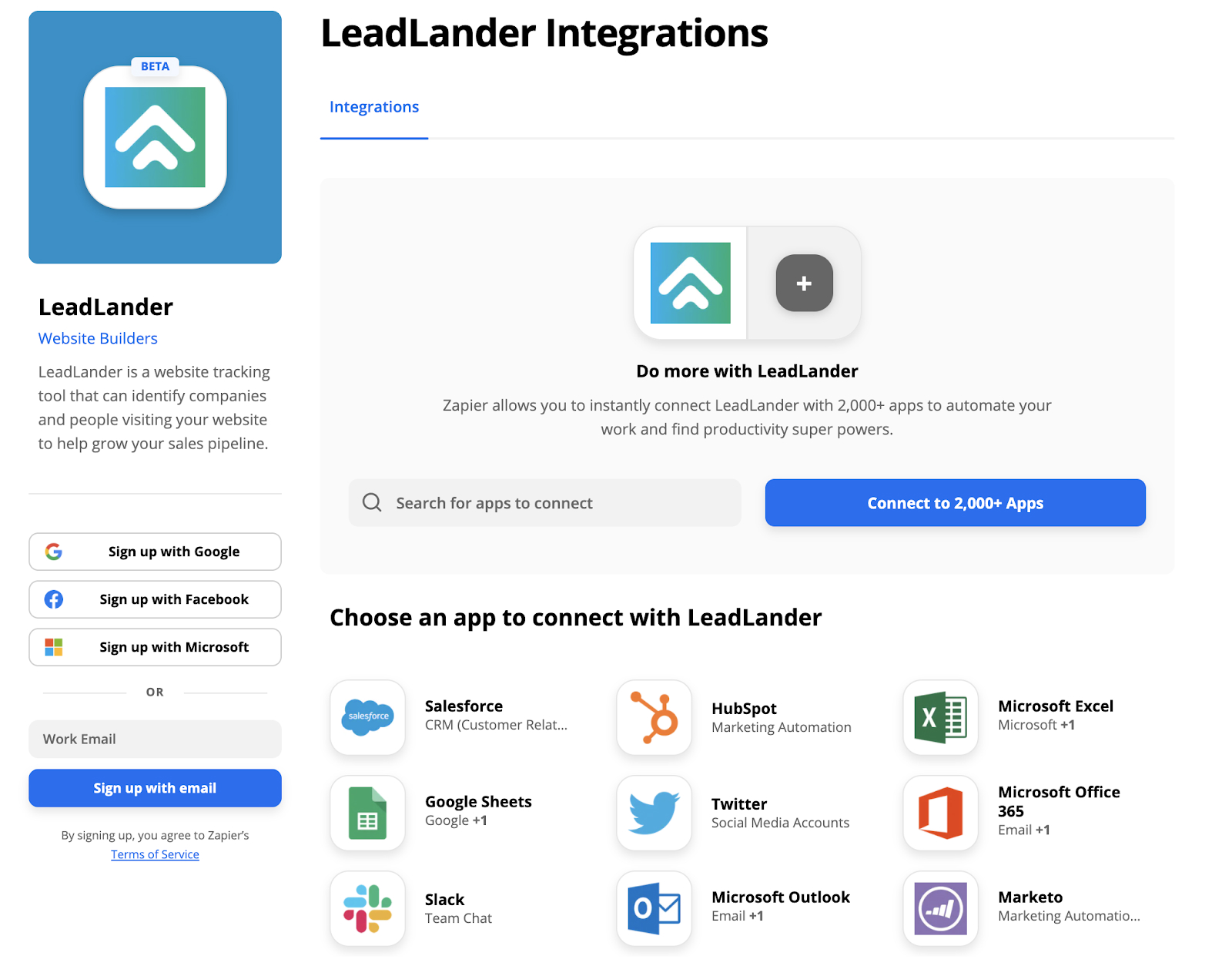 "LeadLander has completely changed the way we understand and leverage our visitor data. It's enabled clarity of traffic that we can't get with other tools and now we are able to scale. Prospect identification, targeted lead nurturing, understanding a customer's level of interest before walking into the first meeting based on web traffic, and knowing when to send specific and targeted communication to our point of contact is all enabled through LeadLander."
— John Byron Hanby IV, Founder, Fractal Enterprises
Get visitor alerts
Timing is critical in sales. With so many people, companies, and websites vying for your prospects' attention, you want to get on their radar at a time when they're open and interested in hearing what you have to say.
LeadLander can help by giving you real-time email alerts on target accounts and key customers. You'll know exactly when they visit your website, and you can use that info to plan when and how you'll reach out.
"LeadLander is an indispensable tool for our sales team. We use it every single day to help quickly identify those prospects that are in 'buying mode'."
— Jeff Lear, Vice President of Sales, Greenmile
Validate your outreach efforts
Are your cold calling and outreach efforts driving results? Which prospects should you follow-up with? LeadLander eliminates the guesswork from outreach by helping you identify the companies that are responding to your sales efforts. You'll know exactly which prospects visited your site after a call or email, so you can tailor your follow-up approach accordingly.
Gain insights into your most valuable web pages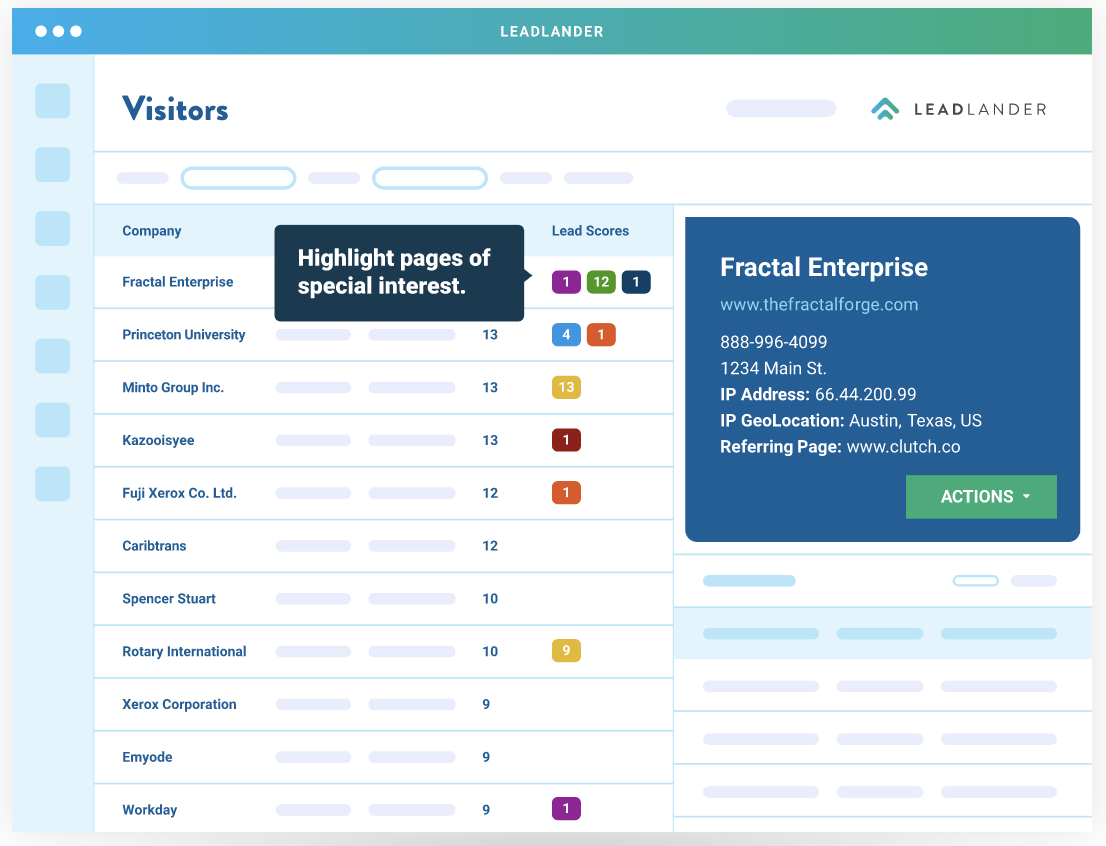 Know the parts of your site to promote and improve. LeadLander tells you which pages key leads are most interested in, so you can increase their visibility and further optimize them for success.
LeadLander also lets you score your most important web pages. You can color code the pages of your website that may indicate buying interests. When your high interest pages are color coded, visitors can essentially raise their hands to say that they've been to those key pages — which can then prompt you to touch base with those leads.
Know your most effective marketing and advertising channels
The famous John Wanamaker quote about how half the money spent on advertising is wasted doesn't have to apply to your organization. With LeadLander, you can figure out which advertising and marketing campaigns are driving traffic to your key pages and ensure that your budget is spent on the channels and initiatives that count.
How LeadLander is different from other website visitor tracking software
While there are numerous visitors tracking software in the market, many of them simply repackage Google Analytics data (which is free).
Lead Lander has been in the market for over 10 years, and thus we have the largest, most accurate database of company data. This means we can identify more of your anonymous web visitors, allowing you to surface more leads and potential customers.
Unlike other solution providers, LeadLander offers straightforward pricing. You get access to all of the software's features and there's no limit to the number of leads you can track per month. You'll also get a dedicated account manager and customer success manager, so you know that LeadLander has your back.
LeadLander still prides itself on providing the best data, unrivaled support, and the most user-friendly platform. It's assimilated new updates to improve the software, including full API functionality to help you better understand and know your website traffic.
API capabilities allow LeadLander users to personalize their data further with features like:
Custom sales dashboards
Custom reporting
Bulk visit information retrieval
"LeadLander's intuitive dashboard makes it easy to see WHO is visiting my website and what they are doing. Additionally, when visitor information is able to pull in LinkedIn data to the LeadLander dashboard this is super helpful! This feature has saved me a crazy amount of time … the customer support is also really great to work with. Very friendly and responsive."
Another reviewer said "There really isn't much I can say I dislike about the platform/service. It's a great tool at a very reasonable annual cost."
In 2020, LeadLander was awarded Trusted Vendor with High Market Presence from Crozdesk, as well as Easiest Admin Mid-Market. In 2021, LeadLander has been recognized as a Small Business High Performer and a Web Analytics Software Leader.
Once you've built your business, your product, and your social media presence, it's time to identify your leads. LeadLander allows you to recognize new company or individual visits, as well as repeat company or individual visits. You'll see which pages are getting the most attention and who from, so you can steer your business in the right direction. Best of all, you'll get to know the individual or company, what they're interested in, and how you should contact them.
You deserve unlimited leads with detailed information. You will also receive superior customer service with LeadLander.
LeadLander pulls out all of the stops to allow business owners to fully understand their prospects. Over 1,000 companies trust LeadLander, including CBTS, Exabeam, and Baird. You can activate your 14-day free trial today to find out if the software can take your business to new heights.
Ready to take your sales and marketing to the next level?
LeadLander delivers a level of detail that free analytics software cannot. We take the finite details and turn them into actionable data so you can focus on growing your business.
Request a demo of LeadLander and we'll walk you through the ways that LeadLander can align your sales and marketing efforts. Let LeadLander give you the visitor insights you need to get to know your prospects and convert them into paying customers.