Content marketing is a broad field. It includes everything from educational articles and blog posts to webinars, ebooks, and even email outreach. The most effective marketing campaigns utilize a blend of all of the most impactful content marketing strategies.
But your company may not be using all of the tools in its arsenal. More specifically, you might not be utilizing visual content marketing to generate B2B sales leads as much as you could be.
49% of all marketers rate visual marketing as very important to their marketing strategy. Another 22% consider it important, while 19% say it forms the backbone of their marketing strategy.
But what is visual content marketing, exactly? And how can you use it to generate more sales leads? Keep reading to find out everything you need to know about visual lead generation and an impactful content marketing strategy.
What Are Visual Leads? Why Do They Matter?
Visual leads are key in visual content marketing. Essentially, they're what companies hope to generate by adding this method to their overall marketing strategy. A visual lead is a sales lead that is generated by visual content. For example, if you find a new B2B lead by publishing an infographic, then you've just generated a visual lead.
Visual lead generation is important because it provides companies with another way to connect with new prospects. They differ from other types of leads in that they appeal to different prospects.
Visual leads tend to be generated through content that is easy to digest. For example, some of the most common sources of visual leads include videos, webinars, and infographics. Producing this type of content alongside more in-depth content can help you appeal to prospects with varying amounts of time – and ones that want to learn about your company and the market it serves.
How Does Content Marketing Help Visual Lead Generation?
Visual marketing goals can vary. Often, the purpose of launching one of these campaigns is to get more traffic for your website or social media accounts. If you're capable of turning web and social media traffic into paying customers at a consistent rate, then the more traffic you get, the more new customers you'll earn.
Visual content marketing can also be used to accomplish more specific tasks. For example, you might be interested in building out your email list so that you can get more out of email marketing campaigns. If so, placing a piece of valuable visual content behind an email requirement can help you achieve your goals more efficiently.
Regardless of the specific goals of your visual content marketing campaign, launching one can help you find and gather information on new prospects. No matter what industry you're in, the process will be the same.
A successful visual content marketing campaign will start by providing information that you deem will be valuable to your target audience. Then, as members of that audience interact with your visual content, you will gather information on them. It's this information that will help your company generate more sales leads.
Generate More B2B Leads With These 7 Visual Content Methods
There are a number of ways to start generating more visual leads with targeted content. But these seven methods will offer you the best bang for your buck.
1. Infographics
Infographics are the original visual content marketing method. The benefit of using infographics is in their highly-shareable nature.
Infographics provide important, useful information in a format that is easy to digest. If you make solid infographics and publish them widely, there's a very good chance they will be shared on social media accounts within your targeted industry.
2. Videos
Video is another great place to begin your next visual content marketing campaign. More companies use them to easily relay important information, but consumers say they retain as much as 95% of a message that's been disseminated through video.
So if you want to be sure that your audience is retaining your key intel, creating a video may be the best way forward.
3. Livestream
Live streams take the benefits of video content a step further and can help you generate even more visual leads for your company. Live streams provide a more personalized touch for potential prospects you hope to reach.
For example, live-streaming on platforms like Twitch and Instagram allow your audience to comment while you broadcast in real-time. They can get answers to pressing questions instantly. This is a fantastic way to create a personal connection with potential prospects through visual content marketing.
4. Memes
Memes might be a little silly, but they can also be an excellent way of connecting with your audience in an authentic way while earning a little cultural cache. They're especially popular among Gen Z and Millenials. According to a recent survey, 75% of 13-36-year-olds share memes. That's a huge percentage your company could be reaching.
Memes are easy to make nowadays. Just pick your preferred format and come up with something witty and topical to say about your industry. Use an online meme creator to put it all together and share it on your social media accounts.
5. An interactive quiz
Quizzes are an interactive, visual way to connect with new prospects. Putting one together can be as simple as gathering some industry information that you have on hand and using it to create fun questions. Your audience may enjoy testing their knowledge and you can gather useful intel from their results.
6. Host a webinar
Webinars are another great way to use visual content marketing to generate new sales leads. They also provide the opportunity to connect with your audience in a live setting.
Consider hosting webinars that focus on topics of importance to your target audience. Make sure you grab email addresses or business information of anyone who signs up for yours. Most people who are interested in the topic will be more than happy to provide this information if it means getting access to a discussion that they deem valuable.
7. Add a slide deck
Slide decks are starting to feel a bit old school, but they still have a ton of value for visual lead generation. To start, they're highly interactive: Users can click through them at their own pace and access high-level information at a glance.
Slide decks can also be used by industry professionals who need to create their own presentations on a related topic. This is another resource you can place behind an email wall to gather info on potential prospects.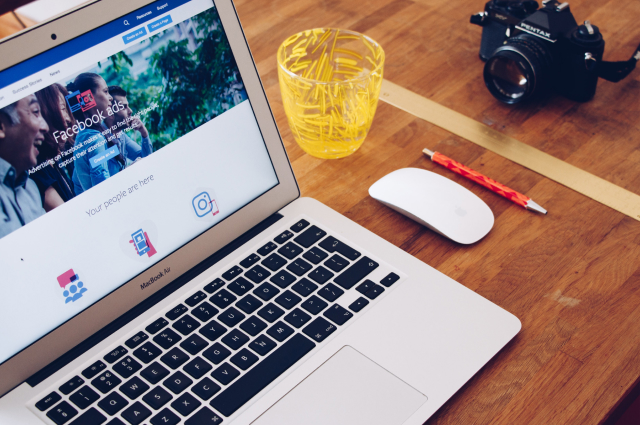 Combine Visual Leads With Other B2B Marketing Methods
Visual marketing strategies, like the ones discussed above, can be a productive way to generate new sales leads, but they shouldn't be used in isolation. The best way to maximize your overall marketing reach is to combine visual lead generation with other methods of content marketing.
Ideally, each component of your content marketing campaign will feed back into the others. For instance, you can share infographics and memes on your social media accounts that link back to a blog on your website. Or you can use a webinar to direct people to sign up for your email list so they can receive more helpful information from your company.
The point is that you'll get more out of your visual content marketing efforts if you synergize them with the other work your marketing team's doing.
Use LeadLander to power your content marketing strategy for visual lead generation
LeadLander can help you with this process. Our platform provides specific details about your anonymous website visitors. It will help you understand the needs of existing targets better and reveal any new, unidentified prospects.
You'll get more out of your entire content marketing strategy by being able to see who's reading your blog posts and which visual content marketing strategies are directing the most traffic to your website. With information like this, you'll be able to optimize your marketing outreach by tracking the behaviors of both your general prospect audience and specific sales leads.
But you don't have to simply take our word for it. Instead, we'll let you try LeadLander for 14 days at no charge. Visit our website to sign up for your free 14-day trial today. No credit card is required and you can cancel anytime that you want.