With Google Analytics owning over 38% of the website analytics market, it can be easy to assume the visitor tracking software offered within the analytics platform is superior to that of its competitors. However, because Google Analytics is a much broader platform, their visitor tracking software and the data they provide is, well, much broader.

Google Analytics is well suited for marketing efforts and overall site traffic measurement, not granular details such as identifying each individual customer on your site. The information they collect is best used in a broad marketing scope, such as determining which areas of your site are most popular, how much overall traffic are you generating on your site as a result of marketing campaigns, etc.
LeadLander is designed to deliver much more actionable data with a lot more depth of detail. Instead of just showing a domain listing, LeadLander gives you more finite details about the actual companies visiting your website and backs that up with supporting data.
Below, we highlight the differences between LeadLander's visitor tracking software and that of Google Analytics: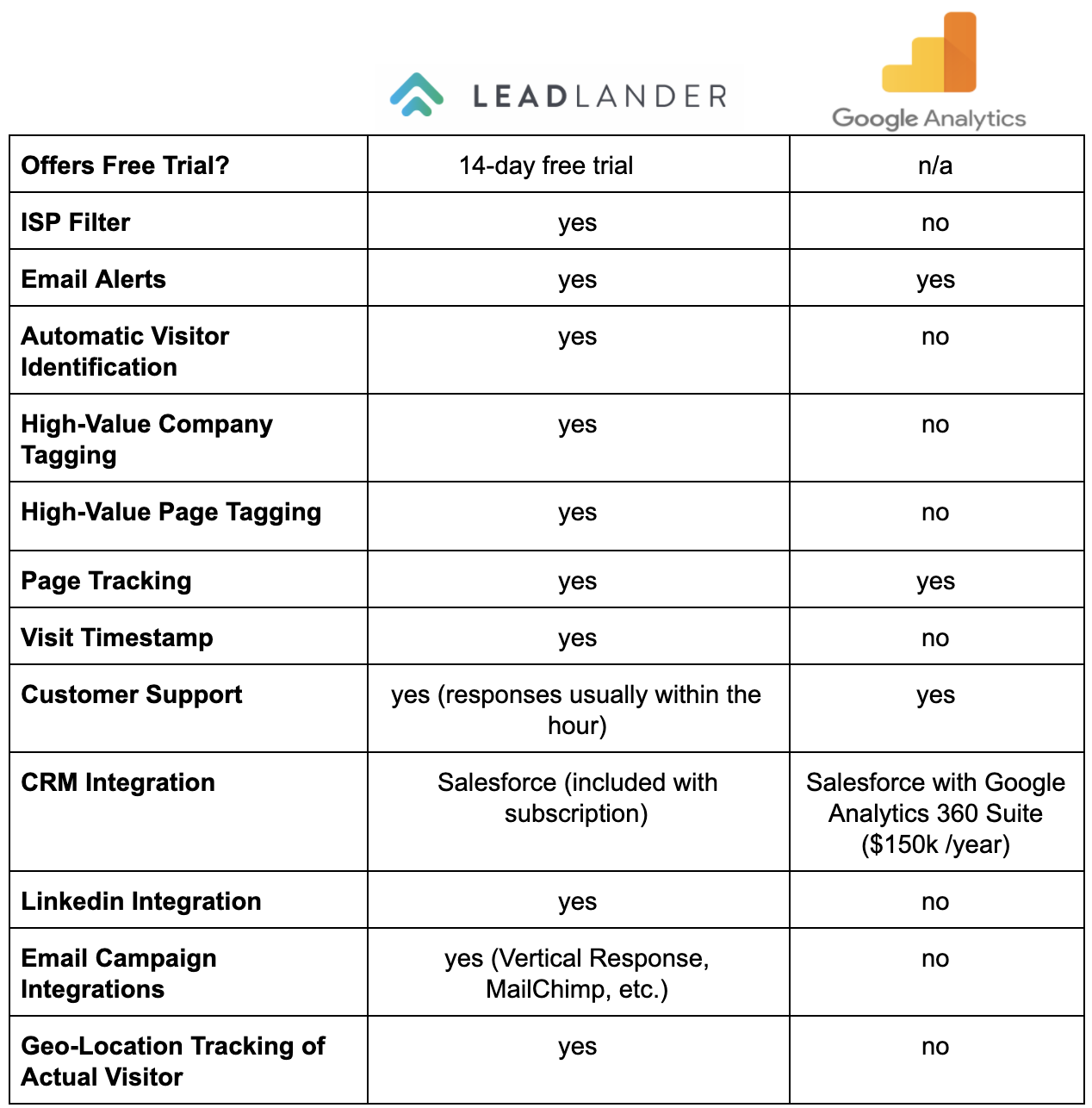 ISP Filter
LeadLander's proprietary software automatically removes ISP data for concise reporting and a focus on actionable data.

For Example: An anonymous visitor from Avigilon Corporation visits your site, but, with Google Analytics, shows up instead as a visitor from Xfinity, CenturyLink, AT&T, etc., his/her internet service provider.
LeadLander's proprietary software is able to reconcile more ISP traffic as identified company visitors, allowing sales and marketing teams to pursue accurate leads.

ISP Reconciliation is especially important during COVID-19's stay at home order, where most website visitors are using a diverse range of at-home ISP's.
Automatic Visitor Identification
LeadLander automatically identifies anonymous website visitors, providing accurate company details including website, address, and phone number.
Google Analytics only provides visitor's ISP company names.
High-Value Company & High-Value Page Tagging
LeadLander allows users to create a watchlist for specific high-value companies, with the option to send real-time email alerts when that company visits their website, including specific data on the exact pages visited and timestamp on each page.
LeadLander also allows users to color-tag high-value pages, allowing sales teams to quickly identify companies visiting their most important pages and pursue their hottest leads.
Customer Support
LeadLander offers unrivaled support with:

A dedicated account manager with phone, email, & web support
Quarterly check-ins & on-going support
Included user on-boarding, training, and use case consulting
Length of Each Visit
LeadLander displays each page viewed along with a timestamp, allowing sales teams to identify the quality of leads and customize their sales approach.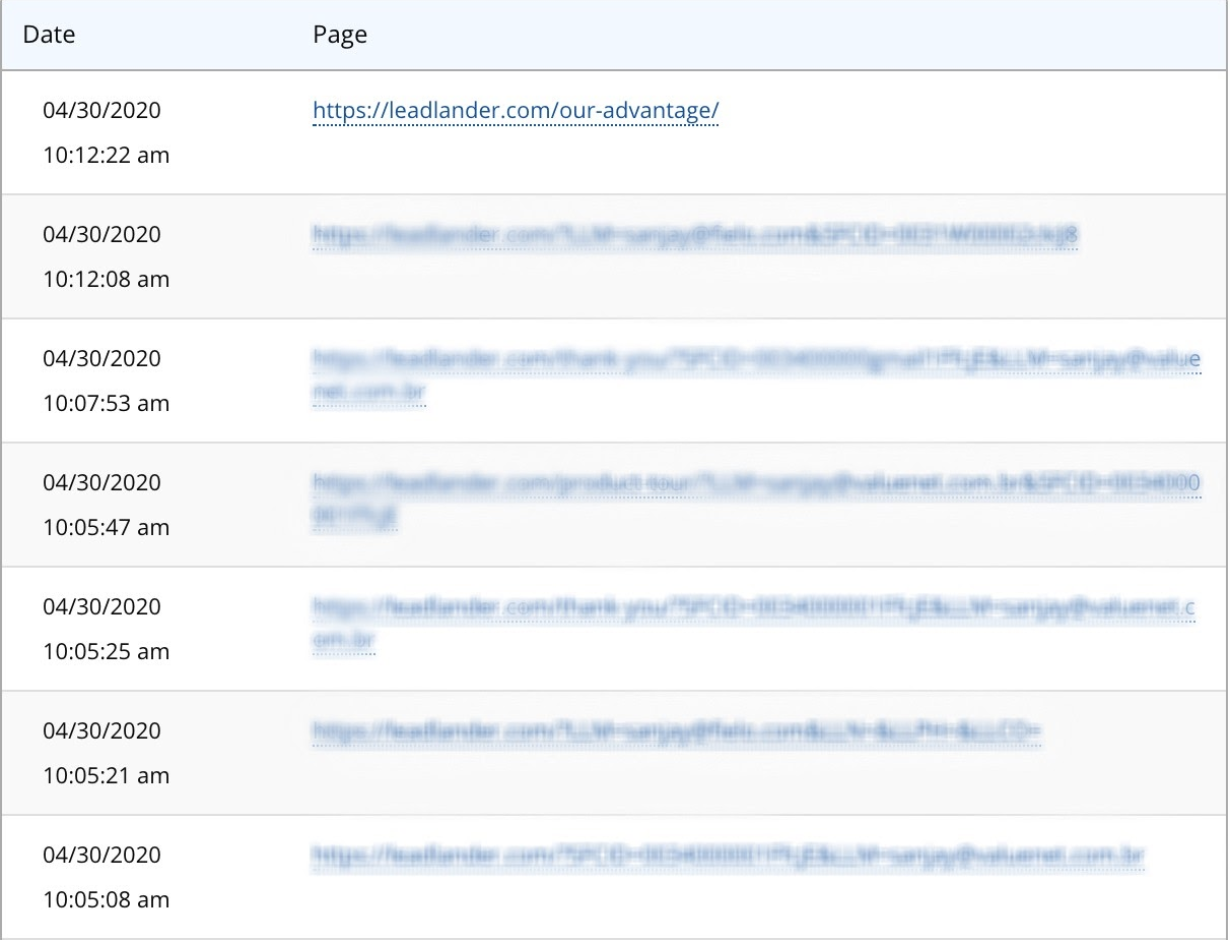 Google Analytics provides broader data by taking all lifetime visitor data and providing the average time that all visitors spend on each page and the average time on site
CRM, LinkedIn, & Email Campaign Integration
LeadLander provides built-in email campaign software integration (Vertical Response, MailChimp, etc.) allowing sales and marketing teams to immediately pursue hot leads visiting their site.
LeadLander also provides SalesForce and Linkedin integration, allowing users to quickly access SalesForce data on their visitor, and/or use LinkedIn to pursue other relevant visitor co-workers/employees.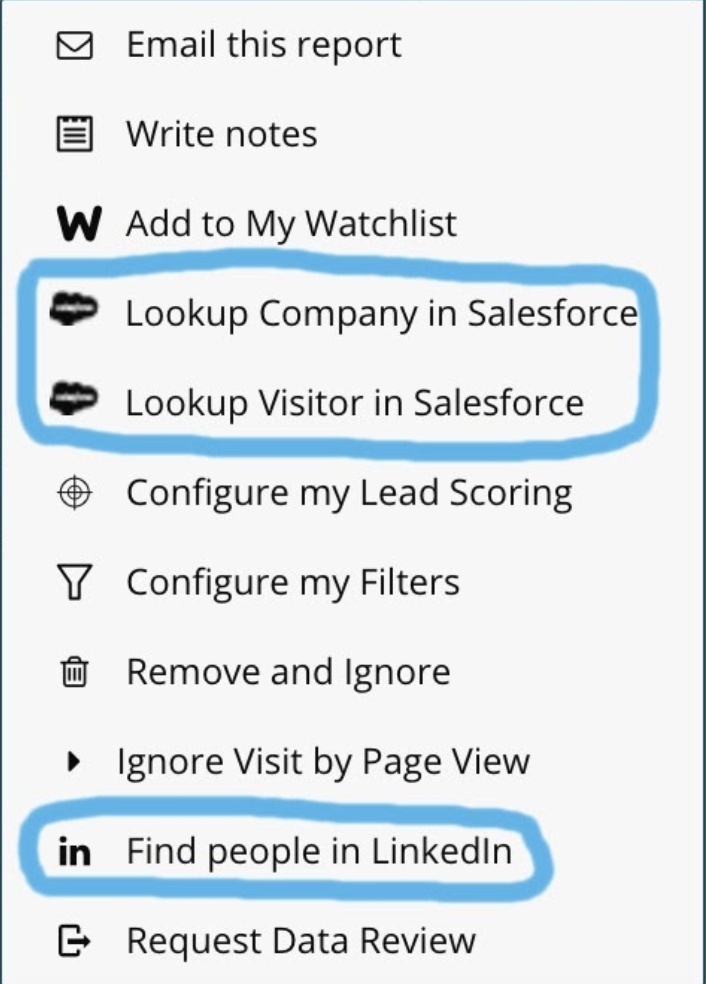 Free Trial
LeadLander also offers a 14-day free trial, allowing you to test and explore features not available on Google Analytics
Conclusion: Which platform should I use?
Depending on your company's needs and preferences, both Google Analytics and LeadLander can offer valuable insight. While LeadLander is much different from a tool like Google Analytics, both serve as a complement to one another. In fact, most of our clients also run Google Analytics on their websites (we do too). Google Analytics provides much broader insights, whereas LeadLander delivers much more actionable data with a lot more depth of detail.