Updated April 25, 2022
In 2021, the number of marketing platforms and methods continue to explode. No one has the time to explore every marketing avenue sufficiently while running their business. Fortunately, sales automation tools have kept pace with our ever-changing world.
Software like LeadLander, HubSpot, and Outfunnel make it possible to discover where your sales efforts are most profitable so that you can maximize your team's time and efforts. So, if you haven't done so yet, invest in the sales automation tools above to take your selling initiatives to the next level.
Every business hires sales specialists for their ability to close deals and increase profitability. It doesn't matter if they're sales reps or sales managers; your sales professionals are hired to sell.
In 2018 Forbes reported that sales representatives spent 64.8% of their time on non-revenue generating activities. Emails were the largest source of time away from sales. And shockingly, CRMs were the least.
These stats could have something to do with the adoption of technology in 2018, but it's fair to assume that many organizations are still without better systems today. Admin is important, emails need to be responded to, and CRMs need information to produce helpful insights, but salespeople need to be able to make selling the number one priority. Their sales tools should enable more time closing deals, not more time recording customer metrics.
No matter whether you have a small business or a large enterprise, you should be using
sales automation tools to optimize your customer relationships and boost sales.
What is sales automation software?
Sales automation software can include several different tools that help to automate sales processes. Some tools may cover a range of functions, while others may be specific. The core areas that sales automation tools automate are:
Lead generation
Lead management
Scheduling
Communications
Data entry
Research
Tracking
With these tools, salespeople can be prompted on which prospects are ready to move to the next step of the buying journey. They can focus on those warmer contacts while resting assured that new prospects are being found, nurtured, and engaged with. Sales automation allows salespeople to do what they do best while keeping new leads moving through the sales funnel.
Why invest in sales automation software?
It can be difficult to set some of your hard-earned money aside for sales automation, but this software is an investment, not a purchase. Time is money, and the right software is going to save you hundreds of hours by automating the things you or your sales reps are doing every day, like:
Understanding customer needs
Recording notes
Entering data
Following up with prospects
Cold calls and emails
Not only will sales automation software save you valuable time, it will also provide other benefits like:
Higher customer satisfaction: Automation software responds to customers immediately, or sends you a notification in real-time, so your prospects can get help sooner. It can also send regular emails and follow-ups to maintain relationships with your clients.
Finds new prospects: A good software can do more than tend to your current prospects… it can consistently find new leads for you. It interprets web data to filter out unlikely customers and push new prospects into your sales funnel.
Eliminate human error: Automation makes the whole sales process move more quickly and eliminate the risk of human error.
Reduce business costs: Not only will automation make your sales reps more efficient, but the software can accomplish what 50 employees can perform manually!
Enhance work-life: Sales automation has been shown to improve work productivity, morale, and cooperation between the sales and marketing teams. Hundreds of those repetitive, time-sucking tasks are streamlined, leading to an easier and more effective workday.
Increase revenue: At the end of the day, you want to know if your software investment makes fiscal sense. According to McKinsey & Company, businesses that adopt sales automation early tend to report an increased sales potential of up to 10%.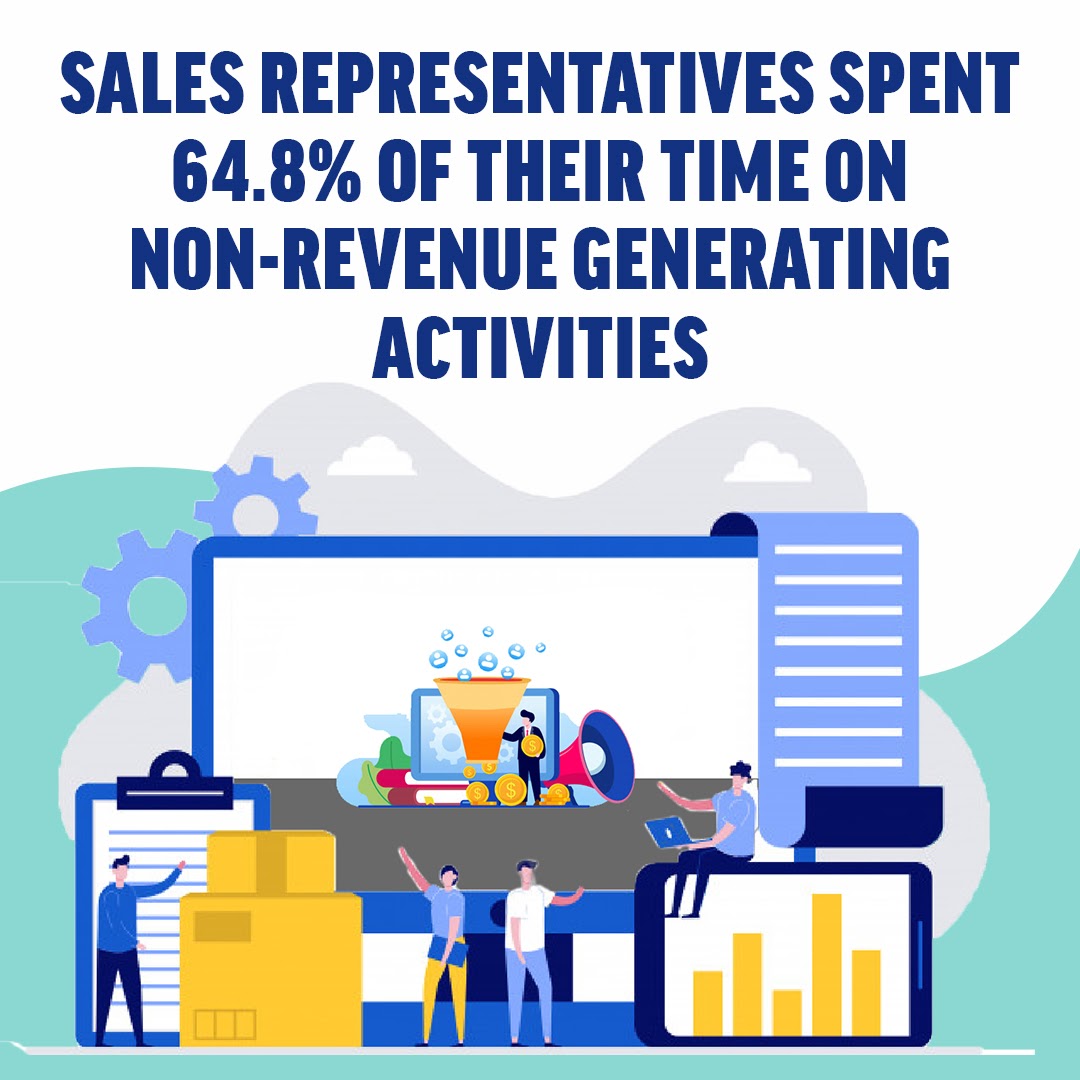 Sales Tools We Love
One of the biggest issues with email marketing is verifying that the emails you're sending out are going to real, active email addresses. If you don't complete this verification step, you risk collecting dirty data about the efficacy of your email marketing campaigns.
Hunter.io is one of the most effective tools that we've found for automating your email address verification process. The application's designed to perform bulk searches of large email lists and provide confidence scores for each. Start using Hunter.io, and you'll never worry about a bounced email again.
Pega Sales Automation is an AI-backed tool designed to automate many aspects of your sales process so you can speed up your sales cycle. It helps with:
Lead scoring
Sales funnel movements
Personalized marketing
Opportunity identification
Pega Sales Automation also integrates with other tools you may be using to pull data from your most valuable sources, including LinkedIn, Outlook, and other email services.
Growbots is a tool that will help you generate more leads through automation. It features a database of over 100 million key decision-makers and influencers. You can use Growbots to streamline your lead workflow as well so your sales reps are focused on the highest-priority opportunities when they arise.
Here are some of the cool features of Growbots that make it one of our favorite sales tools for automation:
Built-in A/B testing feature
Massive lead database
Automatic database updates to ensure you're up to date on the latest opportunities
Instant integration of contact lists
ZoomInfo is another sales automation tool we're fans of because it's designed specifically to be used by companies operating in the B2B space.
ZoomInfo is a cloud-based lead generation tool that automatically updates a comprehensive lead database for B2B companies to explore. It offers a ton of contact information for companies and decision-makers within those companies, including names, email addresses, and direct-dial phone numbers.
ZoomInfo also has a ton of built-in functionality to make it easier to enjoy the full benefits of access to its massive database of leads. This includes more than 50,000 searchable data points, making it easy to get the in-depth insights you're after.
And the best part of using ZoomInfo is that you don't have to update any part of the database yourself. The company updates it automatically, so all that you have to do is focus on finding high-value targets.
Lead generation and prospecting automation to simplify list growth
Lead generation and prospecting are the foundation of sales. Without these efforts, your salespeople would have no one to close. It's a critical function. But it's also time-consuming. And it's tough to know from the get-go whether each new prospect is worth the time of your best sales staff. That's why lead generation and prospecting automation software is so valuable. With automated lead generation and prospecting activities running in the background and your best sales staff in front of your high-value clients, you're in a premium position to close the biggest deals.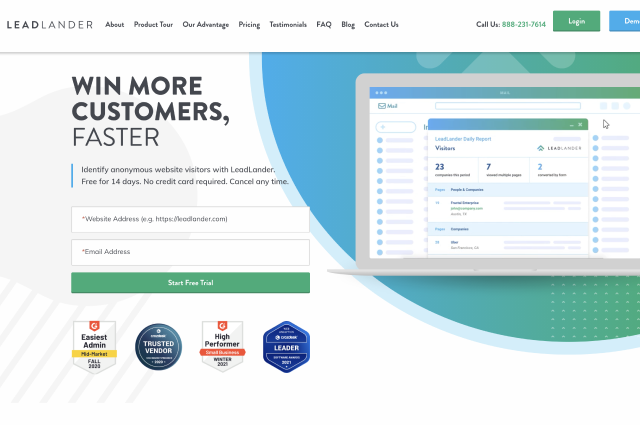 LeadLander is a website visitor tracking tool that uses your website visitor's IP address to surface valuable information, including:
The company they work for
Their location
Their job title
Their work email address
Their phone number and other contact information.
Sign Up For LeadLander Here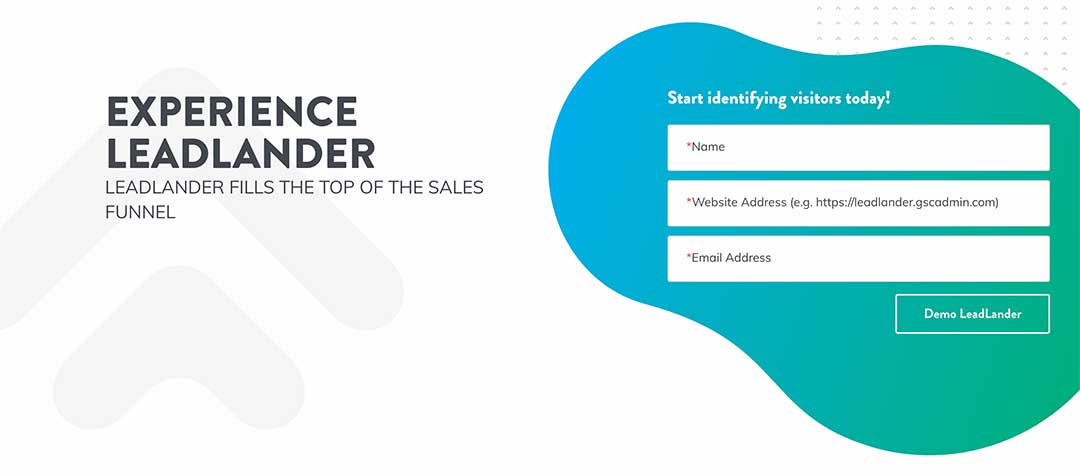 LeadLander monitors your website and notifies you in real-time when your prospects are visiting your website. With this information, organizations can uncover warm leads — customers who have already looked up your business online. This information is automatically compiled into a report and can integrate with CRMs, and marketing campaigns so that these leads can be automatically added to sales and marketing lists.
What's more, LeadLander can tell you about each lead's online behavior so that your sales and marketing team are aware of what products they may be interested in. LeadLander makes it easy to arm your sales team with knowledge about which pitches are really working, and which customers are responding.
Since this post was initially published, LeadLander's received recognition from G2 Winter 2021 for Easiest Admin and Easiest Setup. Crozdesk also named it as one of the top 20 Web Analytics products for 2021.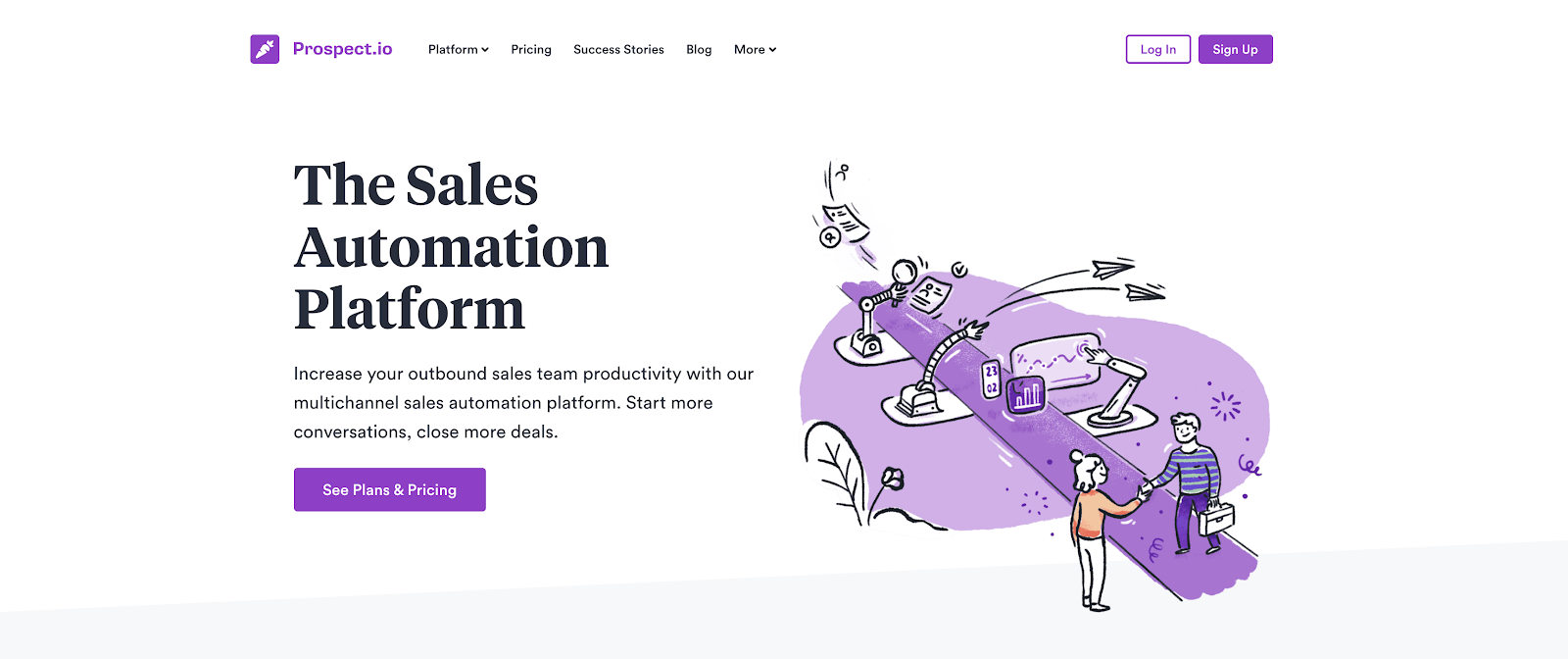 Prospect.io is a sales automation platform that increases the productivity of outbound sales through multi-channel automated solutions. Their core tools include:
List building
Outbound
Productivity
Reporting
Within these areas, Prospect.io helps organizations to create lists by finding anyone online. With smart algorithms, they can identify email addresses, qualifying them, and adding them to your marketing and sales lists. From there, you can automate email marketing and personalize communications to boost results. When your prospects are ready for your top sales reps, you will be notified.
Prospect.io pricing starts at $99 p/m for 1000 credits. Credits go towards activities such as emailing a prospect, finding an email address, verifying an email address, etc. A discount of 25% is offered for annual subscriptions.
Sales call and meeting scheduling software to reduce wasted time
Scheduling sales calls can take an awful lot of time away from actual revenue-generating work. Unfortunately, not all potential clients are decisive. There can be a lot of back and forth, and with busy people comes a fair share of rescheduling. This all adds up. But, thankfully, the solution to this problem is incredibly simple.
With sales call scheduling software, you can keep meetings coming in without the administrative hassle.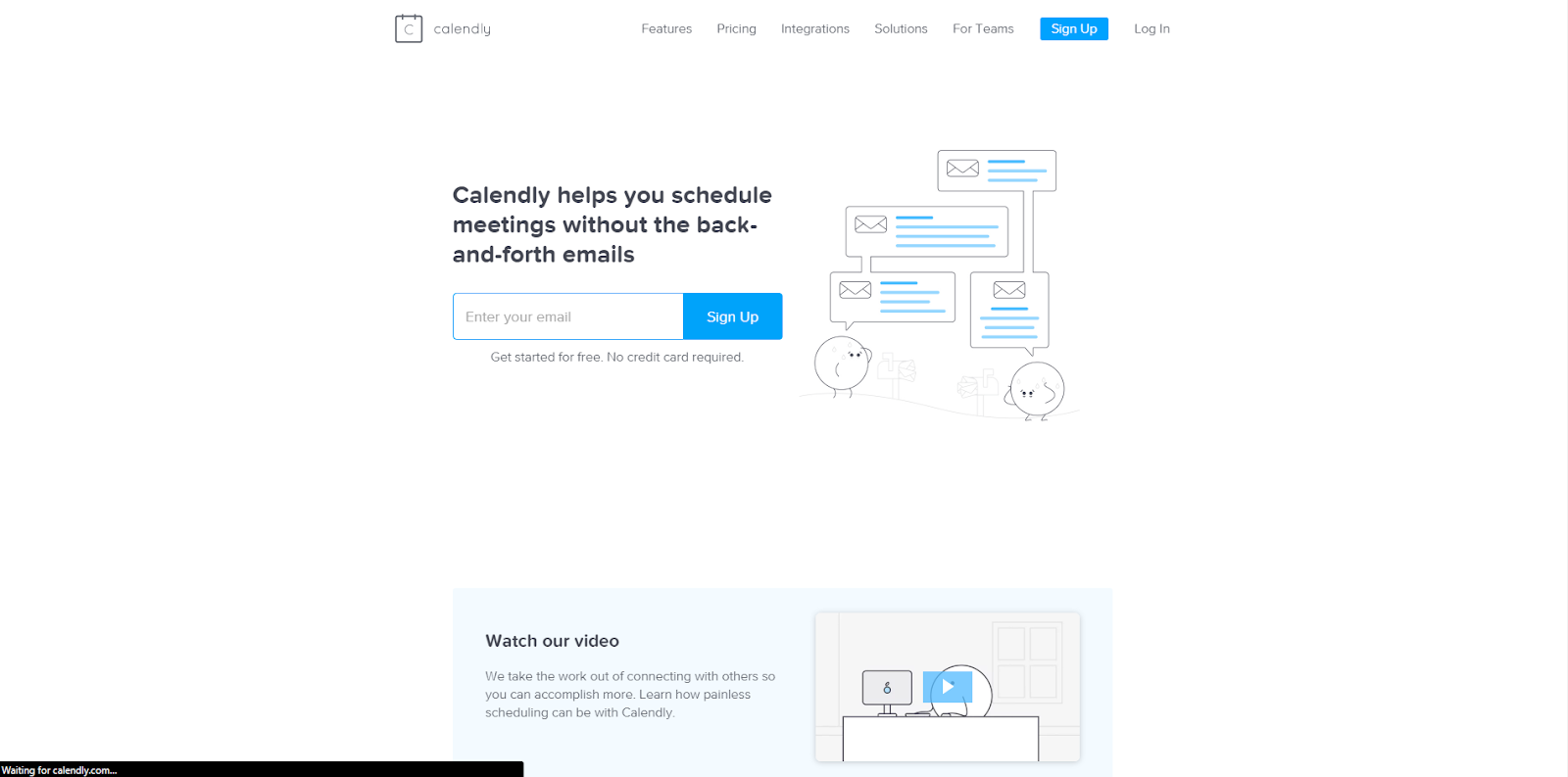 Quite simply, Calendly allows businesses to schedule meetings without requiring the hands-on back-and-forth emails. The software can connect with up to six of the user's calendars to automatically check for availability.
A Calendly link is provided to the invitee, and settings can be modified to lock in specific times, lengths, guest numbers, daily limits, and more. Different time zones are automatically detected, and notifications are sent via email and text to minimize no-shows.
Pricing for Calendly starts at $0 for one calendar and basic functionality. For full features, it reaches $12 per month, per user (when billed annually).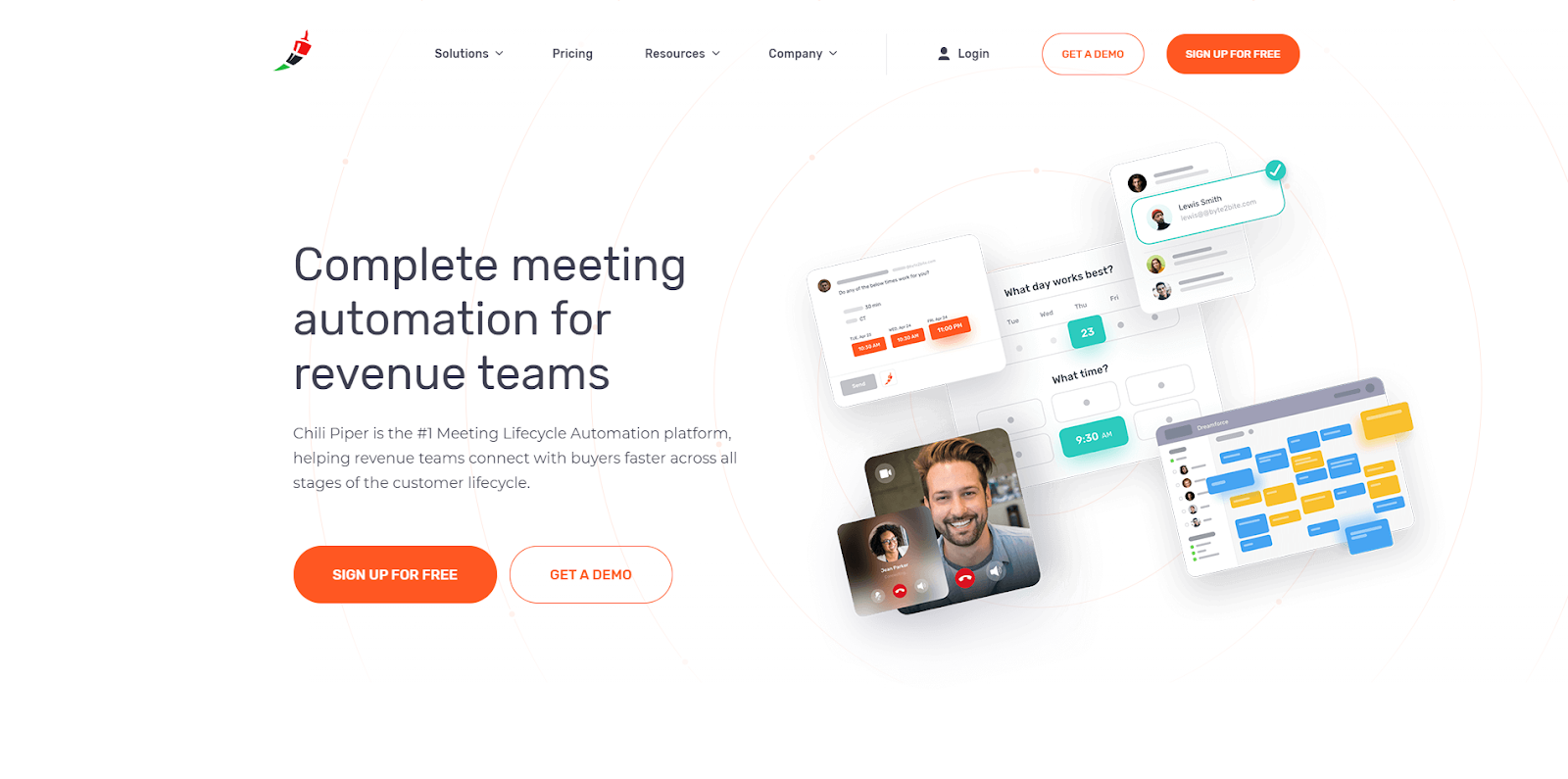 Chilli Piper takes call and meeting scheduling up a notch by ensuring that meetings and calls are routed to the most appropriate sales representative. Based on a range of qualifiers, such as company size, country location, industry, and others, your sales leads are booked in with the best person to handle them.
Being able to integrate with Salesforce, Gmail, Salesloft, and more, Chilli Piper allows you to book meetings from whatever software you're already working in.
Pricing for Chilli Piper starts at $0 for the basic scheduling software, but the truly valuable automated solutions come with the premium subscriptions, starting at $15 per user per month (for an annual subscription).
CRM systems for improved sales and marketing automation
CRMs are probably the tool that everyone is most familiar with. We've long accepted the benefit of capturing client data and communication details to help close deals and track sales. And as technology has improved, so too has our long-loved CRM.
Now able to automate repetitive, manual tasks to help streamline work and boost productivity, there is no reason organizations should not be using these tools.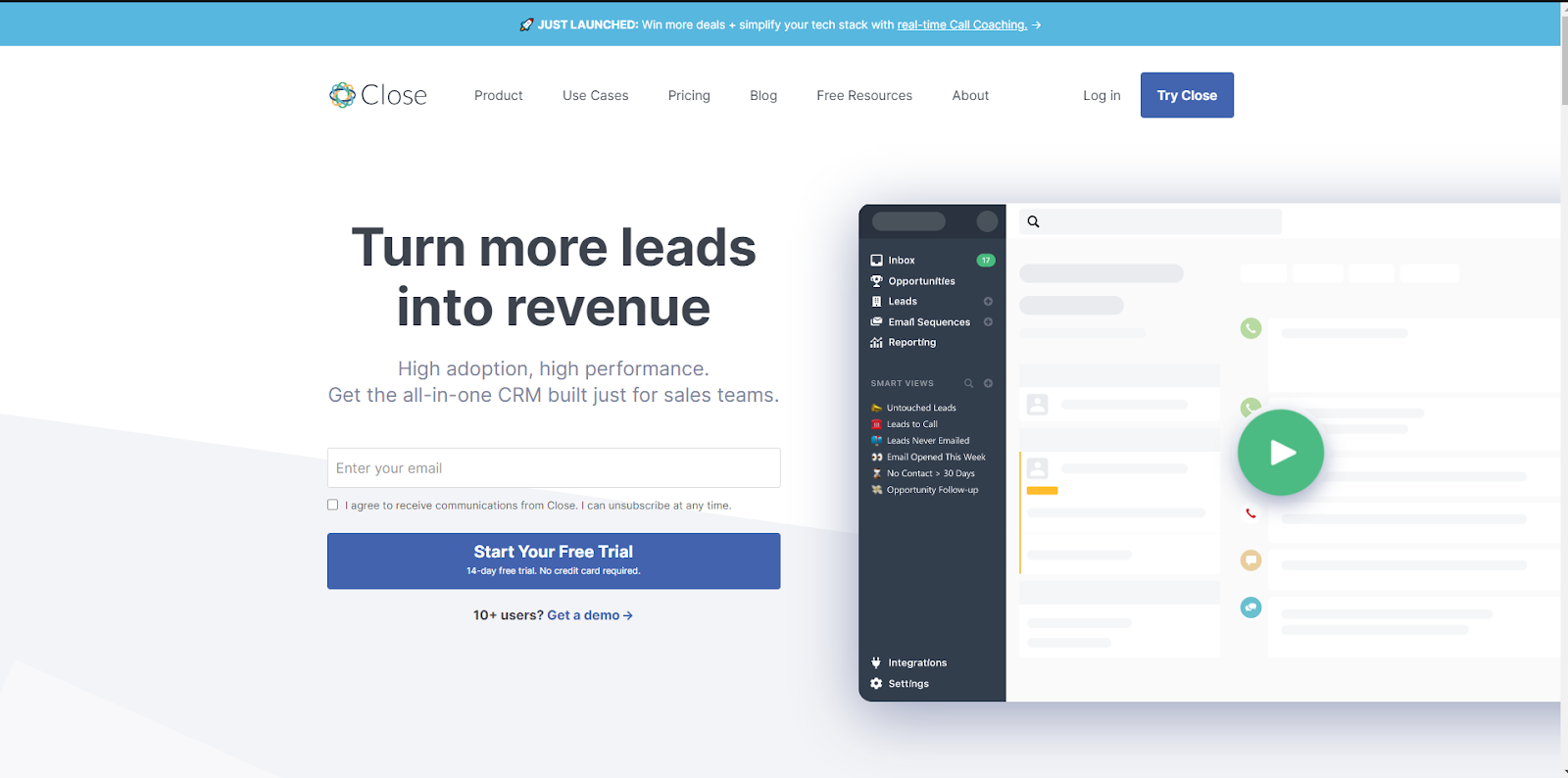 Close CRM uses automation and outreach to help customers grow their bottom line. Close brings calls, SMS, email, and video into the one sales hub to streamline your stack. One inbox for all communications means less time across multiple platforms and more time securing deals.
Given salespeople hate CRMs, automatic logging and syncing mean they can spend less time filling out notes.
Pricing for Close starts at $21.25 per user, per month for the Starter (when billed annually). However, automated only begins with the Professional plan, which is $80.75 per user per month (when billed annually).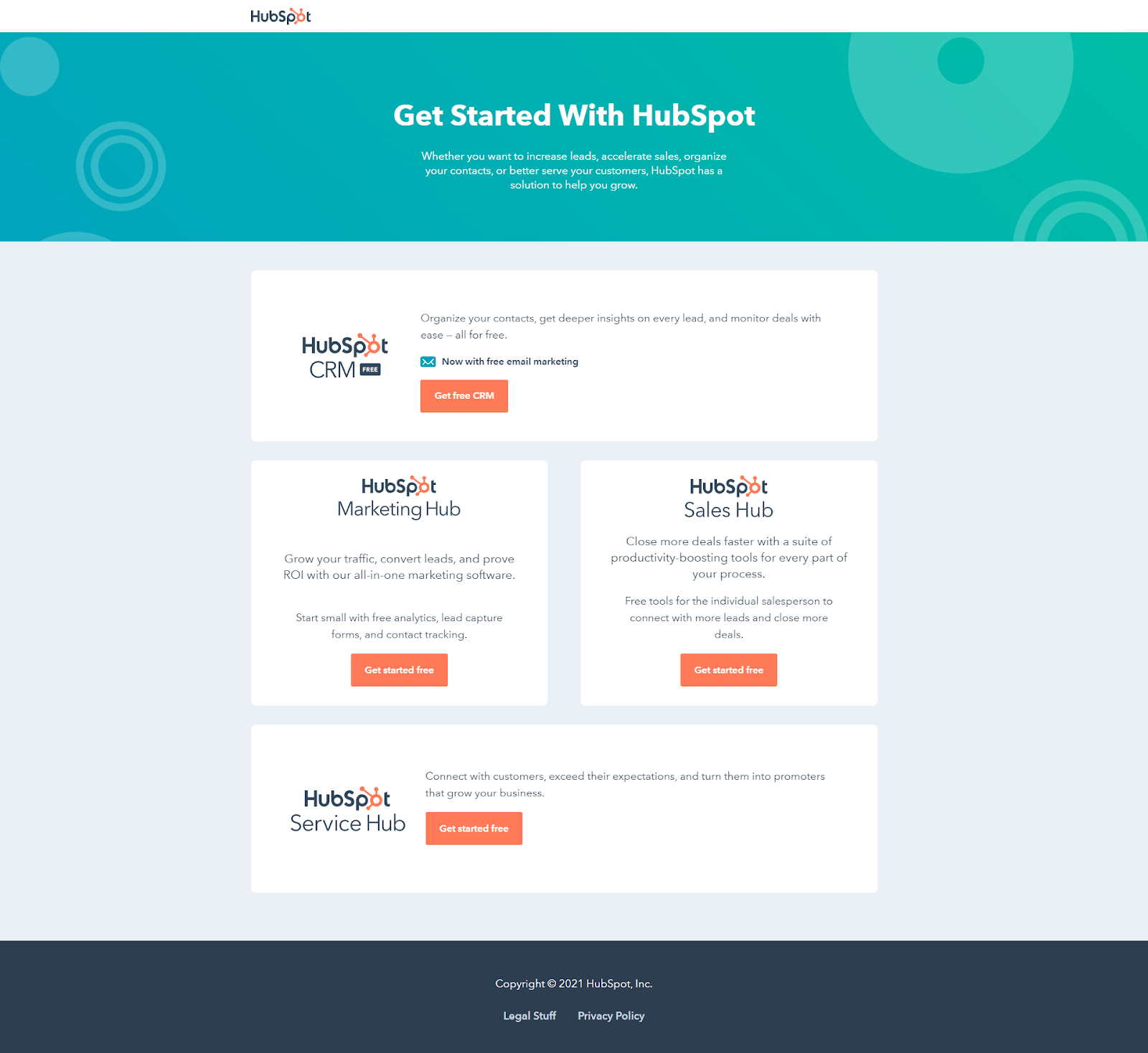 Hubspot is a powerful CRM tool that suits both marketing automation and sales automation business needs through their rather huge range of products. With the Sales Hub, the Hubspot offering includes their advanced CRM and sales automation features like predictive lead scoring, email sequences, smart send times, and a heap more.
Within the CRM, sales staff can create multiple deal pipelines, create customizable reports and integrate with just about any other tools you're using in your sales and marketing efforts.
Pricing for Hubspot's Sales Hub starts at $50 per month, per user, and increases as additional features are added.
Deal management tools for internal transparency
Deal management tools help sales representatives keep a visual on which deals are open, which are likely to close, and what to forecast for the week, month, or quarter.
Easy oversight and sales management allow for internal transparency, better forecasting, planning, and decision making.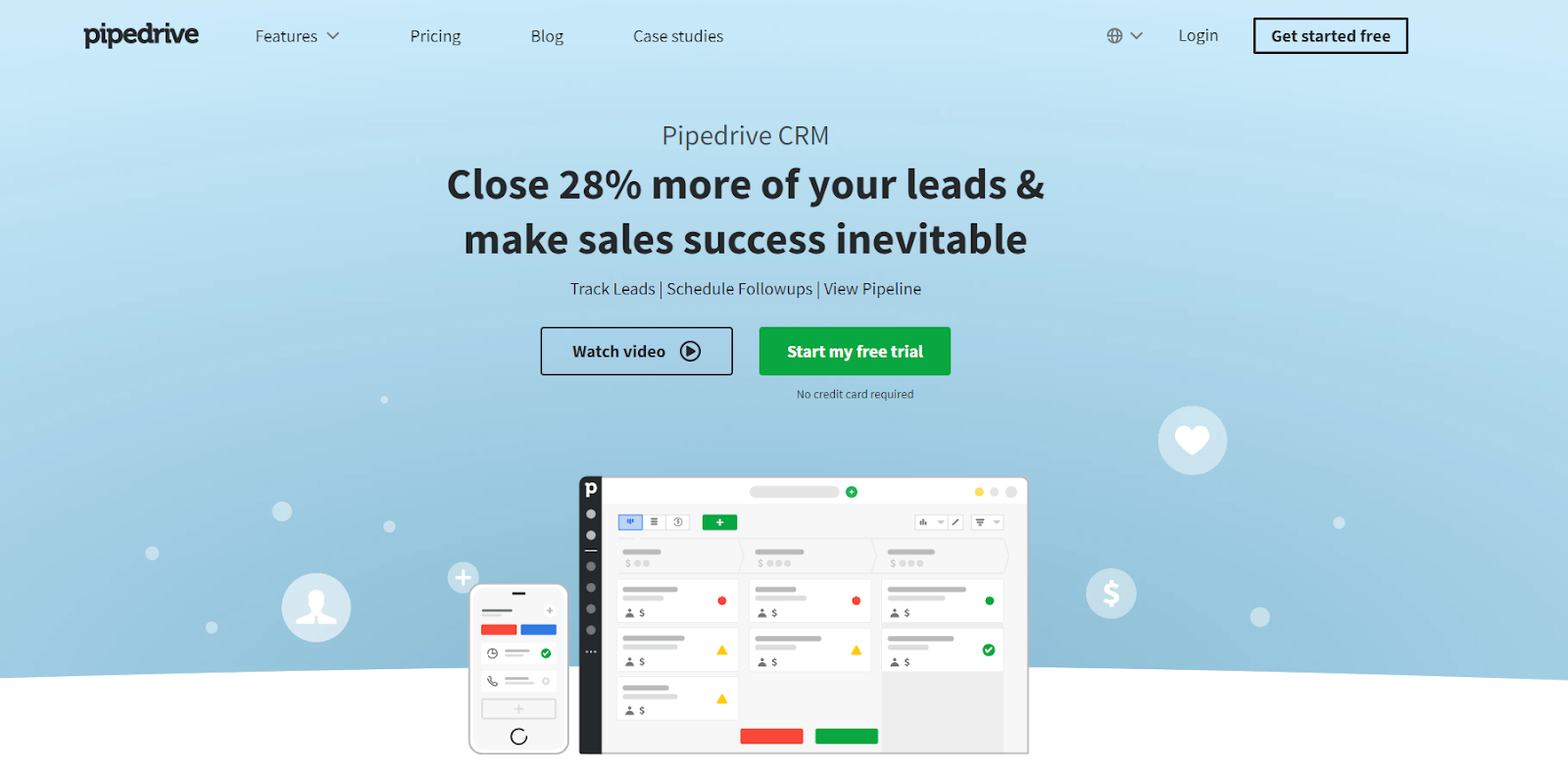 Pipedrive allows sales reps and others to monitor and customize pipelines according to the unique sales cycle within the business. Like most CRMs, Pipedrive allows for collaborative work on deals while allowing users to customize their interface individually.
Pipedrive allows sales reps to automate routine administrative tasks, keeps them up to date with reminders, and allows for tracking and predicting revenue.
Pricing for Pipedrive starts at $12.50 per user per month (when billed annually), but you will want to look at the Advanced and beyond to get access to their automation tools.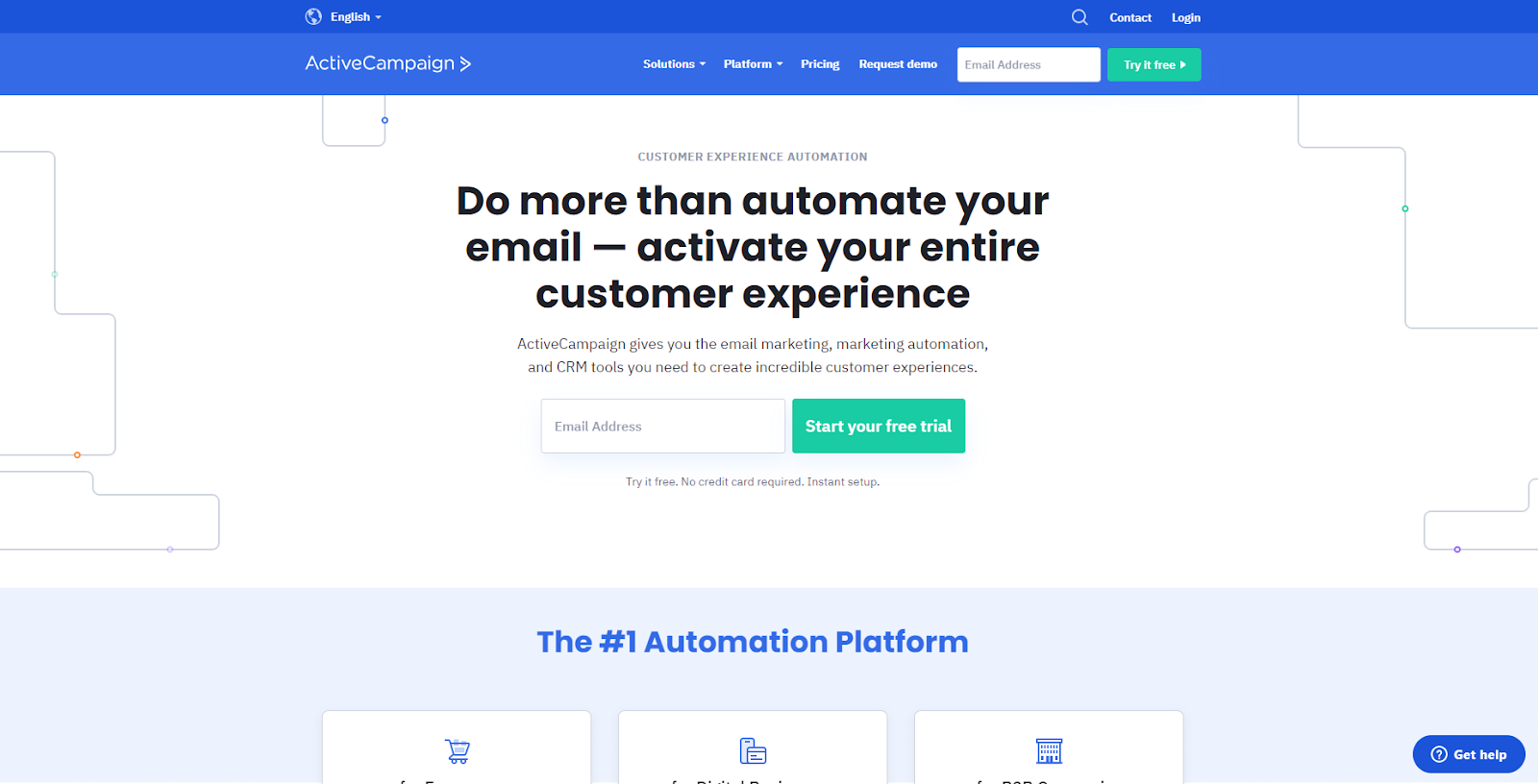 Active Campaign is a "customer experience automation platform." It uses artificial intelligence to give you email marketing, marketing automation, and CRM tools, as well as a proven framework for best engaging customers and creating a first-class experience.
Working with the four pillars of customer experience automation: orchestration, segmentation, personalization, and automation, Active Pipe works to gather leads, segment them, personalize communication and automate engagement to take them effortlessly through the sales pipeline to your salespeople.
Pricing for Active Pipe starts at $9 per month with some marketing automation features to get you on the way to a more personalized customer experience.
Email outreach tracking for informed follow up
Knowing what happens to your emails once they've been sent can tell you a great deal about who is engaging with your organization and what kind of information is attracting them.
Automated email outreach tracking allows businesses to see who has opened their email campaigns and triggers notifications to sales staff to follow up once certain actions have been completed.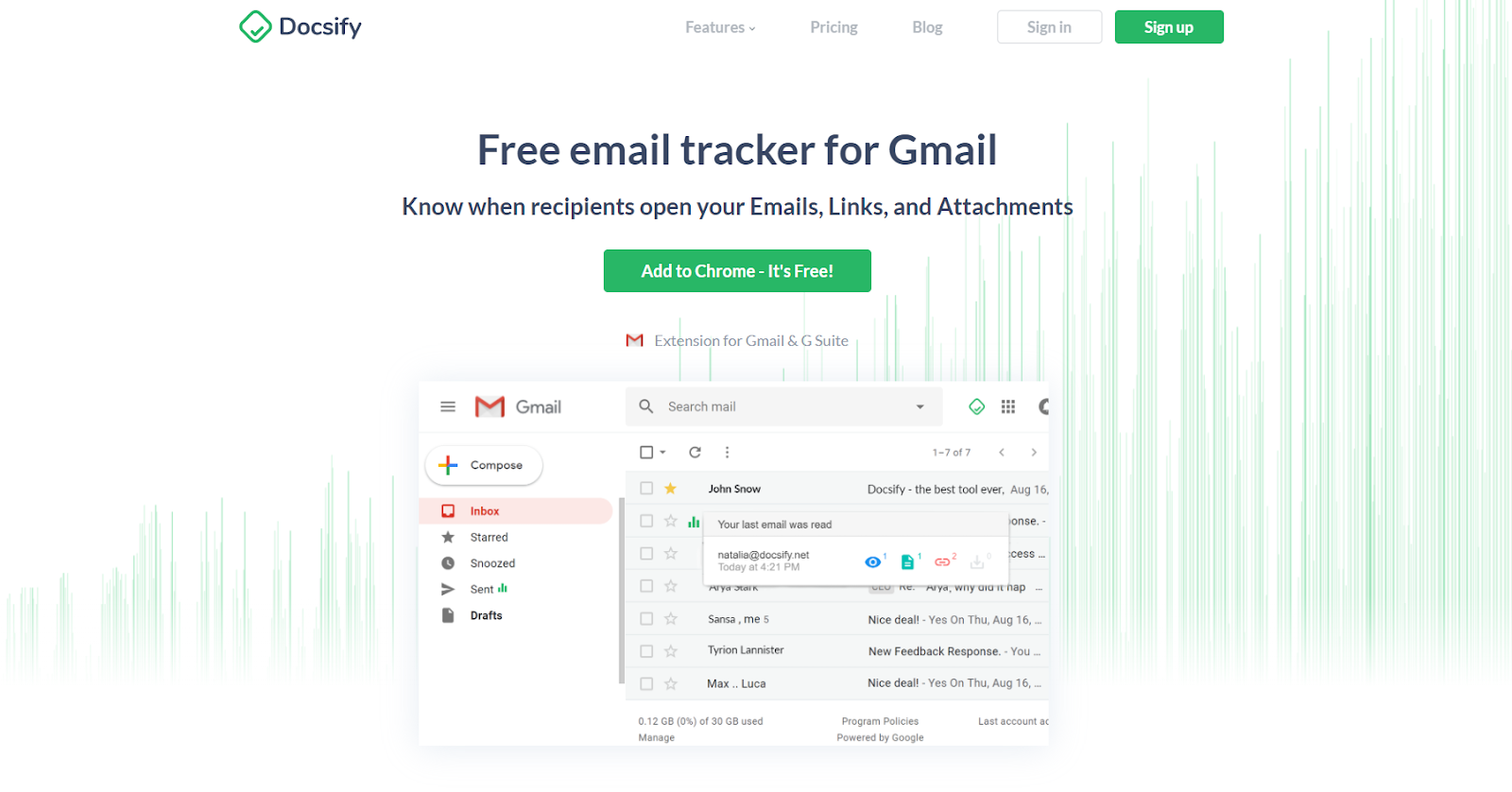 Docsify is an email tracker that works in real-time to let sales reps know when recipients have opened emails, as well as whether they've clicked on links and attachments.
What's more, you can see where your recipients are when they open your mail, how much time they spend on the pages, and if you're working with a team, you can access team analytics to compare results and improve recipient actions.
Pricing for Docsify starts at $0 for unlimited email tracking and goes up to $4 per month for an individual user with unlimited email and link tracking. The team plan is $12.40 per month for ten users and all Docsify features.
It's worth noting there are other useful, budget-friendly email trackers available.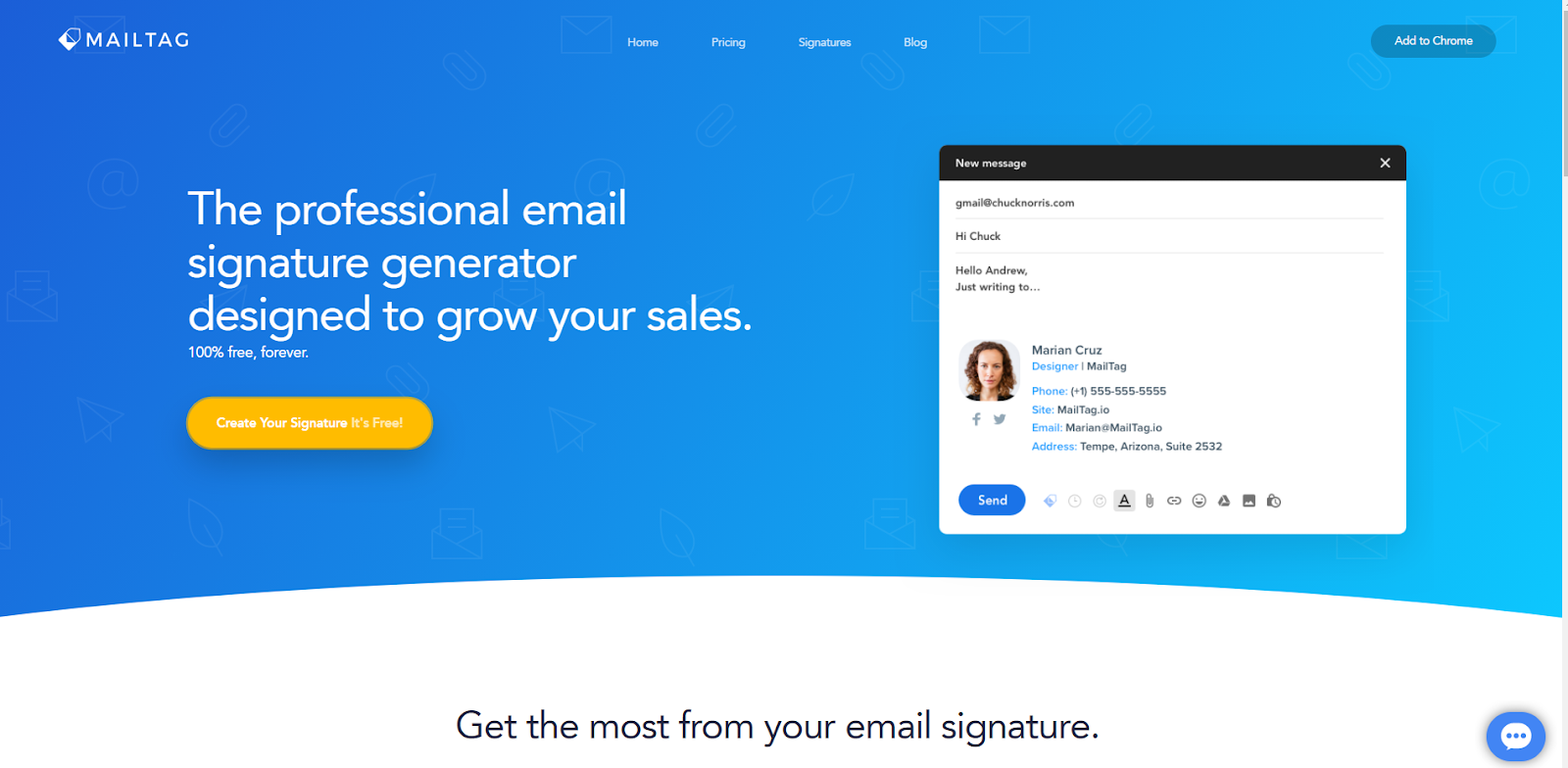 Mailtag functions more or less the same as Docsify to let you know exactly when recipients open your emails and whether they click on links and attachments.
Beyond tracking, however, Mailtag also offers automated email sequencing and email scheduling.
Pricing for Mailtag is simple, there is just one plan, the Pro, and it starts at $9.99 per month, per user (when billed annually).
Lead nurturing tools to automate engagement
As people are increasingly time-poor and less tolerant of inappropriately timed phone calls and emails, lead nurturing automation has become all the more valuable. There is a science to being in touch just enough and crafting communications to edge people closer to wanting to talk to your sales team. Thankfully, lead nurturing software reveals that formula for you so that your team members are only notified when leads are warm enough to contact.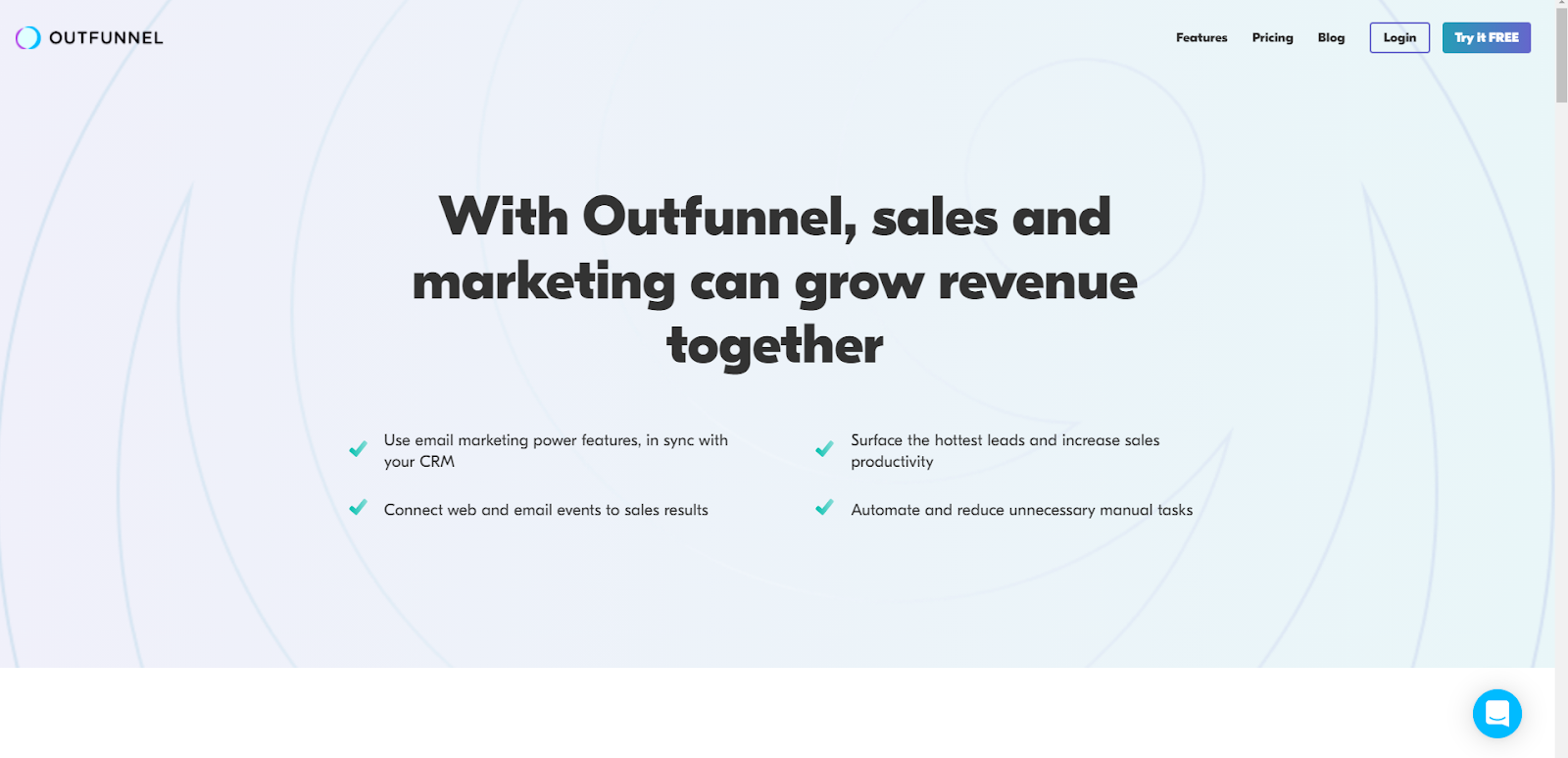 Outfunnel helps sales and marketing departments to save time with workflows and automation systems that highlight sales-ready leads. They do this with web tracking and lead scoring to provide qualified leads to your sales team.
Able to integrate with your existing CRM, Outfunnel simply sits on top to help score leads and pass on only the hottest to your sales reps.
Pricing for Outfunnel starts at $19 per month for their "Starter" plan, which includes all Outfunnel features and only needs to be upgraded based on the number of customers you're engaging with.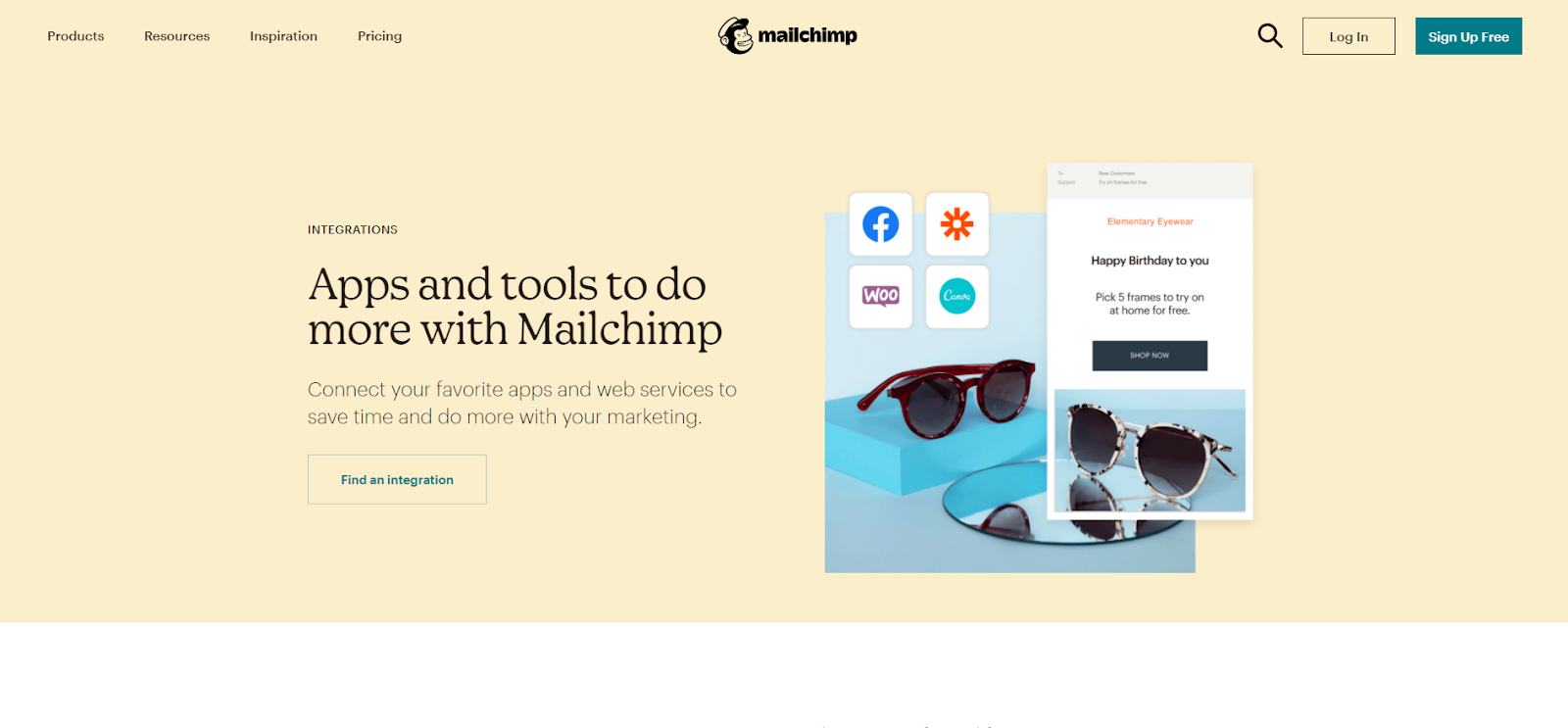 Mailchimp is an all-in-one integrated email marketing platform. From here, you can send out email campaigns, set up automations, track, analyze, and improve your email marketing.
As an email marketing specific tool, Mailchimp has invested a lot in smart email templates and other tools that help email marketing novices send out high-quality campaigns.
Pricing for Mailchimp starts at $0, but automation features aren't included until the Standard plan, which is $14 per month.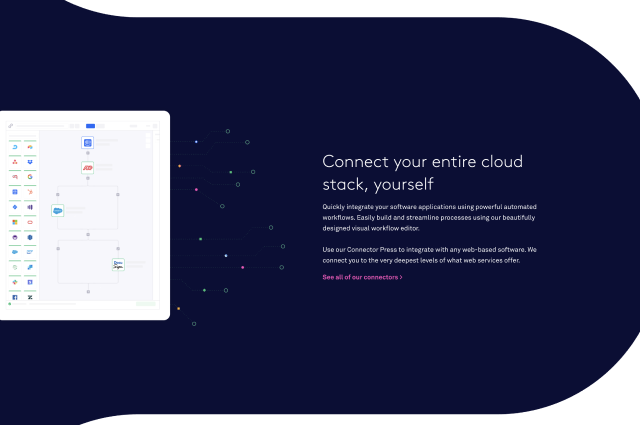 Tray.io is the integration and automation platform you've been looking for. Tray.io makes it easy to integrate your cloud stack to boost efficiency across marketing, sales, and support teams. You can grow cross-channel social engagement and social selling through social media management integrations and low-code automation capabilities.
It is flexible so that you can access every endpoint and automate any event. Tray.io is powerful with logical operators and real-time logs. Built-in 2FA + full encryption makes this a secure integration platform.
Tray.io promises:
Enterprise security
Unlimited users
Unlimited connectors
Low-code builder
Elastic scalability
This intuitive software gives you limitless social media engagement for a starting price of $695 per month. Custom prices are available to businesses who would like to automate at scale.
Software integrations for holistic sales process automation
The only trouble with all these amazing tools coming out is that they need to be able to talk to one another so that businesses can enjoy a holistic automation solution across every function. That's where software integrations come in. These tools make sure that all of your other tools communicate automatically, leading to better insights, and optimized sales results.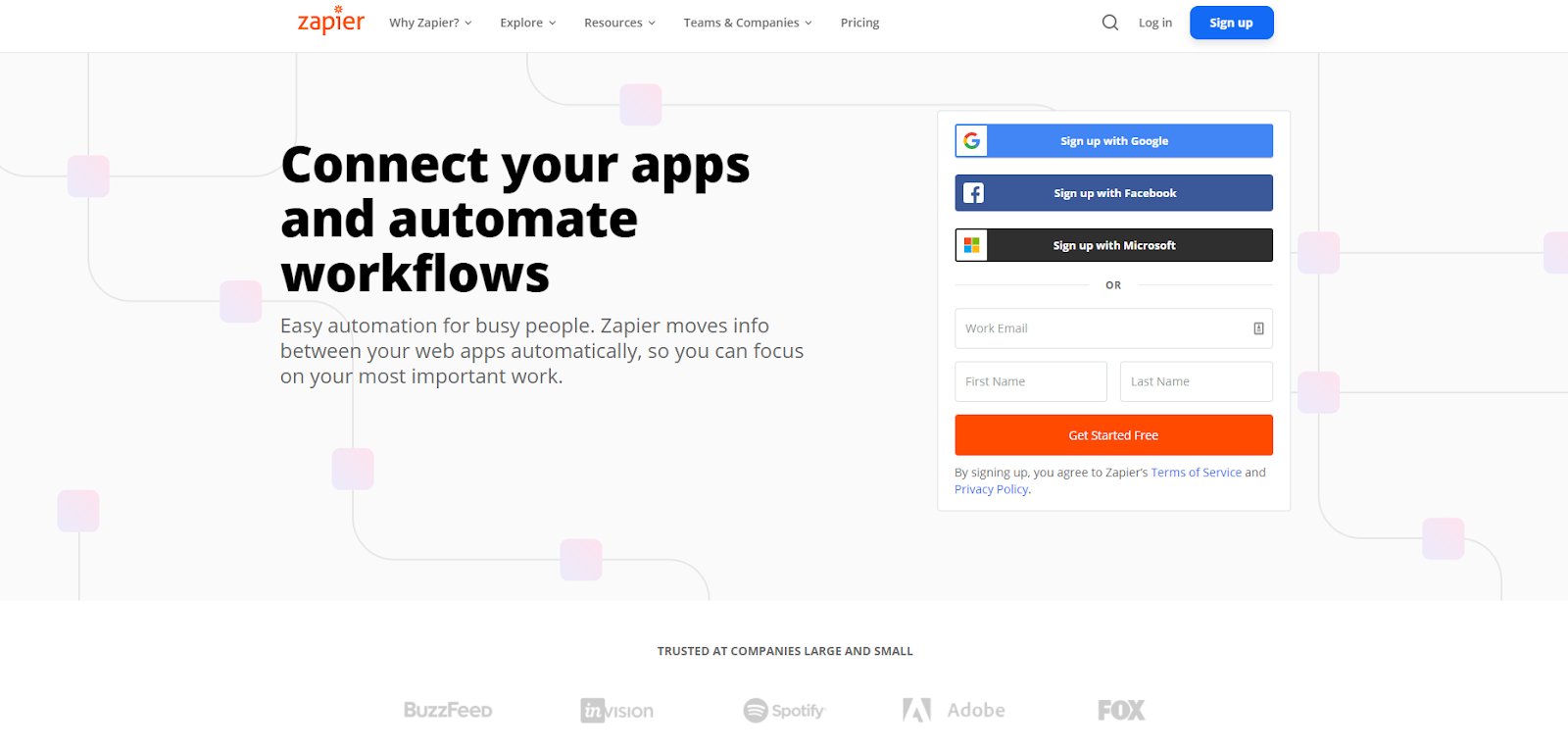 Zapier functions to automatically move information between your web apps, allowing you to focus on more important work.
With this tool, you can create workflows to automate repetitive sales tasks. Social media apps, like LinkedIn, can trigger automatic actions, and if you're not sure what could be automated, they even offer pre-built workflows for you to explore and implement.
Pricing for Zapier starts at $0 for 5 Zaps and up to 100 tasks, but features are limited. The Starter is $19.99 per month (billed annually) and gives you 20 Zaps and a range of extra features.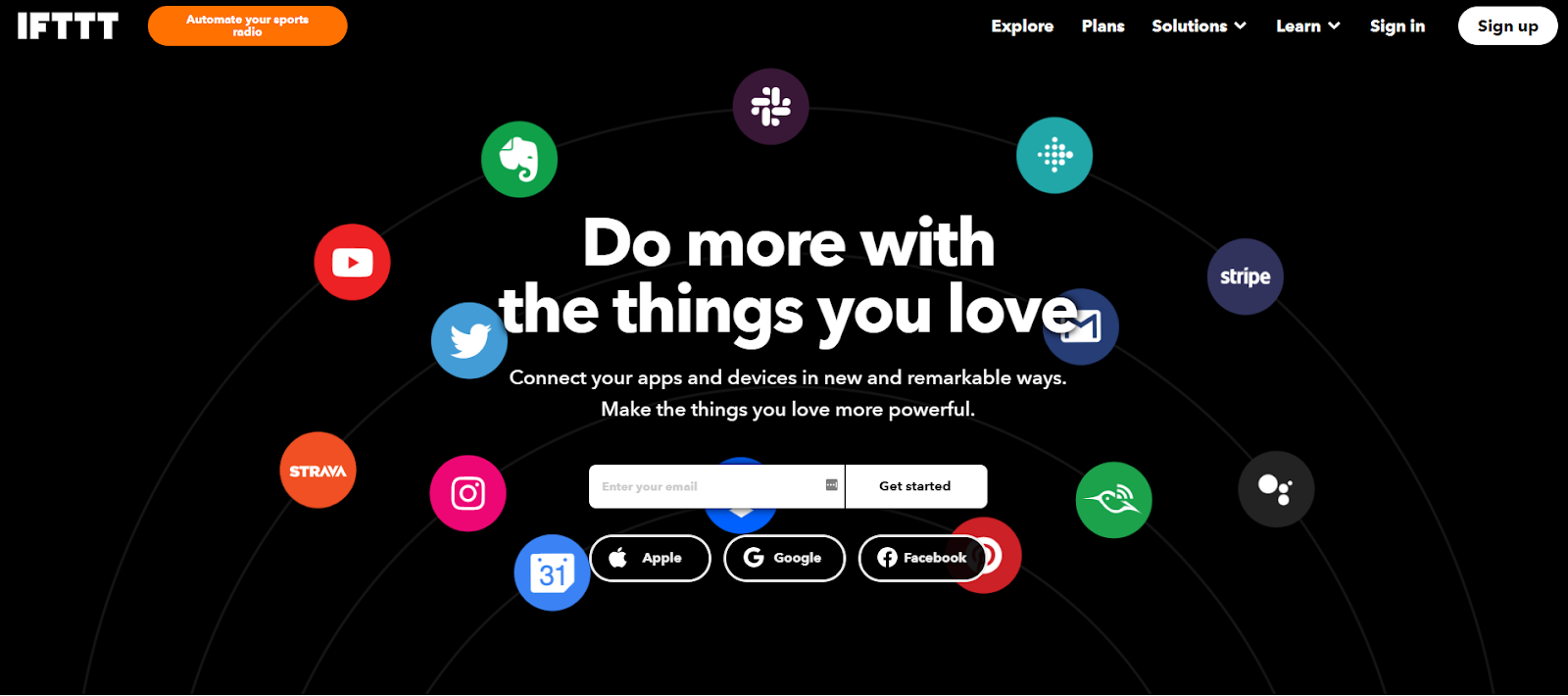 IFTTT is a low code, low-cost solution to connect brands securely for better business experiences. Used to connect your smart home devices to your apps, IFTTT is more of a product integration tool, which allows businesses to connect with other brands that complement their service to grow their product offering.
IFTTT is one of the leaders in forging new compatibility options. Over 650 brands and services trust this software to securely connect to each other.
In addition to creating custom automated workflows, you can get behavioral insights and learn how customers use your products to inform product development.
IFTTT also makes automated social media engagement easier than ever. For example, when you post your photo anywhere, you'll see it everywhere! IFTTT makes sure your social media posts look beautiful across all of your platforms. Never tweet a link instead of a picture again!
Pricing for IFTTT is customized based on what businesses are looking to achieve, or you can go for a Developer plan at $199 per year.
Sales automation tools are a must
Automating the sales process isn't about being impersonal or losing touch with your prospects. On the contrary; streamlining various selling activities frees up your team's time so they can communicate and connect better with potential customers who actually want to hear from them.
So, if you haven't done so yet, invest in the sales automation tools above to take your selling initiatives to the next level.