Establishing a strong online presence and fully understanding your website traffic is a no-brainer for any modern business. Your website is often the first touchpoint that customers have about your company. Your site — if it does its job well — tells your brand story and answers any questions that people may have about your products and services.  
Your website, in short, should help online visitors get to know your business better.
But wouldn't it be great if understanding your website traffic enabled you to learn more about your web visitors?
With website visitor tracking software like LeadLander, accomplishing that is completely doable. And in this post, we'll walk you through the process of how to use LeadLander to identify your anonymous website traffic and get these visitors on the path to becoming paying customers. 
It's that simple to kickstart your lead generation process. Let's get started. 
What is LeadLander?
LeadLander is website visitor IP address tracking software that, by using best practices, helps companies turn anonymous website visitors into qualified leads. LeadLander uses a visitor's IP address to surface information such as:
Company name
Address
Phone number
Website
Location
Linkedin Profile
Email
Companies can then use that info to identify prospects, prioritize their sales and marketing efforts, and get to know their visitors better.
How to ID your anonymous website traffic with LeadLander
Now that we've covered the basics of LeadLander, let's discuss how to use the software on your website and properly identify your website traffic with lead potential. 
Activate your trial. To get started, complete a trial form by entering your website and email address.
Add LeadLander's tracking code to your website. As soon as you're registered, we'll send you your activation instructions along with LeadLander's tracking code. You can add the code to your website with a simple copy and paste process that takes less than a minute.
Start gathering visitor data. Once you're all set up, LeadLander will start tracking your visitors. You'll be able to view reports in real-time, and you'll receive daily digest emails containing info about your website visitors.
"I appreciate the daily digest email that is sent to me. This is the first email I read in the morning and I organize my prospecting efforts around the details in the report and the LeadLander dashboard. Here, I can see which pages a prospect has viewed and I can personalize my outreach accordingly. This tool has helped me connect with some opportunities I would not have known about otherwise. Essentially, LeadLander helps me be at the right place at the right time for casual browsers who do not fill out an online request form."
— Jason Hall, Business Development Manager, Guidance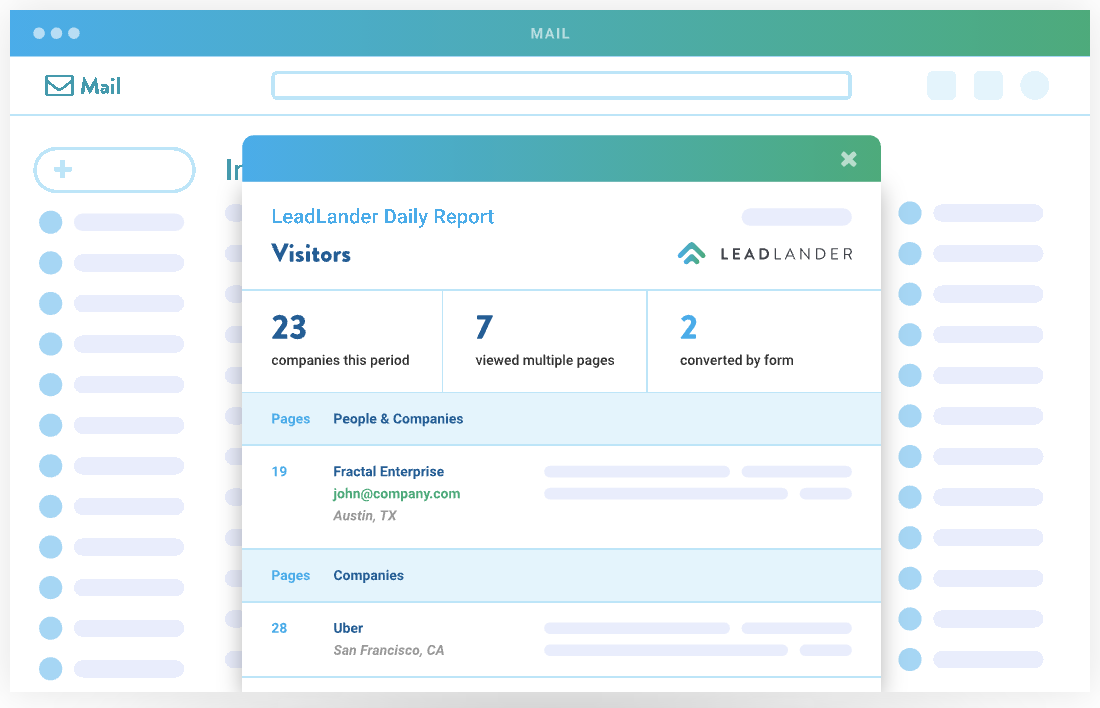 Integrate with your existing software. Take things a step further by integrating LeadLander with your current sales and marketing tools. We have an integration partnership with Zapier, which enables you to connect LeadLander with tools like Salesforce, HubSpot, Marketo, Slack, and more.
With Zapier, LeadLander users can push data to other applications based on certain triggers. Workflows called Zaps pass information between applications. In LeadLander, Zaps can be triggered by specific website actions like: 
New company visits
Repeat company visits
New individual visits
Repeat individual visits
Form fills and submissions
Specific number of page views
Specific page views
The integration allows you to streamline your efforts by removing manual work from the sales and marketing process.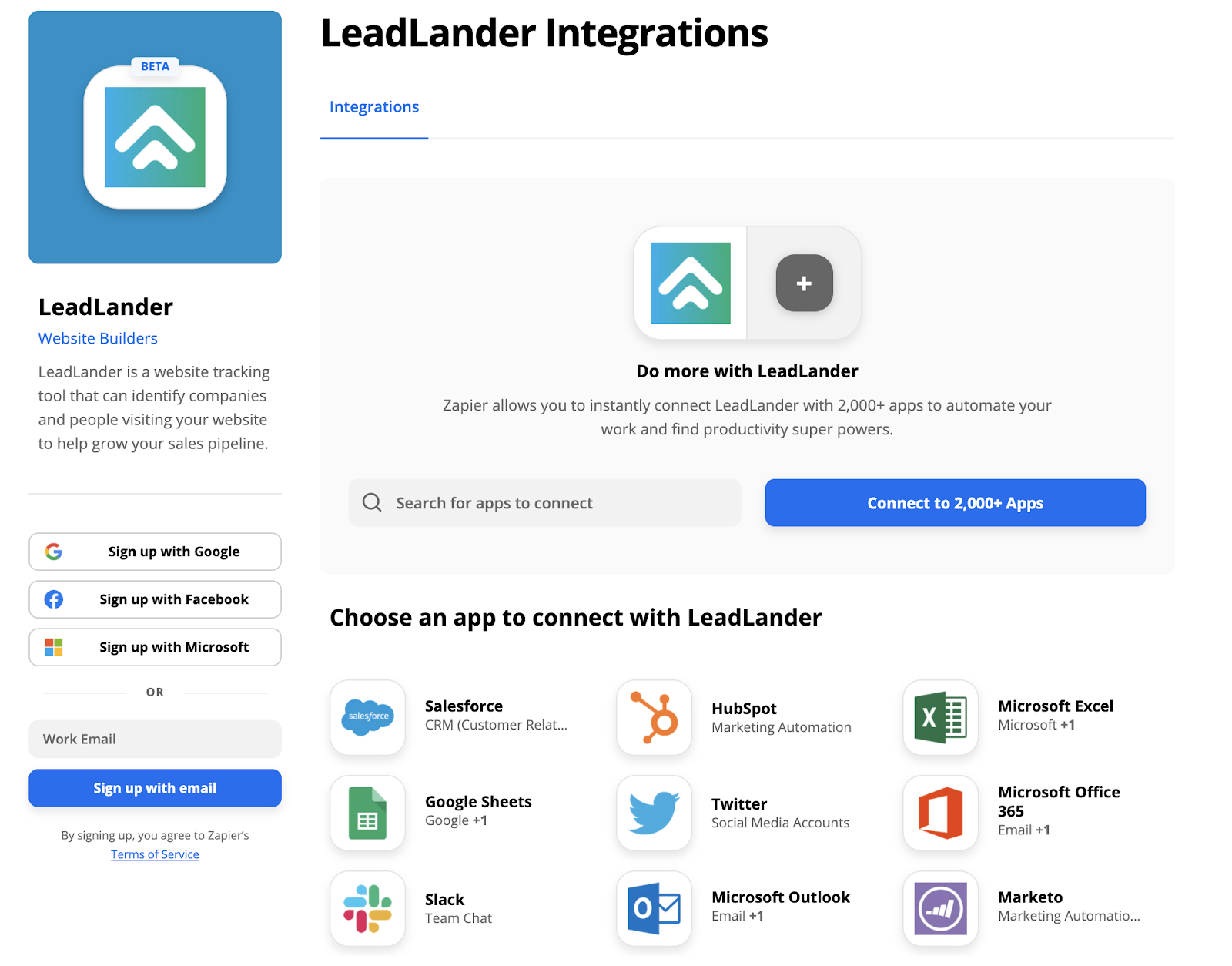 "LeadLander has completely changed the way we understand and leverage our visitor data. It's enabled clarity of traffic that we can't get with other tools and now we are able to scale. Prospect identification, targeted lead nurturing, understanding a customer's level of interest before walking into the first meeting based on web traffic, and knowing when to send specific and targeted communication to our point of contact is all enabled through LeadLander."
— John Byron Hanby IV, Founder, Fractal Enterprises
Get visitor alerts
Timing is critical in sales. With so many people, companies, and websites vying for your prospects' attention, you want to get on their radar at a time when they're open and interested in hearing what you have to say.
LeadLander can help by giving you real-time email alerts on target accounts and key customers. You'll know exactly when they visit your website, and you can use that info to plan when and how you'll reach out.
"LeadLander is an indispensable tool for our sales team. We use it every single day to help quickly identify those prospects that are in 'buying mode'."
— Jeff Lear, Vice President of Sales, Greenmile
Validate your outreach efforts
Are your cold calling and outreach efforts driving results? Which prospects should you follow-up with? LeadLander eliminates the guesswork from outreach by helping you identify the companies that are responding to your sales efforts. You'll know exactly which prospects visited your site after a call or email, so you can tailor your follow-up approach accordingly.
Gain insights into your most valuable web pages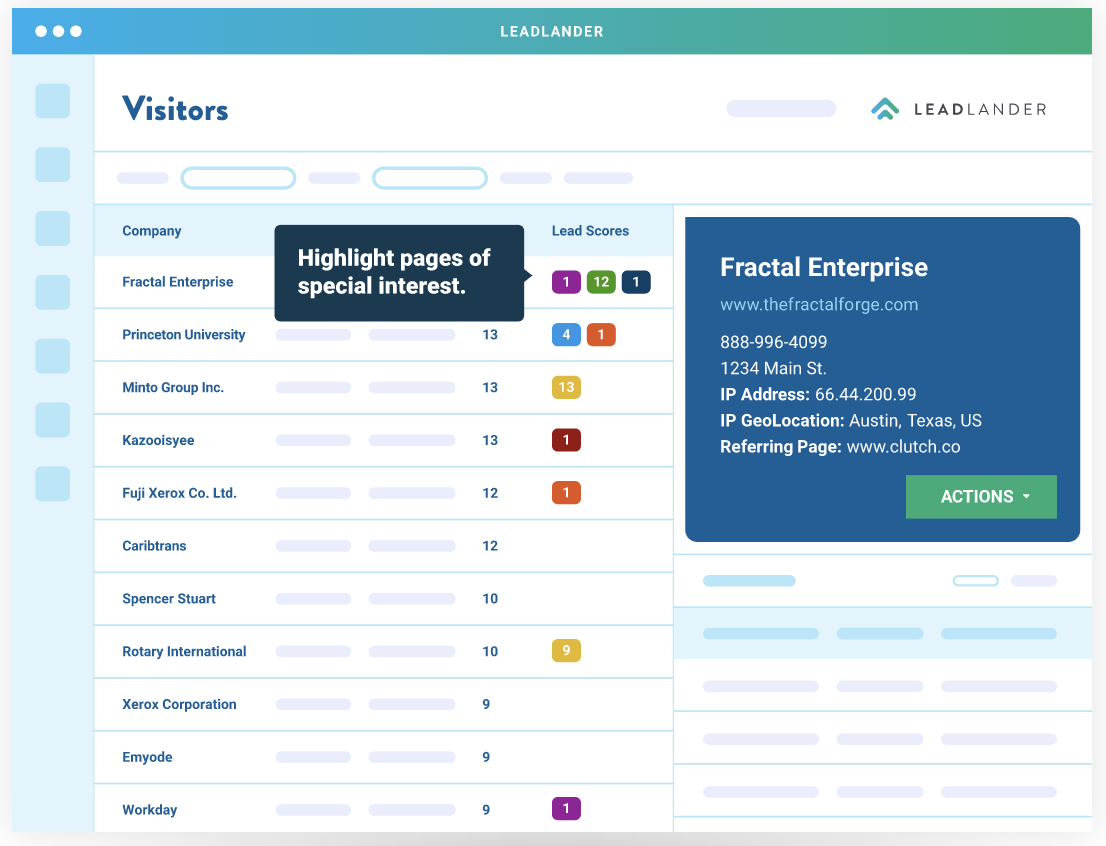 Know the parts of your site to promote and improve. LeadLander tells you which pages key leads are most interested in, so you can increase their visibility and further optimize them for success.
LeadLander also lets you score your most important web pages. You can color code the pages of your website that may indicate buying interests. When your high interest pages are color coded, visitors can essentially raise their hands to say that they've been to those key pages — which can then prompt you to touch base with those leads.
Know your most effective marketing and advertising channels
The famous John Wanamaker quote about how half the money spent on advertising is wasted doesn't have to apply to your organization. With LeadLander, you can figure out which advertising and marketing campaigns are driving traffic to your key pages and ensure that your budget is spent on the channels and initiatives that count.
How LeadLander is different from other website visitor tracking software
While there are numerous visitors tracking software in the market, many of them simply repackage Google Analytics data (which is free).
Lead Lander has been in the market for over 10 years, and thus we have the largest, most accurate database of company data. This means we can identify more of your anonymous web visitors, allowing you to surface more leads and potential customers.
Unlike other solution providers, LeadLander offers straightforward pricing. You get access to all of the software's features and there's no limit to the number of leads you can track per month. You'll also get a dedicated account manager and customer success manager, so you know that LeadLander has your back.
Ready to take your sales and marketing to the next level?
Request a demo of LeadLander and we'll walk you through the ways that LeadLander can align your sales and marketing efforts. Let LeadLander give you the visitor insights you need to get to know your prospects and convert them into paying customers.