The goal of many marketing departments is to generate as many leads as possible. However, quantity isn't always superior to quality when it comes to warm leads. The average lead conversion rate is just 3.9%, which means your sales team has their work cut out for them to narrow leads down to a group that's interested in converting or buying. Account-based marketing (ABM) is an alternative approach that could be right for your company. It prioritizes quality leads over generating leads as quickly as possible. In this article, we'll cover everything that you need to know about ABM while also providing a look at some of the best account-based marketing software of 2021.
Defining Account-Based Marketing
Account-based marketing (ABM) is an alternative to the traditional approach of simply generating leads as quickly as possible. It begins with digital targeting to find the leads that align closest with your company's ideal customer profile.
Once you've identified the warm leads that align closest to your ICP, then you deploy your personalized marketing campaigns. This is typically done across multiple channels and is often supplemented with 1-on-1 outreach from sales representatives.
The key here is that with ABM, you're focusing on providing a personalized marketing and sales process to leads that are a perfect or near-perfect fit for your company. This can either supplement a traditional sales process or replace it.
Benefits of ABM
There are numerous ways your company can benefit from embracing an account-based marketing approach. Here are some of the most important examples of this:
ABM builds tighter alignment between marketing and sales
Your limited marketing dollars will be spent more efficiently
Your sales cycle will shorten
Your sales team won't have to cold call anymore
Your customers will enjoy the marketing and sales process much more
How Does ABM Software Help Generate Leads?
The goal of ABM software isn't typically to help a company generate more leads. Instead, its purpose is to help you make better use of the warm leads that you already have in your pipeline.
For example, ABM software may identify which of your leads are the best match to your ideal customer profile so you don't have to do this on your own. Or it might help you market your products or services to a lead in more personalized, targeted ways.
With features like these, ABM software makes it easier for companies to effectively utilize an account-based marketing approach. In the next section, we'll look at some specific examples of ABM software to help your business.
The Best Account-Based Marketing Software Solutions Of 2021
Hubspot ABM Software
Hubspot's ABM software is perfect for companies looking for leads they should be targeting with an ABM approach. It will automatically tier your warm leads based on how closely they align with your target customer. This makes figuring out which accounts you want to target with an ABM approach as simple as viewing a list.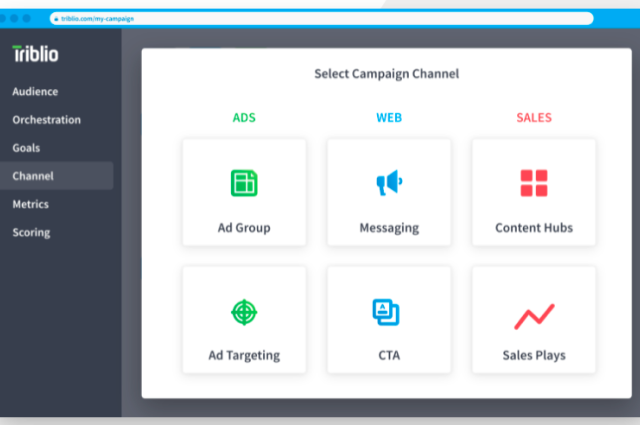 Triblio
Triblio is a good option for companies looking to grow their account pipelines. It specializes in facilitating personalized marketing strategies that use targeted ads, analytics, and web data.
Triblio is packed with a ton of cool features that simplify the ABM process. For example, the software will tell you when the best time of day is to reach out to each of the accounts that you're targeting.
The tool even has an ABM guide that you can follow if you're looking for some extra assistance while you get up and running with your ABM campaigns.
6Sense
6Sense is a great tool for learning more about the accounts you're targeting with an ABM approach. Although you may feel like you know a lot about those leads already, you may be missing key information that could help you convert the sale. 6Sense is all about providing companies with this extra information to facilitate a smoother sales process.
More specifically, 6Sense will help you collect insights about the specific challenges your leads are facing in the marketplace. You can use this information to market your product or service as a solution to those challenges.
DemandBase
DemandBase is another all-around ABM tool that stands out. Its ABM services are integrated into its broader targeting solution platform. That means it's a good option for companies looking to use a sort of hybrid ABM approach alongside other methods of marketing.
DemandBase is an especially good option for companies just getting started with ABM and want to learn as they go. It's packed with educational resources about ABM and even hosts events on this topic for customers.
Engagio
Engagio (now owned by DemandBase), is another account-based marketing software that should be on your radar. It's an all-around ABM solution that provides insights into your targeting accounts by analyzing data.
Engagio also enables more effective multi-channel marketing for the leads you plan to target with an ABM approach. Users can bring data from all of their accounts onto a single platform. Then they can use the platform's many tools to leverage that data in the most effective ways possible.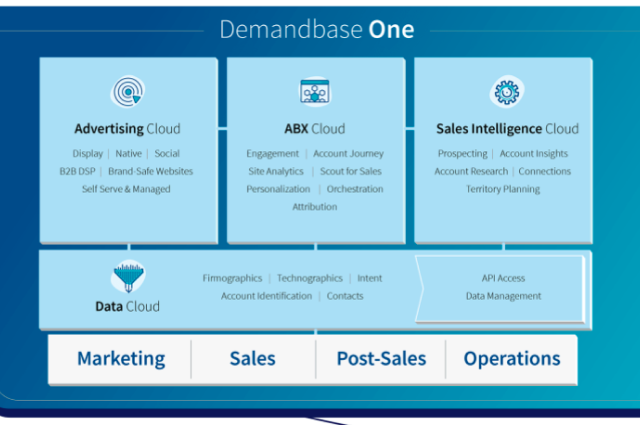 LeanData
LeanData is a tool that focuses on helping users create more alignment throughout their marketing and sales processes. It isn't a tool specifically geared toward helping companies that want to embrace an ABM approach. However, its features will help these businesses with what they're trying to accomplish.
For instance, a company can use LeanData to align its marketing and sales goals and revenue operations. Features like these make LeanData an excellent way to organize your go-to-market teams as well.
Bound
Bound is all about helping marketing teams serve up more personalized campaigns to targeted leads. Companies can use Bound to build new audiences, create dynamic content for each separate audience, and keep track of the success rate of their campaigns with built-in data collection and analytics tools.
Essentially, you can use Bound to handle the personalized marketing aspect of the ABM process. It's packed with a ton of useful features that will make adjusting to an ABM strategy easier for your marketing team.
Terminus
Terminus is a full-service ABM platform that could be another great fit for your company. The software helps you discover the best places to reach out to your leads and then enables you to target them in highly personalized ways.
You can use Terminus for each of the following functions:
Lead retargeting
Marketing automation
Email campaign management
The platform also includes built-in data analysis tools. You can use these to track the efficacy of your ABM strategies over time and make adjustments as needed.
MadisonLogic
MadisonLogic is a great tool for companies that are looking for ways to perform global multi-channel ABM. It bills itself as software that helps you bring an ABM-style approach to LinkedIn as well.
The tool will help you with a ton of functions that you need to perform to start getting the most out of this advertising style. It lets you syndicate content across multiple channels to accelerate your customers' journeys.
Get More Out Of Your Cold And Warm Leads With LeadLander
Trying an account-based marketing approach can be a great way to break your company out of a marketing rut. It focuses on targeting a smaller number of customers in more personalized ways. Your goal under this method won't be to generate leads as quickly as possible but to make the most of the warm leads you already have.
That said, you still need a way to attract new leads that could be a potential fit for an ABM strategy if you want to use this style of marketing long-term. LeadLander is the perfect solution for this.
LeadLander helps you make the most out of the data your website is already tracking. It provides you with a wealth of information about the people and companies visiting your website to continuously refill your sales pipeline and optimize your marketing processes.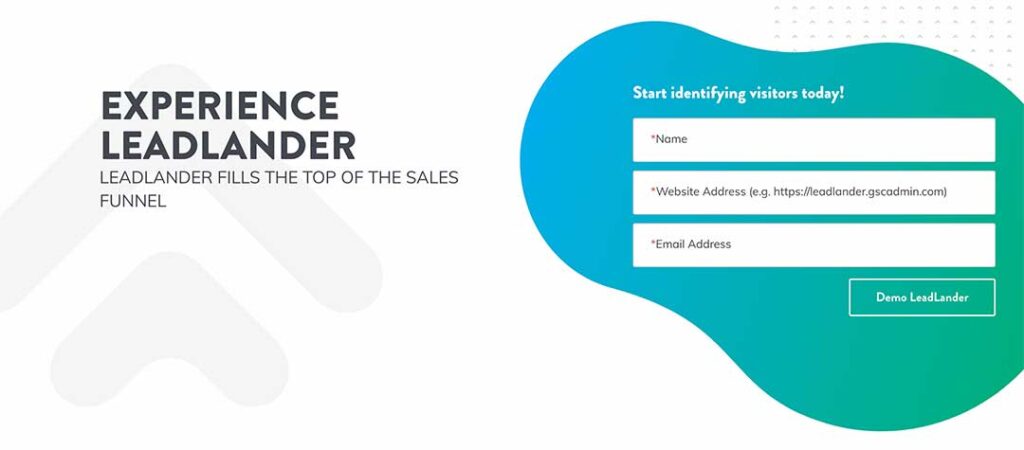 You can try a free 14-day trial of LeadLander today to experience the difference we provide for you.